May 29, 2018
On Selfies, and Learning to Recognize My Face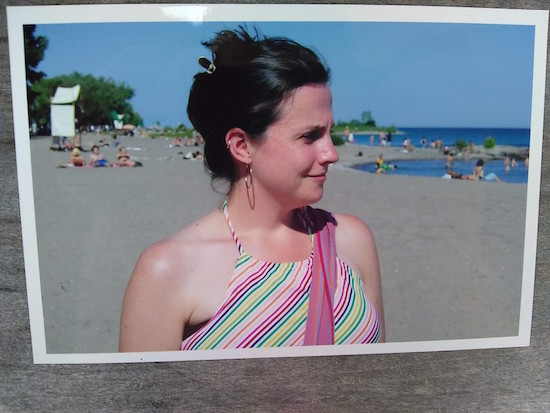 My husband took this photo of me at Woodbine Beach eleven years ago, when I weighed thirty pounds less than I do now, had no grey hair, an unlined forehead, and my thyroid had yet to sprout a conspicuous tumour that I am grateful for because it is benign. As you can see, I was also not allergic to the sun then, and I even had a tan—and do I ever miss having tans, as I huddle here in my hat and SPF clothing. I was so beautiful, and I kind of knew it, which was why I had this photo taken in the first place.
But taking this photo was a terrible experience, which I recall very well, and no doubt my husband does too. It was such a beautiful day and I wanted a photo to remember it by, a photo of me, but it took about twenty-five shots to finally get one I was happy with. Which is why I'm looking away from the camera, I think, because I felt better about the photo when only part of my face was in it. Because my face was the entire problem, mainly that it looked nothing like the way I imagined I looked. My face, my self—it would always surprise me. Who was this person, who you'd think I'd be an expert on, and but everybody else looked at her more than me. I didn't know my face at all, and the person in the photos was a stranger.
There are so many reasons I'm glad I'll never be twenty-eight again, even if it means I'll probably never be thin and tanned again either. Oh well, because at least I recognize my face now. I'm fond of it, I even love it, and this is why I will never malign selfies and selfie-culture either, because it was selfies that taught me this. With selfies I began to see my face for the first time, to become familiar with it and comfortable with it. When somebody takes my photo now, I'm rarely surprised with the result, because I know that woman since I see her all the time. And while she sometimes looks a bit haggard, many-chinned, and her face was broken out in another rash, I still claim her. I could choose to be vain or I could choose to be otherwise, but I'm always going to end up with the same old face. And I actually walk around with it all the time, and everybody seems to find it fairly tolerable.
This is my face, and there are people who like me. There are even people who love me. And eventually I decided it was only fair that I should do the same.