May 15, 2018
In Search of the Perfect Singing Flamingo, by Claire Tacon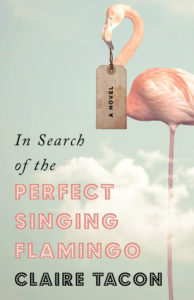 Everywhere you go, you'll hear somebody complaining about how political correctness is ruining literature, how authors don't have the freedom to tell the stories they choose, and what a pity it is that these days there's so much we're not allowed to say. To which I would reply for a request for specifics: Please, what it is it that you're no longer permitted to say? And if the answer is that one time you wrote this thing and people on the internet got angry about it: that is not the same thing. As a writer, and a purveyor of language, you really ought to know the difference. Further, if you've been reading as much as I have, you'll be assured that literature is richer than its ever been, as it's being expanded, enlivened, and including stories and voices we haven't heard before. With such boundlessness, there's absolutely no story you're not permitted to tell—and long as you ensure that you're telling it with utmost excellence. For which Claire Tacon's second novel, In Search of the Perfect Singing Flamingo, absolutely sets the standard.
In her novel, Tacon tells the story of Starr, a woman with Williams Syndrome, who has learning challenges and special needs. She also gives voice to Darren, a lovelorn Chinese-Canadian teenager who's working as a mascot at Frankie's Funhouse (basically Chuck E. Cheese) in the months before heading to university to study engineering. And Starr's father, Henry, who is devoted to his daughter, whose love of Frankie's Funhouse led to his job there repairing animatronic musicians and servicing pinball machines. Henry has even installed a Frankie's Funhouse set in his basement for Starr's entertainment pleasure, constructed out of decommissioned machines. And it's when he learns via an online ad that the one piece he's missing—Fanny Feathers, the flamingo in cowgirl regalia—is for sale not far from Chicago that he decides to embark upon a road trip with Starr and also with Darren, who's got a plan to win back his girlfriend at ComicCon.
This is very much a novel about the difficulties of navigating the system as the parent of a disabled adult, the challenges of finding these adults meaningful work, supporting them in independent living situations, and accessing the resources so that parents don't have to do all this work on their own—except usually this ends up being the case. Starr herself is one of several first-person narrators, so we also see the situation from her point of view as well, her daily joys and frustrations, the challengers of getting along with her roommate and with work colleagues, and how she works to deal with her challenges and anxieties, and with her parents' expectations. Which are the same challenges that Darren is facing, actually, and also Starr's younger sister, Melanie, who has always received less attention from her father than Starr has. And Melanie had struggles of her own—she's trying to get pregnant, and fears a chromosomal abnormality, and what do these fears say about the fact of her sister's existence? How will Henry react when he learns what Melanie is going through? And what have nearly thirty years of focussing on Starr meant for Henry's marriage? He'd go to any length to care for his eldest daughter, but can he say the same thing about his wife?
I loved this book. A novel with this many first-person points of view is an ambitious one, but Tacon lives up to the challenge. She gives each of her characters such rich and rewarding back-stories, occupations, and preoccupations—each one enough to fill a book on its own. And as the story progresses, it becomes clear how connected everything is, how multifaceted the symbolism is. This is not a book about Starr, about disability, about a road trip, about an animatronic rat—but instead, it's about relationships and intersections, and the incredible interconnectedness of all our lives and the things we love, and the ramifications of our behaviour on others that we might fail to consider. It's about making safe spaces in the world so that Henry can send Starr out into it with assurance that she is valued and included. It's a novel about trust, in ourselves, in society, and each other. And it's a triumph.