May 10, 2018
My Door is Always Open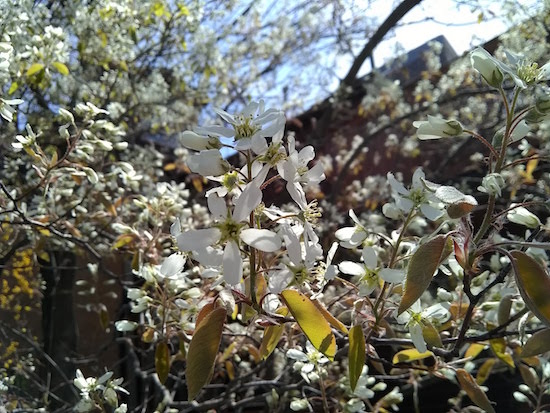 "A mother must make herself always available. A writer needs to shut the door." —Alexandra Schwartz
The only two doors in my apartment are the bathroom door, whose lock is broken, and my children's bedroom door, which does not actually shut because the door frame is warped.
When we moved into our apartment, I made an office in our garret, which is a strange narrow room adjoining my bedroom, but it was very cold and lonely there and I never wrote a thing.
I have a tea towel upon which is printed the cover of Virginia Woolf's A Room of One's Own, and it hangs in our living room (which has three windows, but no door).
Before I had children, I worked 9-5 at a job that wasn't very interesting and had no time to write.
I am not saying a woman needs to have a A Room of One's Own tea-towel hanging on her living room wall in order to live a rich and fulfilling life. There are many ways to live a rich and fulfilling life. But this is what works for me.
When my first child was born, I was desperately unhappy. I thought that motherhood would be the thing that saved me from monotony and humdrum days, but it was worse. And so there was nothing left but writing, which I had no choice but to do with all my might.
I never had anything to write about before I had children. I remember talking about this with a friend over sushi about ten years ago, about how I didn't think I'd be a good writer until I'd experienced motherhood, the way it raises the stakes. I didn't have a big enough investment in the world before that. I was living on a limited plane.
That limit was my limit. My friend with whom I was eating sushi is not a parent and did not need to become one in order to be a brilliant writer. There are lots of ways to do this thing.
Sometimes I think that people mix up "having a newborn" with "motherhood". It is true that having a newborn is a bit like being sent to prison/being tortured/transformed into a piece of human furniture, but it doesn't last, and the only problem is that the first time it happens you don't know it doesn't last.
My children are nearly nine and five. I don't have a door and so my door is always open, but my children are usually doing other things in other rooms.
My first major success as a writer—a published essay wins second place in a contest, is runner-up for a National Magazine Award, appears in Best Canadian Essays, is noted by the UTNE Reader—is about motherhood, and therefore if I'd never become a mother I never would have written it.
Admittedly, all this is more complicated for women who find literary success before they have children—they have something to lose, I suppose. They need to learn to work in a different way. The decision is more perilous. And yet, to think in terms of peril is possibly overdramatic. It will be fine. It will be fine.
My first book was an anthology of essays I edited about motherhood. It would be unlikely that I'd have taken on this project had I not become a mother. I edited this book while lying on my couch, my laptop propped on my legs while my baby slept on my chest. It was one of the best times in my life. Sometimes she napped for ages, and I got a lot of work done.
My other child was at kindergarten. My children are four years apart. I am lucky to have been able to plan this all very carefully, to have my plans work out, for the time and balance I needed in order to be a mother, let alone a mother of two.
My baby no longer sleeps on my chest. Now she goes in kindergarten too. When my first daughter was born and my world was torn asunder, I used to hear other mothers say, "And now I can't imagine my life without her." And I thought this was lunacy. I kept thinking instead about my baby, "Where on earth did you come from and what are we going to do?" But nine years later, I firmly can't imagine my life without either of them. And there's also this dawning awareness that one day I'm going to have to, because it won't be too long before they're living lives that have very little to do with me at all.
I wrote my first novel during the summer of 2014 while my one-year-old napped and her big sister watched Annie on the sofa beside me every single day and I wrote 1000 words at a time. Everybody was doing her job.
Everything I've written since I've written at the kitchen table, and there's no one else home, and I've grown accustomed the quiet.
I don't have another job. This is an important part of the story. Working full time, and being a mother, and being a writer is really really hard. That said, a lot of people do it. But that's a different kind of story than the story I'm telling here.
I don't have another job, but I've been able to build a freelance writing career where I earn a respectable living. I am very proud of this. I've also been able to fit that a career around taking my children to and from school every day, other appointments, cleaning my house, grocery shopping etc. etc. There is a misconception being a writer and being a mother without another job means one spends her days, well, staring out the window and dreaming, but I can't afford such luxuries. I've got a business to run. And I have to vacuum.
I've been really lucky. I have a partner who works full-time, but who has the flexibility to share the load and support my work. I have children whose needs so far have been fairly undemanding. For other parents, it's much more complicated and much more work.
I've been lucky but I have also worked very hard.
The stories of women who choose not to have children (or who don't even get the privilege of making that choice) are as interesting and worthwhile as the stories of women who do have children. That said, when those women's stories are defined in opposition to those of women who are mothers (i.e. they are sometimes made to feel that they, unlike mothers, are doing womanhood wrong) it sometimes misses the point that even women who do  go with convention and have children are made to feel that they too are doing it wrong, everything, all the time. Motherhood is no escape from this.
The choice not to have children is complicated though, this is true. Once the children arrive, they're kind of undeniable. Whereas choosing not to have children, as a friend once told me, is a choice you have to make over and over, and that's not easy.
There is this push to universalize everything that happens to a woman. But sometimes our stories are just stories, instead of facts or even destinies. 
"But when we paraded through the catcalls of men and when we chained ourselves to lampposts to try to get our equality– dear child, we didn't foresee those female writers," said Dorothy Parker. I think about this quote a lot, because sooner or later when they're talking about those female writers, someone is going to be talking about you.