March 29, 2018
The Apocalypse of Morgan Turner, by Jennifer Quist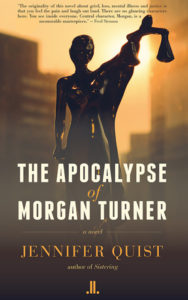 I listened to a wonderful segment on CBC's The Current this morning about the necessity of changing our relationship with death, of re-familiarizing death as a concept and inventing (or rediscovering) rituals for it to be woven into the fabric of our lives. This same directive has also been the force behind Jennifer Quist's first two novels, both of which were odd and oddly compelling, books that particularly preoccupied with death and the macabre. I read both of them and found them well-written and remarkable, but never quite knew what to make of them as a reader, let alone a reviewer. However Quist's third novel, The Apocalypse of Morgan Turner, is the one I finally feel as though I've got a handle on—and I'm grateful to her publisher, Linda Leith Publishing, for their investment in voices who are a little outside the ordinary, in writers who are daring to do something different.
And of course, The Apocalypse of Morgan Turner is also about death, but the lens is wider here, and so too is the story's resonance. Whereas Quist's previous novels were concentrated on individual families and their esoteric habits and rituals, The Apocalypse… involves two very families,  the interactions and intersections between those two families, and also with other individuals with a wide range of cultural and socioeconomic backgrounds. At the centre of the novel is Morgan Turner herself, three years after the brutal murder of her sister Tricia. Three years after so that some of the shock and trauma of such a violent crime has faded away, and the narrative can consume itself with ideas beyond conventional grief and loss. Important too: Morgan and Tricia were not especially close, and her sister's death has not left a gaping hole in Morgan's life. Also, Morgan Turner is not a person who demands a lot of life or the world anyway—she's content enough taking the bus every day to her job washing dishes in a fast food restaurant. So that she might not rail at the universe for all its injustices the way another character would who'd see herself at that universe's centre.
Which is not to say that Morgan isn't questioning: how does a person begin to move on after such a tragedy? The question particularly relevant as the trial for Tricia's accused killer is coming up, and he's planning to plead that he's not criminally responsible for what happened to him. Which, naturally, is upsetting for the entire Turner family, although they all handle it in different ways. Morgan's parents, Marc and Sheila, are divorced, and Marc has made himself a (rather self-serving) media sensation for his forgiveness of his daughter's killer—and Quist's black humour is apparent here with her poignant portrayal of the pretty ridiculous Marc, as compared to his ex-wife:
Sheila's anger is always raw and steaming, irresolvable. Her story is tenacity' chasing Finnemore toward a crushing, punishing destiny she has already publicly denounced as insufficient. When she and Marc divided up their archetypes, he chose the wrong side. His story of cooling and moving on—a loud, public claim of letting go. Soon, he will have to stop talking about it, stop posing for it, stop pleading for it, and do it.
Morgan's feelings manifest in stranger ways—she becomes preoccupied with horror films, she ones she remembers from during the brief time her sister had been a film studies major before she dropped out of school. She also becomes obsessed with the abattoir where her brother works, and ends up getting job in the factory kitchen, where she connects with Chinese colleagues over an obsession with Korean soap operas. Meanwhile, she's attending meetings with the crown attorney who'll be prosecuting the case, not her lawyer, no. The family doesn't have a lawyer, of course, or a real place in this process (which is part of the reason that Morgan doesn't know what to do). The lawyer prosecuting the case has a family of his own, a sister Morgan encounters one day while she's clearing tables in the restaurant where she works. This is Gillian, "a Mormon do-gooder," who pops in and out of Morgan's life after that. And Gillian's other brother, Paul, who is schizophrenic and who is grappling with his own problems with the legal system. And together, all of these characters provide Morgan with the spiritual scaffolding to process what happened to her sister and her family, and to begin to move on with her life.
I loved this book. Quist's narratives are always rich and compelling, and this latest novel is no exception. It's sad and brutal, but also sweet and funny, and all its characters are so real. It also becomes such a page turner as the story progresses, the trial nearing its end, Morgan's desperate attempt to be there for the verdict—there is so much tension. We're also been privy to the lawyer working into the early hours of morning on the case, and how high are the stakes, and what does it all mean? And where do we find that meaning, which is the novel's central question, and Morgan Turner's revelation. Revelation being another word for "apocalypse," which is only just about destruction and devastation as we understand it in the pop-cultural sense, but instead what is revealed by devastation, a divine truth. Or truths, maybe, which is what happens here with the generosity of the people Morgan meets, with what they show her, unwittingly, or otherwise, about this awful, amazing, brutal, beautiful world.