February 5, 2018
Things To Do When It's Raining, by Marissa Stapley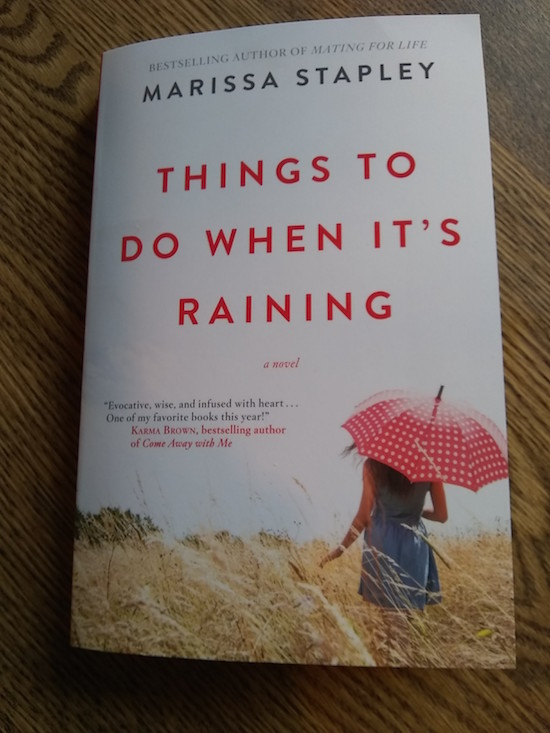 I didn't know Marissa Stapley when I read her debut novel Mating For Love four years ago, and loved its bookishness, intelligence, and what a pleasure it was to read it. In the years since I've come to admire her criticism, her championing of commercial fiction and its writers, and her feminist take on the CanLit community. And I've also come to benefit from her community directly, with her support of my own book when it came out last year, and with her friendship. Which means that I've been especially looking forward to her second book, Things to Do When It's Raining, and I'm thrilled that it's finally here. I read an advanced copy back in January, and I devoured it in a day.
It begins with Mae Summers, whose fiancé has just disappeared along with all of the money people had invested in their business, and who turns out not to be who he said he was. Her life in pieces, Mae decides to go home again, back to the inn in the 1000 Islands where she was raised by her grandparents after her mother's tragic death. But all is not well at home either—a secret hidden in Mae's grandparents' past has returned to the surface and disturbed their relationship, plus Mae's old flame and first love is back in town, right at the moment when she's most raw and shaken.
Obviously, with a set-up this riddled with landmines, this is going to be a book with twists and turns, plus an impromptu journey to Niagara Falls. The plot had me fixed, but I was especially in love with Marissa's prose, her words and sentences, not to mention the amount of wisdom contained within. About life, and about love—this is a story that's so rich. The advanced copy I read in January didn't come with the reader's guide contained in the final book, in which Marissa explains that the story was inspired by one in her own family history, but when I read this it illuminated the story for me, its meaningfulness and resonance. Although part of it too was that it's also written by a wonderful writer. And I particularly loved the book's structure, the chapters moving between different characters' points of view, but each one preceded by an item from the list that gives the novel its title. "Things to do when it's raining," written by Mae's late mother in her youth, so that her voice infuses the novel like the presence of a ghost, so that we know full well what the other characters are missing. And the subtle ways these items tie into each chapter: "Build something. There are tools and scrap wood in the shed. And yes, bandages and ice in the kitchen, in case you accidentally hammer your finger."
I received a finished copy of Things to Do When It's Raining, but I'm fully intending to buy one too, which means I've an extra now for giveaway. Leave a comment on this post and let me know your favourite thing to do when it's raining, and I will randomly choose a winner. Canadians only please, for postal reasons. And happy book birthday, Marissa!
UPDATE: Thanks for the comments, everyone! The winner has been chosen via Random Number Generator (i.e. very scientific…)