January 30, 2018
Boat People, by Sharon Bala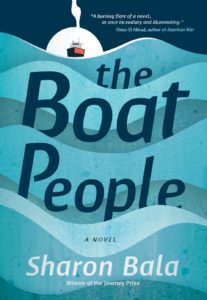 The debut novel by Sharon Bala (who was acclaimed for her short fiction with the award of The Journey Prize last year) is The Boat People, an ambitious, engrossing and absolutely important book that I keep hearing about everywhere—Bala was on The Sunday Edition; reviewed in The Globe & Mail—and for good reason. It's a book that might be called timely, except that stories like this—of people fleeing war and persecution, chancing everything on survival in a new land, being viewed with suspicion upon arrival, the threat of outsiders and others being manipulated for government propaganda—are as old as stories about people venturing across seas at great peril in search of a better life are. Which is to say: as old as stories themselves. And peoples, and seas.
Inspired by the 2010 story of a ship of Tamil asylum-seekers arriving in British Columbia, Bala's story begins with Mahindan, a Tamil mechanic who has lost everything except his young son and has bet everything he has on the chances of finding a new start in Canada. The novel begins with the ship's interception as it reaches Canada, and follows Mahindan through the process of being imprisoned and separated from his son as months go by and his fate is left in limbo—will he get to stay in Canada, or will be he deported to Sri Lanka where nothing good awaits him. Alternate chapters also take us back through his history, showing us how he went from a happily married man with family, friends and a rich life, awaiting the birth of his first child, to someone with (almost—save for his son) nothing left to lose—the gradual reveal of Mahindan's backstory makes for compelling, powerful reading.
But Mahindan is not the story's centre, or not its only one; that this is a story with multiple centres and voices and points of view is an important aspect of its construction. Because there's never just one centre of a story, and all the best narratives refuse to be contained, overflowing to be resonant in all kinds of surprising ways and flowing into other stories. Like the story of Priya, a second-generation Tamil-Canadian who would just like to finish her placement in corporate law so she can become accredited and begin work in mergers and acquisitions, thank you very much. But the fact of her ethnicity means she's roped into a position with another lawyer in the company who's working in refugee law and who overestimates her knowledge in terms of Tamil language and culture to assist him as he supports the Tamil asylum seekers with their refugee claims. Like Mahindan, Priya is somewhere she doesn't belong, and for a while she resists being involved with the asylum seekers and the war her parents had been so intent on leaving behind them when they arrived in Canada. But eventually, she becomes invested, and the ramifications of this are felt deep within her family.
Like Priya, the story's third central character has also worked to put the past behind her, a third generation Japanese Canadian called Grace whose hard work in the civil service has been rewarded with a role adjudicating refugee claimants. She begins her new position not long after the Tamils arrive, and political tensions are high, and ever being manipulated by Grace's former boss and mentor, the Federal Minister for Public Safety whose interests lie in keeping the threat of terrorism high. Meanwhile, Grace's mother is ailing from Alzheimers and the past and the presents are intermingling in her head, stirring stories of the internment of Japanese-Canadians during World War Two, stories that Grace's family had been careful never to dwell on. Stories of othering, persecution, public safety threats, racism, and so much terrible history that's so analogous to what's going on in the present day.
Bala's prose is beautiful, the narrative so careful woven, and the shape of the novel itself so terrifically undefined in a way that allows the story to go beyond its limits, to pose questions that don't necessarily have answers, to unsettle its readers in the most powerful way. There is a didacticism at work, but with a depth and complexity that saves the novel from its few too-earnest moments. Further, a little earnestness is nothing to scoff at, and maybe the author of a book this interesting, original and well-written has earned those moments. Especially since this is such an essential book for Canadians to be reading right now.