November 19, 2017
Baby Cakes, by Theo Heras and Renne Benoit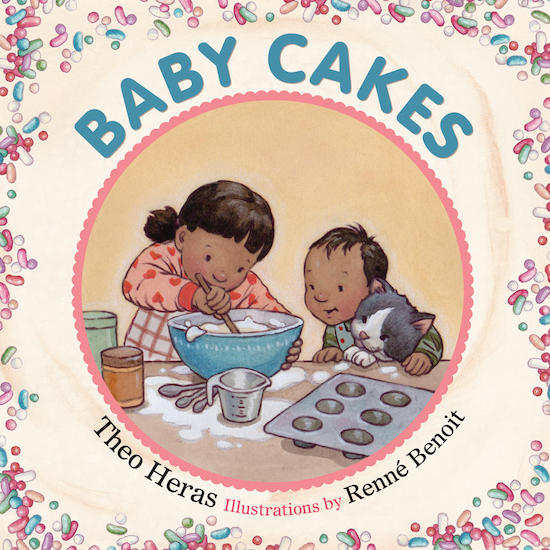 When Harriet was three-years-old, I read Bringing Up Bebe: One American Mother Discovers the Wisdom of French Parenting, by Pamela Druckerman, and loved it mostly because it affirmed all the things I already believed about raising children and therefore I got to feel sophisticated and European, which is always nice when you're only Canadian. And what I remember mostly about the book, apart from the fact its author had previously published an article in Marie Claire about giving her husband a threesome for his fortieth birthday, was the chapter on baking, and the recipe for yogurt cake. (There was also a chapter on babies sleeping through the night. That chapter didn't work for me.) French children, according to Pamela Druckerman, bake all the time, and thereby learn about fractions and chemistry, plus stirring and pouring and patience and not spilling things. All of which were things that I could get behind, and so we made that cake, and we made it over and over, in addition to so many other cakes we've baked in all the years since. And that I've still yet to lose the weight from my last pregnancy suggests Druckerman may have omitted an essential detail in her text, which is that French mothers possibly don't eat the food their children bake. But then where's the fun in that?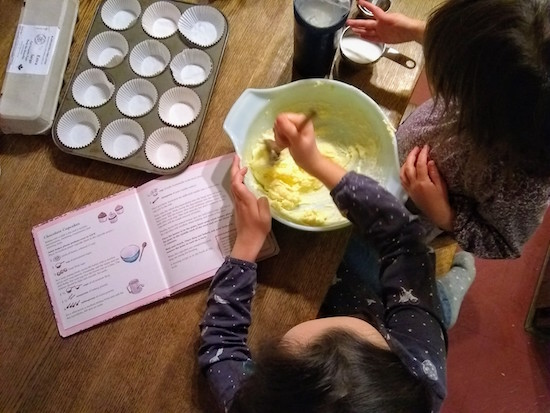 We have a photo of Harriet from the first time we baked together, sometime in the months before she turned two, and she's standing on a chair wearing an apron and holding a wooden spoon, and I tweeted the photo with some kind of caption like, "Basically I only really had children in anticipation of this moment." Because I also remember standing on chairs while wielding a wooden spoon, and have such visceral childhood memories of baking, and I wanted Harriet to have to her own. Plus I wanted cake, of course, and so we baked, but it wasn't always easy. My frequent admonishments of, "Don't put your hands in the flour," "Don't sneeze in the batter," and "Goddamn it to hell, you've just poured vanilla all over the floor" usually went unheeded, and we began to consider a baking session successful if I'd kept my swear words to a minimum of three. Baking with kids was often not as fun as it was made out to be. But I persisted—in addition to math and chemistry, I told myself, my children were learning about human fallibility (mine!) and also expanding their vocabularies.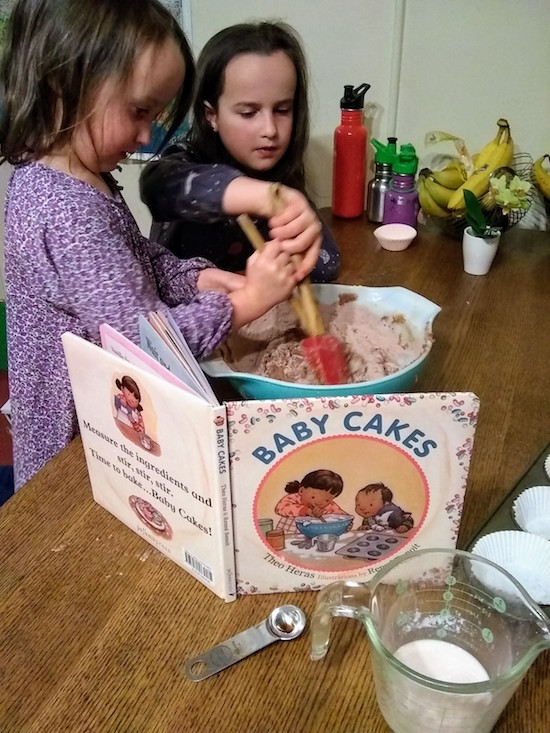 The very best thing about having children, however, (which is also the very worst thing) is that you basically get a new child every two weeks or so. Which is to say that everything changes, all the time, and the things that seemed impossible once upon a time eventually get to seem easy. Harriet sneezes in the batter hardly ever now, and when she and Iris sit down to baking they're actually quite capable. And when I'd recently read Iris Baby Cakes, by Theo Heras and Renne Benoit, she'd declared, "That's such a good book, Mommy." Mostly because she's obsessed with cupcakes, but still. Plus there was a recipe for cupcakes in the endpapers; I said, "We've got to make these." And so on Saturday night, we did.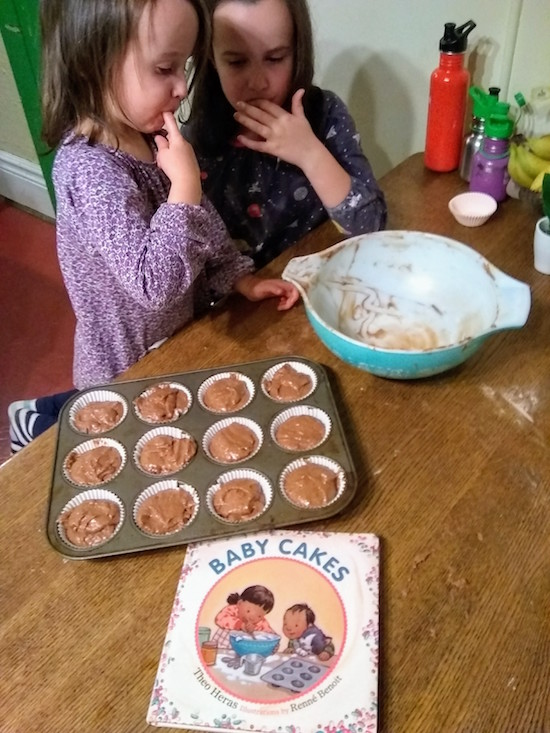 This book would make a great Christmas gift from 3-5-year-olds. With simple vocabulary, a brother and sister would together to make cupcakes (with the unhelpful assistance of their pet cat). The story lists the equipment necessary—"Here are a big bowl and measuring cups and spoons."—and goes through the recipe, "Sprinkle salt, but not too much." And "Creaming the butter is hard work." And is it ever! The recipe inside makes for a nice extension of the book, bringing the story to life and inspiring the reader to  try something new. That the brother and sister in the story bake together without the help of grown-ups (except for with the oven) inspires independence. Plus, the cupcakes were delicious. Obviously, I ate one. Because I am not French.