October 12, 2017
We love Kazoo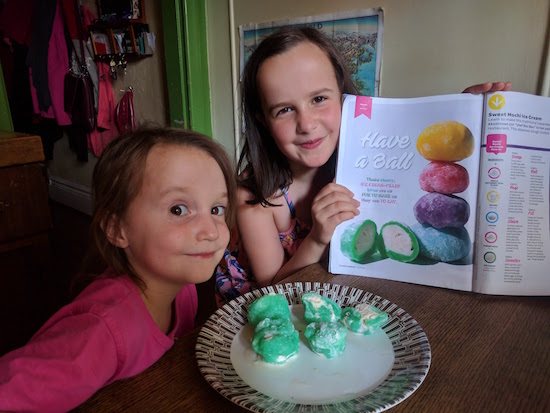 If you have never spent a half hour the night before Garbage Day digging through your enormous recycling bin (which is shared with two other households, one of whom eats a disproportionate amount of pizza, apparently) in search of a missing copy of a children's magazine that might have been thrown out by accident…then you've probably never had a subscription to Kazoo,  which described itself as "a magazine for girls who aren't afraid to make some noise."
And while I've pretty much never liked anything before it was cool (or even after it was, if I'm going to be honest) I'm very proud to say that I was a contributor to the initial Kickstarter for Kazoo six issues ago, and that I've never ever been sorry. Even though postal and exchange rates mean I'm paying $70 (CDN) per year for a quarterly magazine—although that might give you a better idea as to why I was digging through the garbage.
Mostly it was because Kazoo is not disposable, which is why I'm happy to pay extra money for something so entirely worth it. A magazine that's as good as a book, and which is produced so well that it stays in tact after multiple readings. Themes have include Flight, Architecture, Nature, Steampunk, and Music, which all kinds of creative approaches to these ideas, including art, recipes, puzzles, projects, profiles, biographies and more. Each issue includes a comic strip profile of a remarkable woman, and usually these are women of colour, as well as a short story whose writers have included Emma Straub and Jane Yolen, and Meg Wolitzer is forthcoming in the next issue, according to the recent Kickstarter update (and !!!!). Get art lessons from Alison Bechdel, learn to write a song with Ani di Franco, advice on never giving up from Diana Nyad, and read a Q&A with cosmochemist Meenakshi Wadhwa under the headline, "Meet a True Rockstar.
Harriet and I have built a bridge out of marshmallows and toothpicks, we've made grapefruit candy and paletas under the guidance of expert cooks, she and her dad made a walking robot out of a toilet paper roll, and our most recent project was mochi ice-cream balls from the Steampunk issue (because we made mochi from rice flour using steam power—get it?).
SPOILER: I eventually found the missing magazine, and it wasn't in the garbage, but had been put away with a bag of pipe cleaners (of course!). And good thing too, because Kazoo has more than surpassed all my dreams of an amazing magazine to inspire and empower girls, and I'm so glad it's going strong in its second year. As they report on their website, Kazoo was "nominated for a 2017 National Magazine Award in the category of General Excellence-Special Interest and named one of the "Hottest Launches of 2016" by MIN." I don't actually know what MIN is, but I'm sure they're totally right. I'm looking forward to all the good things ahead, and to renewing our subscription over and over again.