October 10, 2017
Where do my books come from?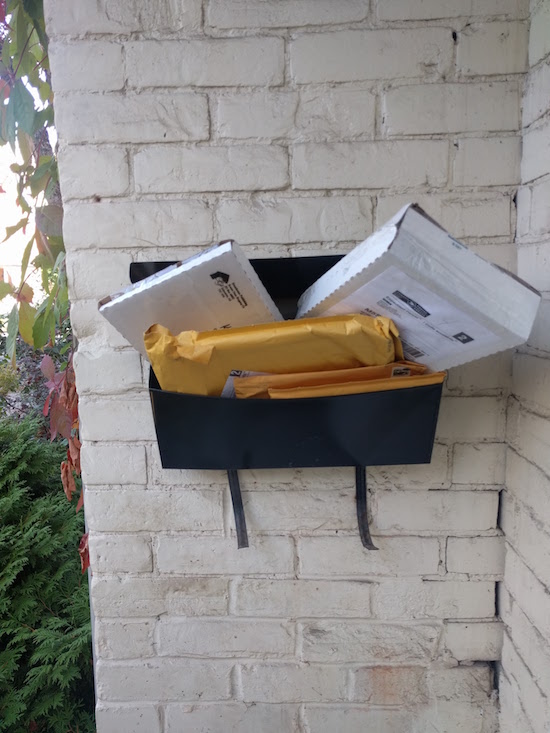 The other week I posted a photo of my mailbox on a day that was, I'll admit it, particularly remarkable, but not unprecedented. I get a lot of books in the mail, and the photo received a lot of likes and comments that made me think about a variety of things—where my books come from, what I do with the books I receive from publishers, whether or not I persist with books I'm not enjoying, and other things. These questions are going to be the foundations of this post, and a couple of others to come, but I wanted to start with this, which is a meme I've done before involving listing the last books you've read most recently and where they came from.
Saints and Misfits, by S.K. Ali: Received from publisher
My Conversations with Canadians, by Lee Maracle: Purchased from Publisher's Booth at Word on the Street
Dazzle Patterns, by Alison Watt: Received from publisher
What Happened, by Hillary Rodham Clinton: Purchased from Publisher's Booth at Word on the Street
Snacks: A Canadian Food History, by Janis Thiessen: Received from publisher
Collected Tarts and Other Indelicacies, by Tabatha Southey: Received from publisher
Once More With Feeling, by Meira Cook: Received from publisher
Just Jen: Thriving Through Multiple Sclerosis, by Jen Powley: Purchased from Staff Picks shelf at Audreys Books
If Clara, by Martha Bailey: Received from publisher
The Mother, by Yvette Edwards: Purchased from A Different Book List
We All Love the Beautiful Girls, by Joanne Proulx: Purchased from Hunter Street Books
What is Going to Happen, by Karen Hoffman: Received from publisher
A Bird on Every Tree, by Carol Bruneau: Received from publisher
Guidebook to Relative Strangers, by Camille Dungy: Purchased from Parentbooks
The Misfortune of Marion Palm, by Emily Culliton: Purchased from Happenstance Books and Yarns
Glass Houses, by Louise Penny: Received from publisher (ARC)
Today Will Be Different, by Maria Semple: Purchased from Parentbooks last year, this was a reread
Annie Muktuk and Other Stories, by Norma Dunning: Received from publisher
The Lesser Bohemians, by Eimear McBride: Purchased from Blue Heron Books
Pond, by Claire Louise Bennett: Purchased from Parentbooks, this was a reread
The Murder Stone, by Louise Penny: Found it in cottage library
Wilde Lake, by Laura Lippman: Purchased from Happenstance Books and Yarn
Truly, Madly, Guilty, by Lianne Moriarty: Purchased (secondhand) from Beggar's Bouquet Books
Scarborough, by Catherine Hernandez: Purchased from Mabel's Fables
History of Wolves, by Emily Fridlund: Purchased from Lighthouse Books
Weaving Water, by Annamarie Beckel: Borrowed from the Toronto Public Library
Do Not Become Alarmed, by Maile Meloy: Purchased from Curiosity House Books
Turning, by Jessica J. Lee: Purchased from Curiosity House Books
The Burning Girl, by Claire Messud: Received from Publisher
In the Land of the Birdfishes, by Rebecca Silver Slayter: Purchased from Lexicon Books
Results are a little bit skewed because eight of these are books I read on my summer vacation and I tend to more deliberate in those choices, but still. Of the 30 books I read, 11 of them were received from publishers. They tended to be smaller publishers too because a) these are publishers I have relationships with through my work with 49thShelf.com and b) some of these books are harder to find in Ontario bookstores so I am unlikely to come across them on my own steam, at least before review copies arrive. A few are books that I would not have previously sought out of my own. Two of them I read because their publicists were quite emphatic that I, Kerry Clare addressed personally, should do so—nice work publicists; you were right. And when I do read these books publishers send me, I tend to write about them either on my blog or on 49thShelf.com, or in both places.
I tend not to read ARCs because I don't like them—I liked to read finished books with nice covers and I like to read them when everyone else is reading them.
I also buy a lot of books and am an avid independent bookshop customer.
And finally, I don't disclose in blog posts if I've received a book from a publisher. A lot of bloggers do, and on some blogs that are exclusively review sites, it makes sense. But I don't think it does for me. I trust myself after ten years that my reviews are not biased because I've received a review copy—though this was a learning curve for me for sure but I got over it years ago. I get so many books in the mail, most of which I don't even read, that the idea of treating these books differently than the books I purchase myself is kind of ridiculous—if anything, these books that find their way to me rather than me seeking them out myself actually get read much more critically, as in, "You better be worth my precious time, Book-I-didn't-even-ask-for." I also know that professional reviewers (of which I am one) receive review copies as standard practice and this doesn't need to be disclosed in their reviews. And finally, I see this blog as a space for me, first and foremost, and that anybody else likes to read it is just gravy, but to pepper my posts with disclosures and the like would undermine the authenticity of what I'm up to here.