October 3, 2017
Snacks: A Canadian Food History, by Janis Thiessen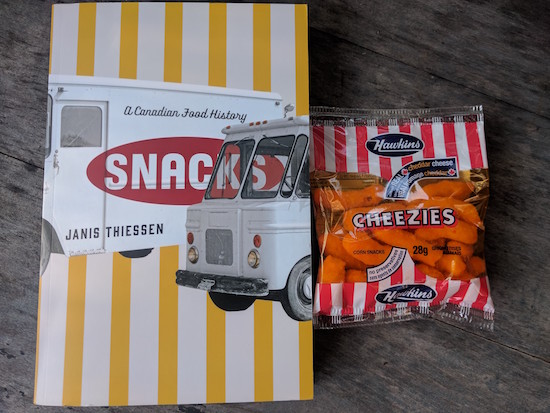 As soon as I heard about Janis Thiessen's book, Snacks: A Canadian Food History, I knew I'd want to read it, for so many reasons, not least of all because I'd necessarily have to purchase snacks in order to authentically Instagram my reading experience. Props, I mean. Plus, basically I'll do almost anything to justify a bag of potato chips. I knew the book would inevitably lead to the purchase of cheezies: "It's for work," I'd tell the sales clerk, making sure to save my receipt. "The things I do to support Canadian and books and literature", I'd self-congratulate, all the while licking orange cheese dust off my fingers. And all of this pretty much perfectly transpired, with the added bonus of the book being fascinating.
Now, if you cannot fathom how a book about the history of snack food might be fascinating, then I'm not going to try to win you over, but if Snacks already sounds intriguing to you, you won't be sorry. Thiessen begins her book by placing snack food in the context of contemporary food culture, which stresses health and wellness, all things "natural" over processed, and sees fit to gloss over class, gender and labour issues in the ways we value and talk about food. She writes about the role of snacks in her childhood, which made me think a lot about the potato chips that were a fixture of my life when I was growing up—and how my Dad's glove compartment was always packed with Bazooka bubble gum. She gives an inventory of her own family's pantry, and challenges the vilification of snack foods in several interesting ways.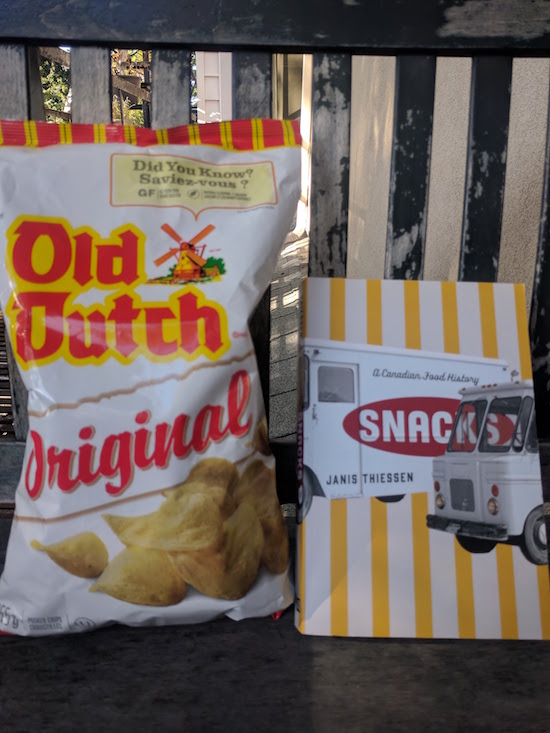 I wanted to buy a bag of Old Dutch potato chips to accompany my Hawkins Cheezies, but tracking down a bag here in Ontario would prove surprisingly difficult. Or not so surprising, I would learn, as I started reading about the Potato Chips Wars of the early 1990s (which were really a thing!) in which Old Dutch tried to expand into Eastern markets and Hostess Frito-Lay would go into Toronto stores and buy all their Old Dutch stock, promising discounts on their products if they didn't sell Old Dutch again. My husband finally tracked down a bag at a convenience store on Bloor near Bathurst. Previously, he'd seen a box of 50 mini chip bags on sale for Halloween, and I admonished him for not buying the box—it was portion controlled, I pointed out. We could have kept the box around and had chips for weeks and weeks, except that we then devoured the one bag of chips he did buy so thoroughly that I realized no chips were safe in our midst. It was honestly fascinating to learn more about the history of the potato chip though, its industrial and agricultural histories, about the consolidation of potato chip companies in Canada, that Old Dutch, that Canadian mainstay, isn't even actually Canadian….
Neither is Hawkins Cheezies, I was shocked to learned, or at least it didn't start out that way. Hawkins began as a big American snack food company that fell apart due to scandals connected to divorces and Mafia ties, and what was left of the company was a plant making cheeses in Tweed, Ontario, whose business has remained unchanged for more than half a century. There is a mythology around these products, a national mythology too, and Thiessen probes these to interesting ends. Her research consists of oral stories by plant employees, getting at the labour side of snacks in a way that most food discourses neglect to. Readers learn about the experience of working at or managing Old Dutch and Hawkins plants, and other food companies, as well as candy, chocolate and biscuit factories. (Interesting fact: huge risk of fire and explosion in candy factories. Who knew?) Other companies Thiessen writes about include Paulins, Moirs (whose 1980s' commercial for Pot of Gold I remember well…) and Ganong, Robertson's Candy, Cavalier Candies, Purity Factories, and Scott-Bathgate.
The book's last chapter is about a game show produced regionally across the Canadian Prairies in the 1960s called Kids Bids, wherein children were encouraged to save wrappers from Old Dutch potato chips and then bring in their collections to the show to bid on coveted items—top prize was a bicycle. Exploitive and unhealthy, perhaps, but Thiessen shows how the show gave children agency and opportunities…and basically eliminated litter from chip bags. Oh, those were the days…