September 25, 2017
Once More With Feeling, by Méira Cook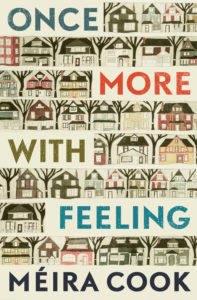 "This novel was not what I was expecting," I wrote in my review of Méira Cook's debut novel, The House on Sugarbush Road, in 2013, and it makes me laugh to see that now, because it's exactly what I was going to say about her latest novel, Once More With Feeling. Possibly the only thing a reader can do with a Méira Cook novel is have no expectations at all. Because if you do, she'll only grab you by them, and then swing you around and around her shoulder like a cowboy with a lasso. Or at least this was my experience of Once More With Feeling, which I'd been led to believe via the cover copy would be sweet and heartwarming, doddering professor Max Binder delivering an ill-advised gift to his wife on her birthday, the wife he's still besotted with. I'd been setting myself up for a sweet comedy, a little bit homey and twee. But then the car drove off the road… Metaphorically and otherwise, and here we were barrelling down the off-roads, narratively speaking.
Once More With Feeling is not an easy book. (I think I said this about The House on Sugarbush Road as well.) It won't be to everyone's taste and there are things about it that are troubling, and I would have appreciated the end coming just a bit sooner than it did. I started reading this book on a plane, and to be completely honest there were a couple of points early on where I might have put the book down, had I not been thousands of feet in the air without another book to read. Not a singing endorsement, I know, but bear with me. I kept going, and it was not long after that it became clear to be that there was actually no better book for a four hour flight, or no situation better than a flight to enjoy a book like this. To give it the sustained attention it requires, and to have my reading time so richly filled with so many voices and stories. It's hard to appreciate a feast in tiny bites, is what I mean, and so it was nice to just keep my seatbelt on and read voraciously.
Once More With Feeling is a novel about a city, Winnipeg in four seasons, although Winnipeg isn't named. It's specified though, and it reminded me of my favourite Winnipeg novel, Carol Shields' The Republic of Love, in how the city is evoked, the sweep of its year. The two books are complementary, though Once More With Feeling is darker, with an edge. And every chapter is from a different perspective, connections between some of the characters tangential, and we get to see some of them from their internal monologues and also from far away. There is startling ambition as to the range of characters how share the story's helm, a relay passed from one to another. Literature Professor Max Binder, then his wife's editor at the local newspaper (whose contents we glimpse via letters from outraged readers). The newspaper's spinster bookkeeper (who has a secret life of her own, surely) volunteers at a local mission that serves food to the homeless, and so the next chapter is from the perspective of another volunteer, whose mother is the Binder's cleaner and whose sister is just one of many women who've gone missing on the city's streets. And onward, through Max Binder's children, and their schoolmates.
My favourite chapter was "Inspirational Living Centre," from the perspective of a wayward high school student whose class gets paired up with Holocaust survivors. And while the bubbly popular girls in the class embrace this experience ("On the way back from the Inspirational Living Centre some of the girls said theirs were "cute" and Courtney Segal even said hers was "adorable.") But the narrator is matched with a curmudgeonly asshole who refuses to be inspirational, and even ticks off Courtney Segal on the bus ride home—"Why can't you keep your Holocaust survivor from bothering ours?" she demands.
Teenagers at the mall, a camp director in September, a chorus of Jewish mothers reflecting on Bar and Bat Mitzvahs past in a chapter that reminded me of Grace Paley (in which time made a monkey of us all). A chapter from the perspective of Lazer Binder's English teacher's ex-hushand, the Binders' next door neighbour, two elderly sisters, and then back to Maggie after a year of grief and rage and the arrival of the missing piece of the puzzle of what ultimately happened to Max. And what is the plot? Which is the same question as what propels the story? Well, the sweep of days and months and change of the seasons, of course, the furious momentum of life itself, in a city in particular where nothing sits still for a moment.
Although with a Méira Cook novel (and this is her third) the language is as important as the plot is, and the vocabulary of this one is rich and dextrous. Cook is an extraordinary writer, an award-winning poet, as adept at plotting words as story—her sentences are truly magnificent.