September 22, 2017
Mr. Crum's Potato Predicament, by Anne Renaud and Felicita Sala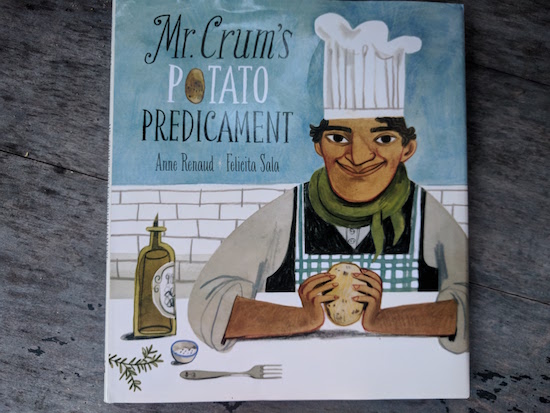 I was going to say that chips are my weakness, but I prefer Stephanie Domet's term, that they're her "kryptonite." Domet is the inventor of the #stormchips hashtag, a Martime phenomenon in which an impending storm necessitates the procurement of snack food, chips mainly. Last winter in our household I tried to make #stormchips into a thing, keeping a bag on hand in case of blizzard, except we don't have the right kind of climate and I just ended up eating chips without a storm. Who needs a storm? Not me, which is why I can't buy chips, but I love them. One after another, crispy, salty, greasy, kettle-baked, and preferably flavoured with salt and vinegar.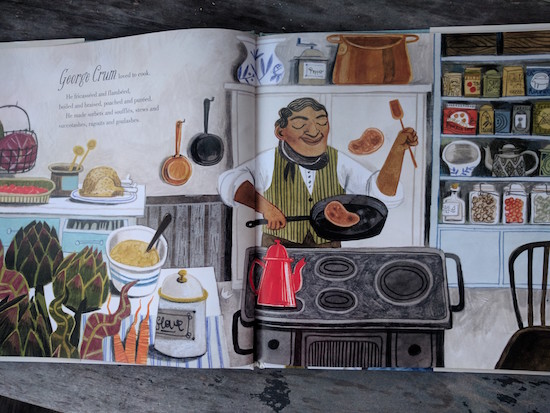 I had a bag of chips last weekend, Old Dutch Chips, because I was in Edmonton and they're a western thing. I ate them on my flight home and they were so good my eyes actually rolled back into my head, and the thing about something this amazing is the remarkable fact that you can just have them. That there are chips in the world at all, I mean, readily available at any moment to be eaten, usually in giant handfuls. I am incapable of eating potato chips without stuffing them into my mouth like a madwoman, a chip-monster. I have never been able to eat just one chip or a couple. This is my problem. I'm not terribly bothered by it.
For all my talk of can't buy chips and won't buy chips, I buy a lot of chips, or at least lately. We eat chips when we're camping or when we're at the cottage, and there was a moment this summer when I was actually a bit tired of chips. Which it had never remotely occurred to me was possible. But last weekend's chips were special occasion, chips outside of season. Although that I was on an airplane at the time kind of negates the whole occasion; I was in transit and one could argue it never really happened at all. The Old Dutch thing was really on my mind because I've got the new book Snacks: A Canadian Food History on deck, which I'm planning to read in the company of a bag of Hawkins Cheezies, and probably some chips. And I don't think it's weird to plan your reading material around their snacking opportunities. Because if there's one thing I know, it's that you can't eat chips without occasion.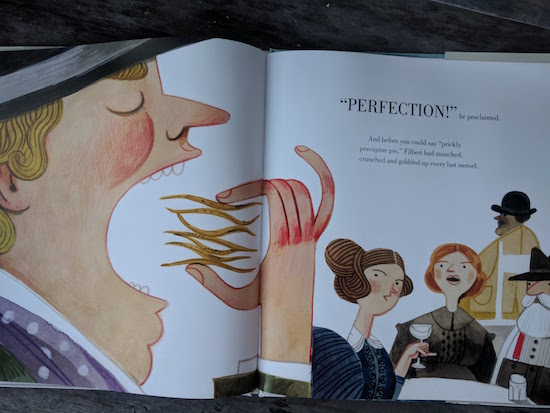 Fortunately, there is one more literary occasion for opening up a bag of chips, and that's the picture book Mr. Crum's Potato Predicament, by Anne Renaud and Felicita Sala, and it will make you hungry. (It also reminded me of Kyo Maclear and Julie Morstad's Julia, Child in all the best possible ways.)
"The story you are about to savour is a fictional tale with a helping of truth," the book begins, and then the reader is introduced to George Crum, his waitress Gladys, and the persnickety customer in George's restaurant whose pickiness would lead to the advent of potato chips, as George is encouraged to cut his fried potatoes into thinner and thinner slices in order to satisfy his customer's particular demands. The story is playful and light hearted, with a fantastic vocabulary, rich with synonyms and adjectives and gorgeous euphony. Crum was a real figure, Renaud's author's note informs us, though he is but one of many people credited with invented chips with his thin potatoes. But Crum certainly did play a role in making chips famous, and both author and illustrator have a lot of delicious fun bringing this historical character to life.