August 27, 2017
All Time Record
I made a very uncharacteristic vow a few months ago to only bring a couple of books on vacation, and not be so maniacally compelled to be always reading. Because I remember feeling pressure to read on previous vacations, which is stupid for a vacation and also made me anti-social…and then I ended up bringing seven books on vacation, plus a few extras, for Stuart to read and for just-in-case scenarios. But I decided I didn't have to finish them all during our week at the lake. What better way to retain that holiday feeling than to let the holiday reading continue over into the week we're back home, I thought. There was no pressure. I was going away with a towering stack, but I didn't have to read all of them.
But then I did! Without being anti-social, even, because I also swam in the lake, played UNO and charades and Old Maid and Zingo. But on top of this, I lingered in bed in the mornings, read by flashlight at night after everyone was asleep, and got lots of reading in while the children were out chasing frogs, treasure hunting, or partaking in nighttime movies every evening at 7pm in the rec hall. There was time enough for all the reading, but also for all the other things. The days were so perfectly elastic, the way summer days are meant to be.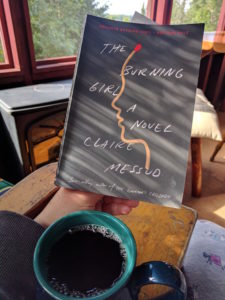 There was no rhyme nor reason to my stack of holiday books, except for the first, which was The Burning Girl, by Claire Messud, because I had to get it read for work reasons. But it turned out to be perfect, because it was such a summer book, steeped in atmosphere and there was a quarry and everything. Such a strange, skewed book too though, like everything Messud writes. It's a look back on a friendship between two girls which breaks off at the point in which girlhood breaks off into womanhood, and the whole story delivered with this spectacular dose of nostalgia—except the main events of the narrative are just two years before and the narrator is still a teenager. I wasn't expecting that, and it was kind of disorienting, this idea of the 1990s being something that happened "before I was born." I'm used to young protagonists being set in the past. It was interesting. And she was such an interesting protagonist too, elusive and tricky in the way of Messud's from The Women Upstairs. (Remember the furor from that book, about women and likability, and then Jennifer Weiner got involved?) This book is more subtle though, so much so that it needs an additional read to puzzle out its construction. The "Bev Burnes" character continues to haunt me, with her ample backside. And yes, the quarry. It would turn out that nearly all my holiday books would take place around bodies of water. Isn't it funny the way that a syllabus assumes itself?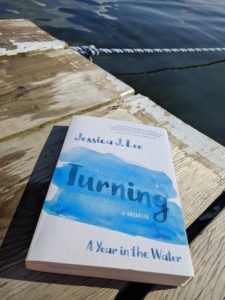 From this point on my reading also became a fun celebration of all the bookshops I've been visiting this spring and summer. I picked up Turning, by Jessica J. Lee at Curiosity House Books when we were in Creemore in June, a book I was partial to for #SwimLit reasons and also because of Lindsay's review at her swimming hole blog. Once again, a book focussed on a body of water, or in this case many of them—although this time I'd seen it coming. The memoir is Lee's story of her lifelong complicated relationship with swimming and water, and also with notions of identity and home, and about how she got over a bout of heartache and depression by spending a year swimming in lakes near her home in Berlin. A year indeed, which means Lee swims in all kinds of weather, in the deepest winter with a hammer to break the ice, and in the winter she never swims for too long. Although apparently the more you winter swim, your body grows accustomed to lower temperatures—though I'm going to just take her word for it. (I must say that Lee inspired me to jump into the lake wholeheartedly every day and not be a slow entering ninny. If she can swim in December, I can just in during August.) I liked the book a lot, and found it strange and disorienting in a fascinating way, the way a foreign city first appears, kind of. It was unusual to be reading about Germany and Berlin because all my frames of reference for swimming are so Canadian and English—it occurs to me that I know nothing about German geography at all, and little more about its literature. There is so much still to be immersed it, but Lee's memoir was a memorable dip.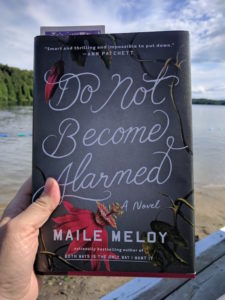 Next I read Do Not Become Alarmed, by Maile Maloy (also from Curiosity House Books in Creemore), whom I'd never read before, but I purchased the novel after reading Ann Patchett's endorsement. In her back-of-the-book blurb, Patchett writes that this is the kind of novel you will barrel through and then should go back and re-read to realize how technically brilliant it is. Not quite sure I'll be doing the latter, but this is a 300+page book that I read in less than a day. Also about a body of water, this one being an alligator-infested river in Panama in which a group of American children are floating in inner-tubes when they drift away from their errant parents. The American children are on a cruise with their families and they've just embarked from an excursion, and it's all gone a bit wrong, and it's only going to get worse. The story is indeed fast-paced and enthralling, and there were a few moments where the prose and what was happening took my breath away. This is a book about privilege, naivety, stupidity, and the ways in which Americans (and their ilk—hi! [waves]) are able to go about their lives protected from the risks and dangers that are commonplace in so many other countries.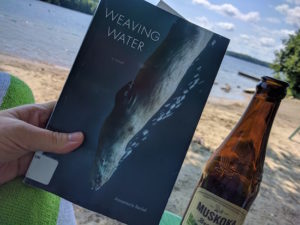 Next up was Weaving Water, by Annamarie Beckel, which was a book I'd been interested in for Annie Dillard Tinker Creek reasons, and then picked up to read after I met Annamarie at the Lakefield Literary Festival. In this book, the body of water in question is a pond in Newfoundland—and the novel points out that "ponds" in Newfoundland can often be the size of large lakes. On the banks of the pond is an old cabin that belonged to Beth Meyer's husband's great-aunt, who left it to them after she died. An ecologist by training and on the cusp of a new stage in life now that her daughter has gone away to school, Beth moves out to the remote cabin to do research on river otters, looking for answers to save an earth in peril. She meets her eccentric neighbour with an unshakable belief in ghosts and magic, and her neighbour's nephew who Beth is drawn to in spite of herself. It turns out the answers Beth is looking for are not just about river otters after all, but the creatures remain at the centre of the novel and Beckel's wonder at their habits and mysteries are absolutely palpable.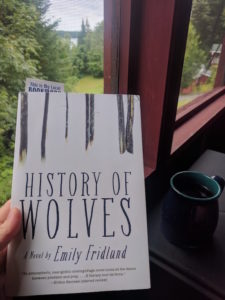 It took me a while to know that Emily Fridlund's A History of Wolves (which I bought at Lighthouse Books in Brighton the weekend we were camping) would really work. There's something off-putting about it, and it takes time to realize that that off-puttingness is part of its very design. Ostensibly, it fits right in with all the other books, with the body of water even—the lake the narrator lives on with her parents at their abandoned commune, isolated in the woods of northern Minnesota. But then a couple moves into a new cabin across the lake, and she can watches them through their windows, and begins to care for their young son. And she's drawn to the family in a way that's connected with a former teacher who was eventually charged with possession of child p*rnography, and a classmate who'd been connected to him. How do all the pieces fit together? To be honest, I'm still not entirely sure and it's the kind of book I should return to and I'm even compelled to, but am not sure I will. Because of the off-puttingness, a narrator who never really connects to anyone. Again, which is the point, and there's a killer last line that underlines this point. I ended up really appreciating this book, though I can't say I liked it. But in the end, it was a perfect fit with all the rest, the splash of the paddle from Linda's canoe as she makes her way across the lake.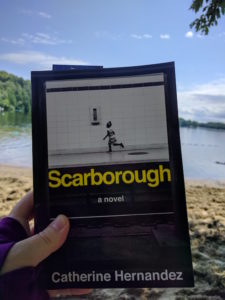 I wasn't sure how Scarborough, by Catherine Hernandez (which I bought on our trip to Mabel's Fables a few weeks back), would fit in with all the rest, a book that is so urban. But then it turned out to have its own body of water, the Rouge River, and the book opens with a heron at the river's mouth, and it moves through the seasons in the same way Lee's Turning did. I loved this novel, which had been recommended by loads of people and which I read in less than a day. At the centre of the story is a drop-in centre at a Scarborough elementary school where families turn up for company, support…and breakfast. We see the program coordinator's communications with her supervisor and the way that bureaucratic requirements (and racism) keep the program from properly serving the people it's meant to. There are failings and there is tragedy, but there is also resilience and connection. Scarborough has just been nominated for a Toronto Book Award and I'm thrilled about that.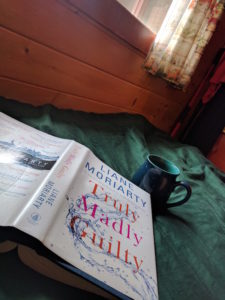 Next up was Lianne Moriarty's Truly Madly Guilty, which I bought at Beggar's Banquet Books in Gananoque when I was there in early May. I loved her Big Little Lies back in March, and remember hearing about this one when it came out last year but then didn't read it after coming across a dismissive review—I think there was a big reveal that was meant to be anti-climatic in the end. But I'm so glad I finally picked it up. Moriarty is brilliant, and will never get the literary credit she deserves for sexist reasons. Indeed, this is a novel that revolves around a mystery—something happened at a bbq and the novel moves between the perspectives of different characters reflecting on the events leading up to it. At the centre of the book is two friends, Clementine and Erica, friends since childhood with a complicated dynamic. And Moriarty gets it so perfectly, the way that a friendship can come with ambivalence and animosity, and she ties it to the women's marriages and their relationships to their mothers. The reviewer is correct that the big reveal is less than we've been lead to believe it's going to be—but it doesn't matter because the point of the book turns out to be so much bigger than what happened one night. And that's what's so fantastic about it, the hugeness of this novel's scope—this event of one night ends up connecting to stories that are decades old and to characters far-flung and nearby. It reminded me of The Slap, by Christian Tsiolkas, but without the violence and misogyny. Moriarty manages to show every single character at their worst, but redeem them too in a way that's entirely believable. And now I want to read every single thing she's ever written. (PS: this was the one that didn't quite click with all the others, but then there ended up being a body of water after all, which was a very tacky backyard fountain that meets with a sorry end.)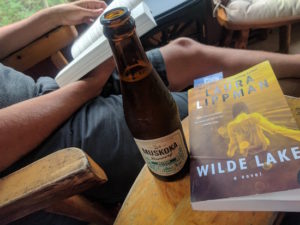 And next up to another woman writer who doesn't get the credit for being as brilliant as she is, and that's Laura Lippman—although she gets some credit. I've loved her work for years now, and was happy to read Wilde Lake, which I bought at Happenstance Books when I was there for the Lakefield Literary Festival. Stuart had already read it and couldn't wait for me to finally get to it so we could talk about it. Loosely an homage to To Kill a Mockingbird, it's about a newly elected State Attorney in Howard County, Maryland, who's following in her revered father's footsteps. When Lu's first big murder case surprisingly hearkens back to events during the summer of 1980 during which her big-shot brother was involved in an altercation where somebody turned up dead, all kinds of long-forgotten secrets are brought up to the surface. This is a novel about rape culture, and the ways in which changes in the law have influenced how rapes are prosecuted, and it's about fallibility, family secrets, and lost ideals, and I thought about it for days and days afterwards. It's full of twists and surprises, and the most evocatively depicted small town, built around a lake, of course. It's really an extraordinarily good novel.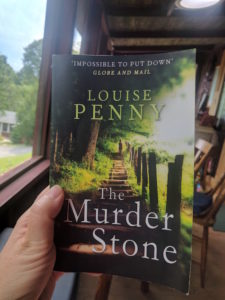 And then it was Friday and we were heading home the next day and the other book we'd bought was Bear Town, but Stuart was in the middle of it. And so I went to check out the library at the resort we were staying at, and was pleased to discover The Murder Stone, by Louise Penny (which was the UK title, published in Canada as A Rule Against Murder), which I haven't read yet. (I came to Penny's Three Pines series late with A Trick of the Light.) It was absolutely perfect to read because it was set at a place much like the place where were staying (albeit much much more fancy!) and as I was reading the part in the book where there was a huge storm with thunder and lightning, we were having the exact same weather and the lightning kept illuminating our little cabin just like daylight, and it was all a little too close to home.