July 11, 2017
Mitzi Bytes in the World—and in the Sun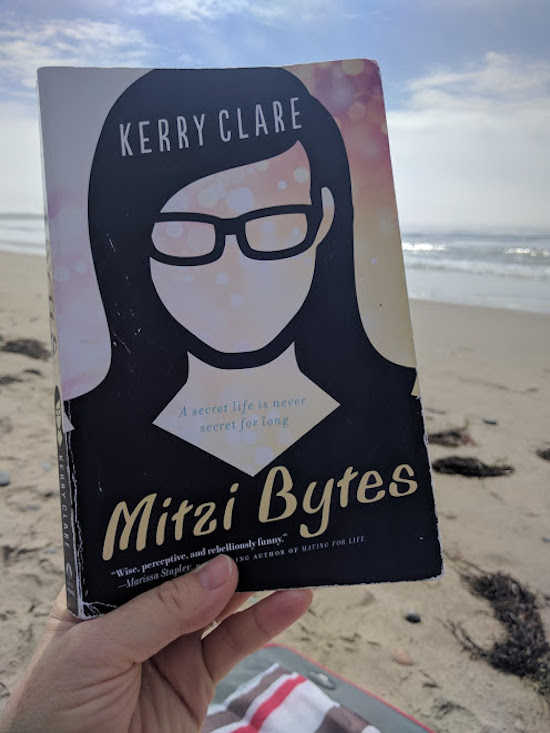 "You've got to have a long view," is a thing I told a writer last year who was troubled that her book had not been the explosive sensation she'd been hoping it would be. From a reader's perspective, this seems obvious—there is no such thing as a book best-by date and the number of times it's taken me ages to finally pick up a book I'd fall in love with is kind of preposterous. But for a writer, there is pressure, for a book to be a hit the moment it's out of the gate, and while it's true that there is a limited window in terms of media coverage and award eligibility and things like that, these aren't actually the literary connections that matter. And now I keep having to deliver my own advice to myself, to remember that the life of a book is long, serendipitous, sometimes subtle, and always surprising. And while my book is now old news as new releases go (literally, so last-season), it's continuing to have adventures out in the world and I find this so delightful.
And first, if you're looking to come along on a Mitzi Bytes adventure, tickets are still available for my event at the Lakefield Literary Festival this weekend with Zoe Whittall and Marni Jackson. (I am also teaching a blogging workshop on Saturday morning.) Having loved both Marni and Zoe's books last summer, it's especially exciting to be appearing with them on Friday—for it's a long way from the screened-in porch where I devoured Zoe's book to a seat alongside her on the festival stage. (!!)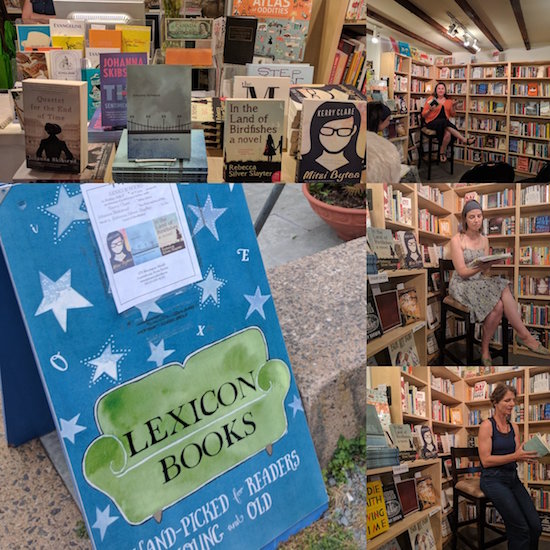 Last Friday, I had the good fortune of reading from Mitzi Bytes at Lexicon Books in Lunenburg, NS, which is one of the best bookstores I've ever been to (and we both know that I do get around). It was a terrific night with a packed house, and the good company of the brilliant Rebecca Silver Slayter and Johanna Skibsrud, who were kind enough to include me in their event. I'm so grateful to store owners Alice, Jo and Anne-Marie for having me—and to Jo in particular who was actually reading my book as I came into the store, which is a highlight of my life.
Elsewhere, Mitzi Bytes is featured in the August issue of Canadian Living, as "a compelling look into the personal consequences of the digital age." One of my favourite readers and writers (and my friend!) Sarah wrote beautifully about the novel on her blog, Edge of Evening (and apparently I stole her life—more about that later…). Katy MacKinnon writes a great piece on the book at The Winnipeg Review, and they declare it a "fun" novel about the capacity of women to be more than just one thing—exactly! And long-time blogger Danielle Donders writes a fantastic review of the book here, which thrills me to no end because long-time bloggers "get" this book in just the way I want them too—as a celebration of the history and evolution of women in blogging, the communities and connections blogs created, and how these blogs have helped so many of us define our sense of self.
She writes, "…a book with a blogger as the protagonist released in 2017? How delightfully anachronistic. And yet, the story feels surprisingly current and relevant today."
And just a reminder that the #MitziIntheSun giveaway runs until July 31. There's still time for you to share your sunny Mitzi pic for a chance to win an excellent summer reads gift pack (which I will make sure to get to the winner before summer is gone…).