June 26, 2017
Mitzi Bytes in the World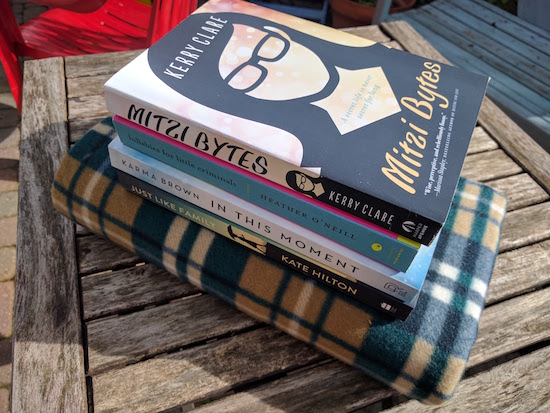 A very nice thing is that #MitziInTheSun kicked off last week and lots of people shared the image or shared their own sunny Mitzi shots (because my hashtag would have been lonely otherwise…): Mitzi by the lake, at the ballgame, in London, even! The photo above is of the excellent #MitziInTheSun summer reading prize pack, which could be yours if you play the game (which runs until the end of July).
Other good things: Mitzi Bytes was featured on Plenty in May: "a clever page-turner of a novel with a powerful engine of a plot, some of the funniest dialogue you will ever read, and a sex scene with a ventriloquist." Dawn Dumont was kind enough to include it on her summer reading list for The Writers' Trust of Canada in very good company. And Matilda Magtree had very nice things to say about the book as well when SHE DID NOT REVIEW IT recently.
And now coming up? I'm going to be reading at Lexicon Books in Lunenburg, NS, next Friday, July 6, reading with Johanna Skibsrud and Rebecca Silver Slayter. And the weekend after that, I'll be at the Lakefield Literary Festival, appearing with Zoe Whittall and Marni Jackson on Friday, July 14 and teaching my blogging workshop the next morning. Hope to see you there!