June 23, 2017
Rosie and Michael, by Judith Viorst and Lorna Tomei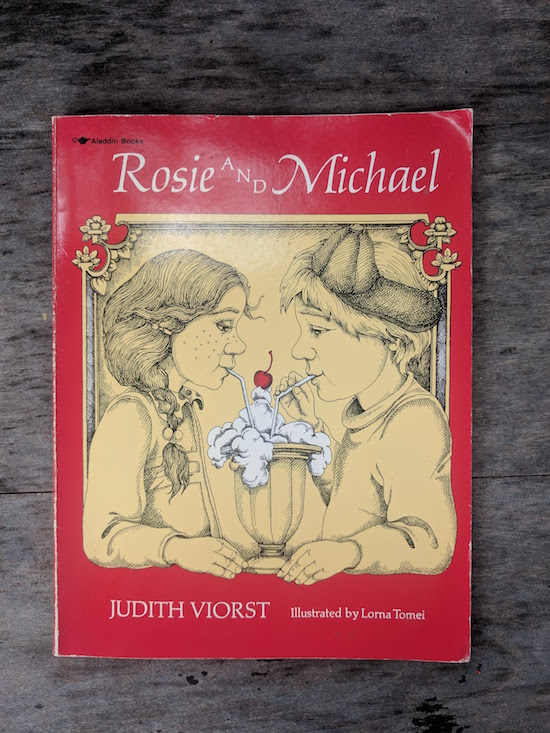 I've spent this week finishing up the second draft of my new novel, whose title at the moment is I Wish It Were Tomorrow. That title is actually the last line of The Hating Book, by Charlotte Zolotow (and if this title remains and my book is published, this will make for me two-for-two for novels inspired by works edited by Ursula Nordstrom). The Hating Book, like my novel, is a story of the complicated nature of friendship, about friendship's necessary flip-side, which isn't the opposite of friendship, exactly, but simply part of it. To expect to lines to run strictly parallel forever and ever is an awfully high expectation. And even when the course of a friendship does run smooth, things can be complicated. It is to one's friends that one is not always the kindest. And it is that way that friends are like family.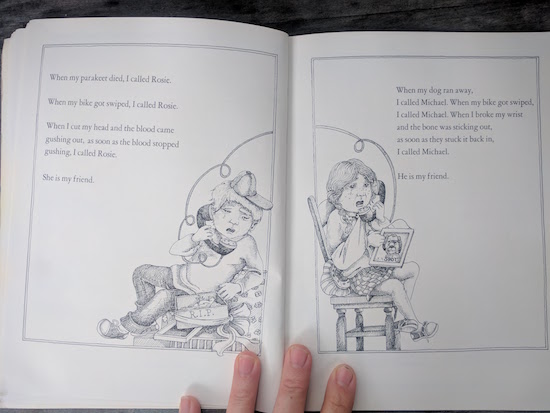 Rosie and Michael, by Judith Viorst and illustrated by Lorna Tomei, first published in 1974, was not a book I was familiar with until Harriet's class recited it in their school's spring concert last month. Harriet's line was, "I worry a lot about werewolves, and he understands." And oh, is there anybody else who can illustrate the full spectrum of human experience—the good, the bad and the awful—as well as Viorst, author of classics such as Alexander and the No Good Very Bad Day and I'll Fix Anthony? She gets the quiet rage of childhood fury better than anyone, and can frame it within a context of love and security, which isn't easy. Judith Viorst would know that friendships can be complicated: "Just because I put a worm in his tuna salad sandwich doesn't mean that Michael's not my friend." Exactly.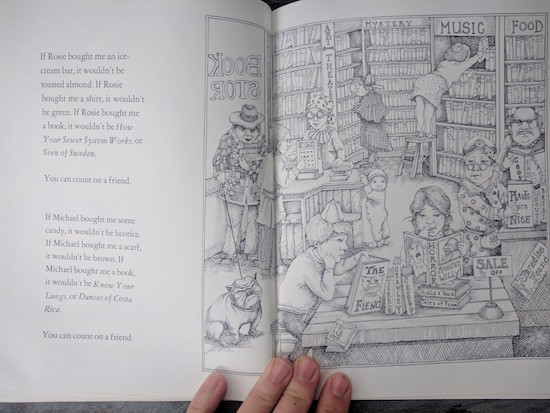 We are coming up to the end of a very good school year for both children, and a more difficult ending than we had the previous year in which both Harriet and Iris were returning to the same teachers. Iris's teacher, the inimitable Tracey at playschool, who introduced the concept of "friendliness" into our lives in a way we hadn't experienced before. Why don't we hit, bite, stomp through people's gardens and act out when we are cranky? Because it's not very friendly, Tracey has taught us, along with the idea that friendliness is a way of being in the world, a general level of approachability, giving other people a break, giving other people space, even. To be friendly is to reach out to somebody in need, to give a hug to somebody who is sad, to smile at a stranger, to pick up litter in the park, to hold a little kid's hand firmly when the little kid is crossing the street. A lot of it is about taking responsibility for one's own actions. A lot of it is about being kind.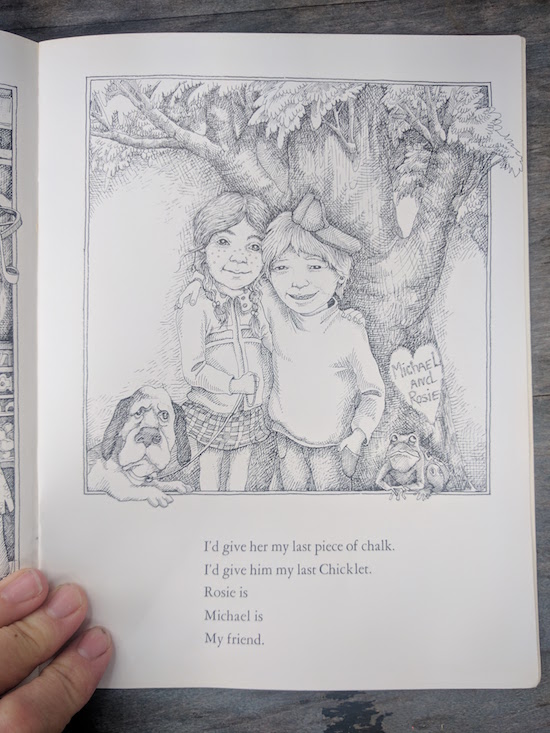 Harriet in grade two has had similar yet, appropriately, more advanced lessons about friendliness and friendship in her class over the past two years. Her teacher, Ms. T, has subtly and yet powerfully gone to great lengths to nurture a sense of community in her classroom and sense of responsibility toward the wellbeing of others. I will miss the unique dynamic she has created in her class, which has made for such a positive experience socially for Harriet, who has learned about appreciating difference and finding what's in common, about working together and supporting each other. The children in her class seem to be inclusive and welcoming, playing together, letting quirky kids be quirky and appreciating those quirks—Harriet's classmates have been incredibly avid in supporting her hedgehog obsession, for instance. The class is united as a group, and doesn't become divided along gender lines, and I'm so grateful for the friendships Harriet has been able to have with the boys in class. They're an incredible group of unique and funny personalities, and part of that is why they work the way do, but so much more is also because of the deliberate approach of her teacher.
All this occurred to me at the spring concert as I listened to then reading Rosie and Michael, what a perfect story is this for this group, this celebration of friendship's elasticity and solidity at once, and how these relationships become the foundation of the people we are. And it occurred to me too that I have a lot more work to do on my novel, to get at the nuance, amazing singularly, friction, synchronicity, and care involved in sharing a friendship over many years. But still, I'm getting closer.