April 14, 2017
The Fog, by Kyo Maclear and Kenard Pak
Sometimes it is useful to be reminded that not everything is an allegory. But at the same time, those "It doesn't have to mean anything! It's a story!" people are even more annoying, because a story has to mean something, or else what is the point? Which isn't to say that every book should necessarily be Animal Farm. The answer, as with most things, is somewhere in between, and in her latest picture book, The Fog (illustrated by Kenard Pak), Kyo Maclear has achieved that balance with stunning precision.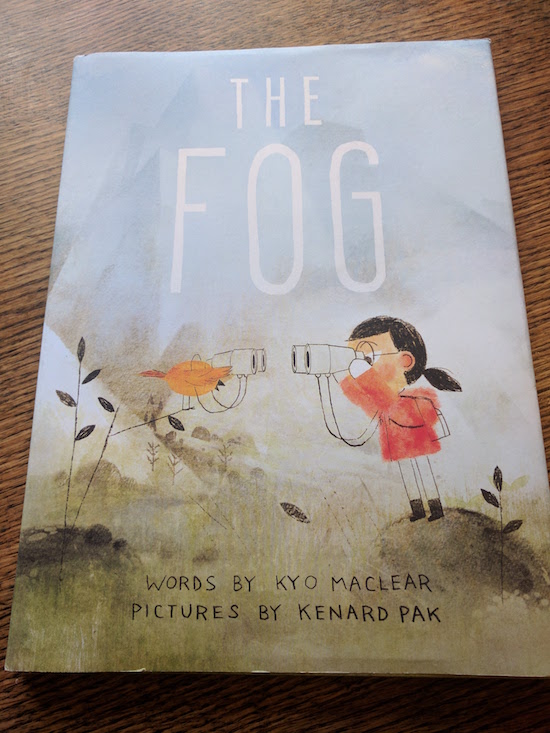 Maclear's early picture books had obvious messages—Spork was about being mixed-race, Virginia Wolf was about loving someone with depression, Mr. Flux about learning not to fear change. They were good books and artful, but Maclear's more recent work has become less concrete, more nuanced. While I'm entirely in love with her book Julia, Child, however, I admit I've never been able to get my head properly around it; it's a book a little too intent on trying to mean. Her others like The Specific Ocean, however, manage to mean without trying to. And her latest, The Fog, is her best work yet.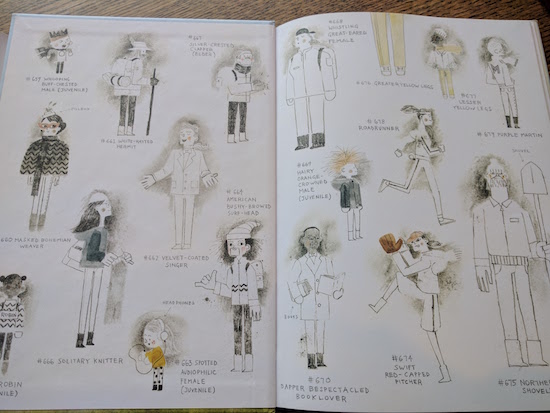 It's a book about a bird who likes to people-watch (and this book ties in nicely with Maclear's recent memoir, Birds Art Life). The endpapers are illustrated with human varieties—"Dapper Bespectacled Booklover," "Masked Bohemian Weaver," "Solitary Knitter." The bird is named Warble and he lives in a place called Icy Land, an island that people from all over the world come to visit, giving Warble excellent opportunities for spotting. One day, however, a thick fog descends, and everything changes. It's hard to see, the people stop coming, but nobody seems to notice. Nobody, however, except for Warble.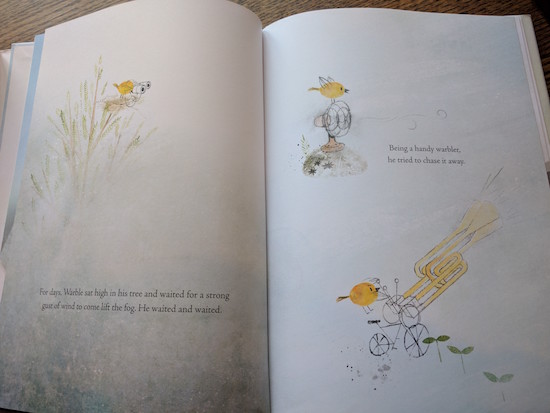 The birds around him adapt—this is what living creatures do. Soon, nobody else remembered that there hadn't always been fog, and even Warble began to wonder if things had ever been different.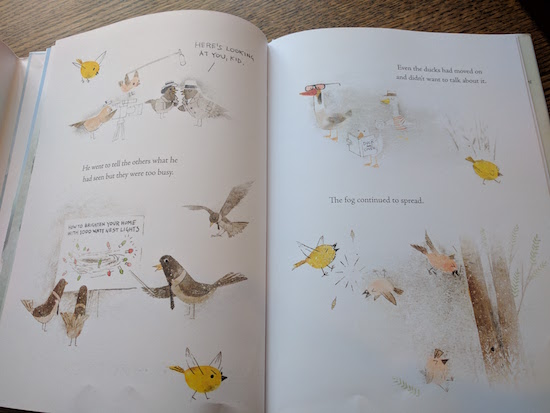 But one morning something happens. Peering through his bins (I say "bins" instead of binoculars because I've just finished Steve Burrows' latest Birder Murder Mystery and I know the lingo…)  Warble spots a speck on the horizon: "Peering closely, he saw a dark-haired human ghosting through the meadow. It was a rare female species and she was singing a song."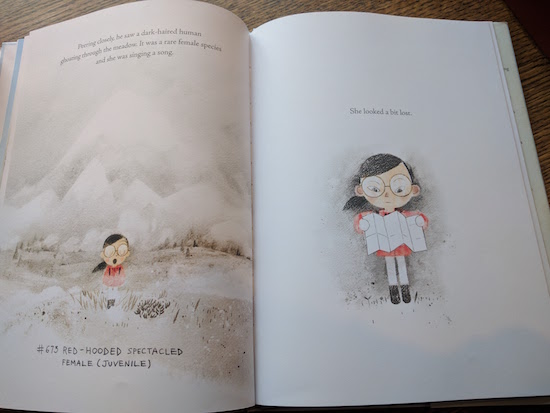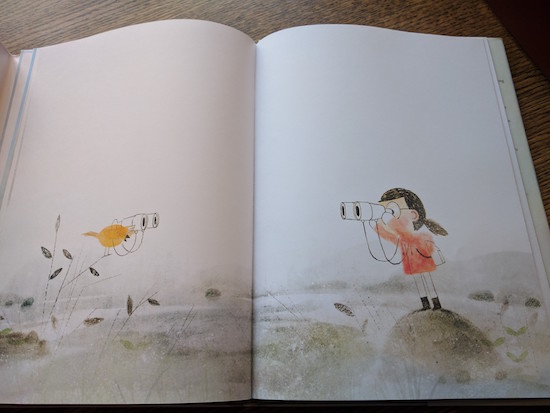 The usual transpires: he offers her insects, she teaches him origami, and then they both acknowledge the fog. And they wonder—if each of them can see it, might somebody else out there be able to see it too? So they send out paper boats with the message, "Do you see the fog?" and after a long, long wait some answers return. "Notes arrived from around the world: "We can help!" "We see it too!" And with every message received, the fog lifted a bit, until you could see things again. "Big things. And tiny things. Shiny red things. And soft feathery things." The story ending with Warble and the girl together against the starry sky enjoying the clear night view.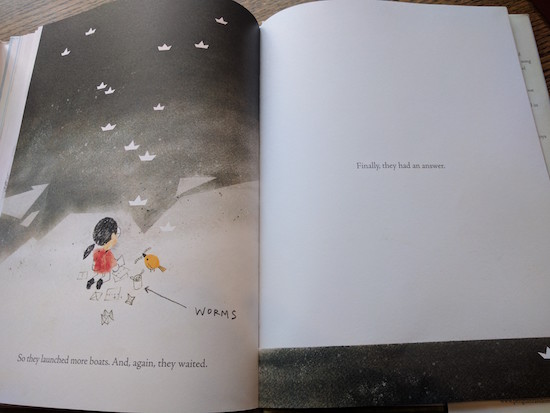 So what is the fog then? Is it climate change denial? Is it fascism? Is it the volcanic ash that enveloped Iceland in a cloud not too long ago, grounding flights around the world? None of these suggestions mapping onto the book exactly, but in this they serve to open up the story and the ideas it offers rather than rendering them in a narrower fashion. What does it mean? becoming the beginning of a conversation.