March 8, 2017
My Book in the World: The Keeping It Real Edition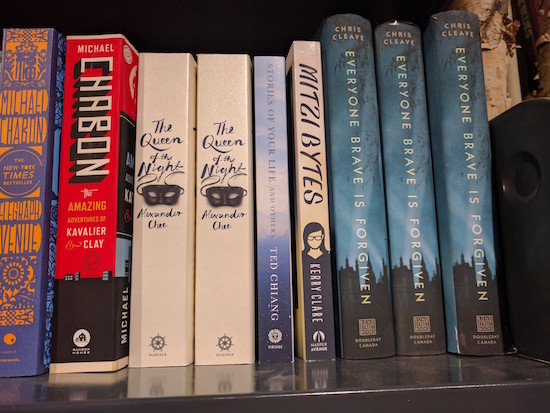 I've long dreamed of the moment I would first spy my novel on sale in a bookstore, and I've looked forward to it. On my way to an event a bookstore tonight, I had a fleeting thought that this could be it, that I might see my book on display, for it's been spied out-and-about and turning up in people's mailboxes before the release day on Tuesday. It might bring me to tears, I thought. This was kind of exciting and I was feeling pretty uplifted anyway after a vigorous walk on this chilly night, walking west as the sun set. Inside the store, I only felt better. How extraordinary to be a part of this, to have a book. I eyed the stacks on the display table, books selected with care, books whose stacks I've selected purchases from many times. Soon, I was thinking, my book will be among these. I imagined how cool that stack would look. I took a moment to see if it in fact wasn't already there. I checked out the spot on the shelf where my novel would live, right there between Ted Chang and Chris Cleave. Already it was such a magic space and I envisioned the look of my book's spine. Little Book, I was telling it, which wasn't entirely sensible since it's a book and wasn't even there, but there you go. There is so much waiting for you. 
In my experience, being published is a roller coaster of highs and lows. There were the gorgeous reviews from actual people, and the readers who connected with me, and the thrill of connecting with booksellers, and then there were the events that literally nobody comes to. Like that story about Margaret Atwood signing books in the sock department in Eatons. There is a Margaret Atwood story about every kind of humiliation that solely exists just to make us all feel better. I remember headlining a sparsely attending event not so long ago and sending my husband a text message a few minutes before showtime: Oh my god, this is terrible, why do I keep doing this to myself, oh my god oh my god, the humiliation, I want to die. 
It was a bit like that, that moment when I first spied my book on sale in the bookstore. Moments before I'd been feeling pretty good about everything, still a bit stunned at the book's appearance in Hello Magazine last week, anticipating stacks and stacks on tables, mobs of school girls chasing me down streets like Beatlemania. It was all kind of inevitable. And then there it was, my book. I'd know that spine anywhere and I spied it across the room, which is a good sign, I guess. We wanted it to "pop." But there was a problem. I was standing in the children's section. What was my book doing on the shelf in the children's section? And why was there only one sad little mis-shelved copy and was this a systemic problem and my book was going to be shelved in children's sections into perpetuity?? Oh my god, had everything gone wrong?
I picked my poor little book off the shelf and cradled it in my arms, and slunk up to the bookseller in total shame. "Um, this is kind of weird," I said. "But, um, I wrote a book, and it's on the shelf, but it's not on the right shelf." "Where was it?" "YA," I said. "But it's not YA?" I shook my head. "Well, what is it?" "Fiction, I guess." This was unbelievable. Didn't this person read Hello Magazine? I thought you were all eagerly anticipating my book as much as I was. I thought I would walk into the bookstore and alarms would start blaring, and not even because I was shoplifting.
She checked the system. There was no reason the book should have been mis-shelved in YA. I was so mortified. "I mean, I wasn't, like, looking for it, or anything. But I just saw it there, and I don't know how impressed you might be with it if you were looking for YA. Not that I've got anything against YA. I mean, some of my best friends write YA." This was totally totally terrible.
"Well, you can put it on the shelf, I guess," she told me. It wasn't really the climax I've been waiting for my whole life. It was more like I wished the ground would open up and swallow me up, and my book. (I should have known. I have known well for quite sometime that being a writer is nothing less than a series of abject humiliations.) But I was holding the book, that lonely little book, and it wasn't like I was going to buy it. And so I shelved it, between Ted Chang and Chris Cleave. It looked good, but that didn't help much. I took a photo, but my heart wasn't in it. I was only taking the photo anyway to accompany the inevitable blog post about this terrible, painful experience that I am only writing in order to make something worthwhile of it. And to make me feel better.
"Oh, do you want to sign it?" the bookseller asked me as an afterthought.
My answer was a definitive no. Somehow it didn't seem appropriate, and I didn't have a pen.