March 6, 2017
Mitzi Bytes: The Soundtrack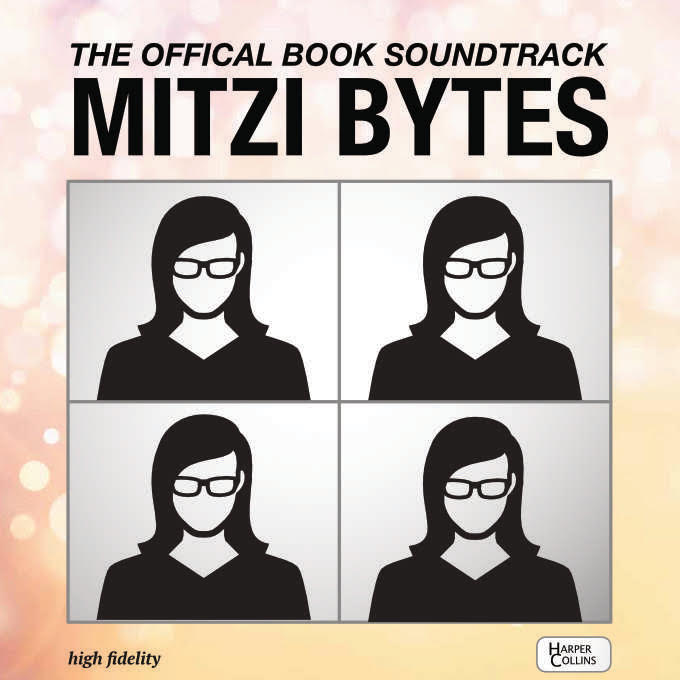 I believe it was Ernest Hemingway who once said that a novel is not a novel until it has both its own pinterest board AND a soundtrack, and while I've satisfied all terms on the former front, the latter is the final item on my agenda  before my book comes out next week. And it's such a pleasure to deliver. I hope that you enjoy it as much as I enjoyed creating it.
1. "Lover of Mine," by Alannah Myles
While my novel is fiction, it's made up of bits and pieces of the world as I know it, and one experience I do share with my protagonist is that of having one's hair catch on fire at karaoke. I've always embellished this story (because lying is what I do best: hence my propensity for fiction) and unlike my character, I was not on stage singing "Lover of Mine," by Alannah Myles, when the fire occurred. While I had been singing that night, I'd returned to my place in the audience and then my hair got too close to a tea light. But I have told the story so many times that in my mind now I was indeed on stage when the flames broke out, just as Sarah in my novel was. I have her singing "Lover of Mine" because it's my favourite song to sing in the shower, and while there are rumours going around that I only wrote my novel in order to have an excuse to sing karaoke at the book launch, it's not remotely true.
2. "If Not For You, by George Harrison
My favourite part in the novel was not written until the third or fourth draft, and it's two scenes, the first in which Sarah and her husband Chris have an altercation that almost makes me cry when I read it, and then the part where he tries to explain what he meant, what he said. He paraphrases lyrics from this song, which is by Bob Dylan, but I love George Harrison's version of it best. I remember listening to this song over and over years ago and yearning for someone to love this much. Also, while readers have mentioned that the male characters in the novel are not as realized as the women, I want to affirm that Sarah's husband Chris is the least robotic man I've ever rendered in fiction, and for me this is a stunning achievement.
3. "Gypsies, Tramps and Thieves," by Cher
This is actually one of my favourite songs to sing at karaoke (apart from "Bad Bad Leroy Brown and "Almost Paradise [Love Theme from Footloose]") and I taught it to my children, who fell in love with it. I didn't realize the implications of this until they started asking me why the singer's daddy would have shot the boy they picked up south of Mobile if he'd known what he'd done, and why Mama was dancing for money. So I just rolled with it, and decided this was a great opportunity for my children to learn about accidental pregnancies, which you don't necessarily have to be born in the wagon of a travelling show to know something of. In the novel, Sarah's daughters are singing this song in the backseat of the car (which, n.b., is also fiction: I don't have a car) while she's considering Virginia Woolf and the multiplicity of selves, something that Cher in her various incarnations could probably tell us a great deal about. (I take pride in Woolf and Cher existing together in the same sentence in my novel. Not enough writers have made this connection.)
4. "The Harper Valley PTA," by Jeannie C. Riley
This song doesn't turn up in the book, but the song's narrative of small minded people condemning a mother for her unconventional approach to life is a theme—witness Sarah's dread every time she approaches the school yard to pick up her children. But I hope that readers will see this as an illustration too of Sarah's own small-mindedness in how she approaches the other parents she meets. Sarah is not entirely wrong about the mothers, but she doesn't consider that she's one of them in many ways and that perhaps they're also worthy of more generosity of spirit than she shows them.
5. "As Cool As I Am," by Dar Williams
"And then I go outside to join the others, yeah, I am the others…" is a line from this song, which is about the trouble women have relating to other women, some women's insistence in seeing themselves as apart from the rest. The trick being that women are just as multitudinous as the selves Virginia Woolf refers to, but this detail keeps surprising us. The solution, as I write, is that not women need to be more supportive of each other and all think the same, rah rah sisterhood, because how boring would that be, but instead that we need to make more space and allowance for difference. We need to be cool with other women not liking us. But no, Dar is right too—we should not be afraid of women.
6. "We Shall Not Be Moved," by Mavis Staples
I love this song as a song of resistance. I wanted to write about a woman who refused to yield to everybody's expectations of her, for better or for worse, and this song underlines that spirit.
7. "You're Never Fully Dressed Without a Smile," from the Annie Soundtrack
I have loved the 1982 version of Annie for nearly my entire life, and so it was to my great joy that my daughter fell in love with it too during the summer I wrote Mitzi Bytes. Every day she watched the movie while I wrote 1000 words and the baby slept, and that was how this book got written, a most miraculous arrangement. (The 2014 version of Annie would come out later that year and we loved it just as much.)
8. "History Remade", by the Fembots
In the first draft of the novel, Mitzi Bytes was obviously set in Toronto, but in order that the story might have greater global appeal, it was edited to be less specific. But discerning readers might still recognize the city, especially the reference to the park where there had been race riots during the 1930s. Those same riots are mentioned in this song ("Here's where the rioters raged over baseball and race…) by the Fembots from their 2005 album, The City.
9. "Virginia Woolf," by the Indigo Girls
"And here's a young girl/ On a kind of a telephone line through time/ And the voice at the other end comes like a long lost friend/ So I know I'm all right/ Life will come and life will go/ Still I feel it's all right/ Cause I just got a letter to my soul/ And when my whole life is on the tip of my tongue/ Empty pages for the no longer young/ The apathy of time laughs in my face /You say "each life has its place"" I reread To the Lighthouse the summer I wrote this book, which is how that novel made it into the story, but it belongs there. I have long found so many connections between Woolf and blogging, and the connection described in the song indeed reminds me of blogs, voices like long lost friends. They particularly felt like that when blogs were new.
10. "I Feel the Earth Move," by Carole King
This song is included because when Sarah has sex with her husband for the first time, this very tall but otherwise nondescript (apart from his vile underpants) man she's falling in love with turns out to have surprisingly remarkable sexual talents.
11. My Ding-A-Ling, by Chuck Berry
For a massive prude, it was surprising to me that so many penises kept turning up in my novel. "My Ding-A-Ling" is mentioned at Sarah's book club meeting where they're reading To the Lighthouse (phallic) and her friend is worried about her son who keeps exposing himself at daycare, and it turns out that this song is one of his favourites.
12. "Ripple," by the Grateful Dead
There should be a long silence on this soundtrack in homage to the album that Sarah's brother-in-law Evan will never actually get around to making, even though he crowd-sourced it and everything. A lying dirtbag, Evan is a total loser who fancies himself as a genius, but his greatest claim is some regional success in a second-tier Grateful Dead cover band.
13. "The Greatest Love of All", by Whitney Houston
I hope that anybody finding Mitzi Bytes hard to get through (though I can't imagine HOW THIS WOULD BE POSSIBLE) will persevere when they know that the last two sentences of the novel reference "The Greatest Love of All." And to anyone who might find that off-putting, well, perhaps we were never meant to be…
14. "Oh, That Mitzi," by Maurice Chevalier
I continue to be grateful to my friend Roseanne Carrara for bringing this song to my attention with its absolutely perfect line: "Should I be brave and misbehave?" Inspired by my gutsy character, my own answer to question these days is mostly, YES.
*Thanks to my husband for the Mitzi Bytes/Hard Days Night image here. Without your love I'd be nowhere at all, and utterly graphic designless.