February 19, 2017
Speedy Deletion: How I Tried and Failed to be on Wikipedia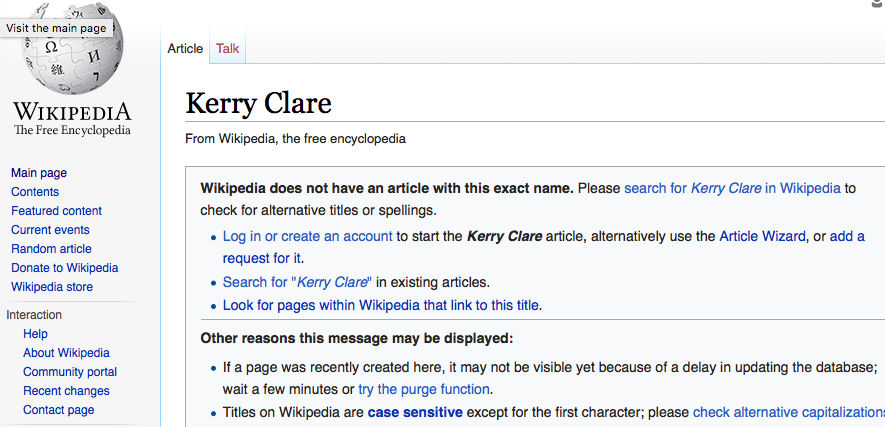 Because I tell you everything, you have to know that I've wanted a Wikipedia page since 2008. This was the year my friend got a Wikipedia page. At the time, I barely had a "Published Works" page on my website, and my website was on Blogspot, and I had a long, long way to travel still. And all these details are a little shameful to admit, because we're all supposed to be cool about this sort of thing. Like, "Oh, do I have a Wikipedia page? I had no idea, because I certainly don't google myself weekly." In my next life, I hope to be that cool, but in this life, I'm the woman who finds every mention of me or my work two days before Google Alerts does. Just once I would like Google Alerts to surprise me—for me this would be a definition of success. It would mean not only that my online mentions were turning up in substantial volumes, but also that I have better things to do than hunt about on the internet looking for them.
Anyway, last summer I decided that the time had finally arrived. I'd amassed a small body of work, some prizes, publication credits, and had a debut novel on the horizon. Because it would be cheating to create my own Wikipedia page (although I have been told that this happens all the time) I asked my husband to make mine for me, a really romantic gesture. And he did. It was really nice, and there I was amongst Canadian authors, and Canadian authors born in 1979, even. But it hadn't even been a day before the Kerry Clare wiki was causing trouble.
The trouble at the start was kind of innocuous. They wanted references and citations, and this was understandable. There was nothing personal about it. I filled in the blanks and added the details. And then the next problem flagged was that my page was not connected to other pages, or referenced by them. Never mind—I'd fix that too. I connected my page to that of authors who'd been published in my anthology; I linked to an author who'd published me in her anthology. If I could I would have literally underlined that I am in fact a National Magazine Award-nominated author, or bolded the text at the very least. And this, the fact of being a National Magazine Award-nominated author, is really a very Canadian thing—you don't even have to win. But the Wikipedia editors didn't know this. (Perhaps "this" is also kind of sad. Don't think I didn't consider it.)
It was about four days into my career as a person with a Wikipedia page that  things got more personal, that the notes on the discussion page began to be written by actual people as opposed to the template messages about links and additional citations. The people, who volunteered their time as Wikipedia editors, were not at all impressed by my accomplishments. And for awhile, I tried to engage with the process, to answer their questions, to fill in the blanks, to vouch for my own notability. But the more I tried, the more adamant the editors became. "Being nominated for an award does not make a person notable," the editor explained. "She didn't win the award. And her publication date is so far off into the future that it is likely, especially with the current state of publishing, that her book will never in fact be published."
At this point I finally gave up. Although saying this suggests I had more agency in the matter than I actually did. Even if I hadn't given up the fight to be on Wikipedia, I was on the shortlist for speedy deletion and it was probably going to happen anyway. But when I did give up, it was because it had dawned on me that battling to remain on Wikipedia was going to have to become my full-time job, and it was exhausting. Turns out I'm not so unnotable that I had absolutely nothing else to do with my time except battle it out with Wikipedia editors. If I'd devoted my life to staying on Wikipedia, I'd never be able to do anything else that was notable again.
I know some people who are as notable as dirt stuck to the bottom of my shoe, and they're still on Wikipedia. How, I wonder, have they managed to pull it off? Perhaps it's such a feat of incredible endurance that it makes a person notable after all?
A few lessons I took away from this: first, that the whole exercise is remarkably gendered. (The dirt on the bottom of the shoe people I refer to are male.) It was not lost on me that I am a woman who does have some accomplishments, and that my work was entirely dismissed without hesitation by a group of men who really knew nothing about those accomplishments, and who did not necessarily have any accomplishments of their own. Perhaps I am wrong about this final point, and I would be ecstatic if I were, in fact, but it does occur to me that profoundly successfully (or notable people) don't necessarily have the time to be editing Wikipedia in the middle of the night. Anyway, the idea of mediocre men undermining a successful woman was not so mind-blowing—I don't know where exactly, but I've heard that one before…
And the second lesson? That it's really healthy for a person (especially a person who googles herself on a regular basis) to be reminded of her insignificance. I'm not being facetious. And that Wikipedia notability and other such metrics are not those with which we should necessarily gauge our success in the world. I mean, it would be nice, but these aren't the things that matter. It's good to know too one can be a total failure in all these respects, and still be entirely happy, and worthy of existence.