January 15, 2017
Cake Breaker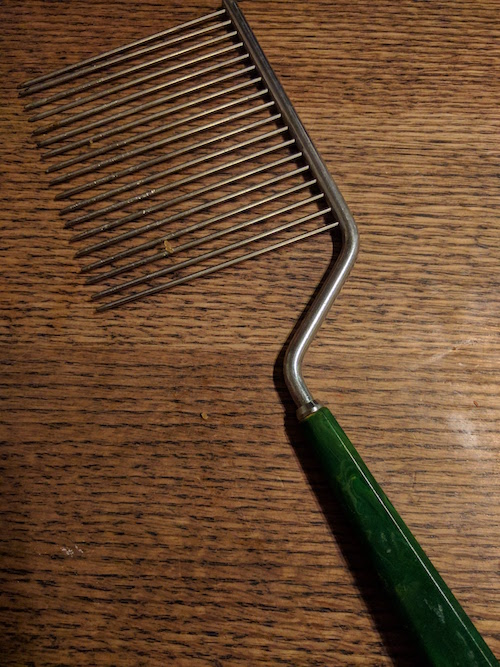 I specialize in accidental cakes—I wrote about one of these in my favourite blog post ever. And here is another, in a post that was originally an Instagram post, but I was a few hundred words in before I realized it was a blog post after all. And so here it goes.
Yesterday there was no cake scheduled and there would have been no cake, except that when I was looking in a drawer for chopsticks at lunchtime (we were having udon noodles), I found an implement (shown in the photo above) which I've never used and cannot remember where it came from—from my mom or my aunt? Was it my grandmother's? But regardless of origin, I didn't even know its purpose: a comb? A plow for mashed potatoes? But then Stuart remembered that it was a cake server. "That's right. But how??"
And then I googled "cake server with prongs" and found Jessica Reed's website ("CakeWalk: Exploring Stories, History, and Identity Though Cake"), which is my new favourite place on the internet. In the post I found, Reed writes about this implement, "the cake breaker," patented by Cale J Schneider in 1932. The cake breaker is specially designed to slice a cake without destroying it, essential in delicate cakes such as angelfood…
"Well, let's make an angelfood cake," I declared, determined—until I found the recipe had 12 eggs in it. Our eggs are free range and eggs are far far too precious for that. So no. I scoured my cookbooks for other options, and settled on an apple upside-down cake. Not the best cake for a breaker, I realized in retrospect, because it would have to slice through apples too. So not optimal, but it worked. We ate the second half of it this afternoon, and it was even yummier.
And the point of this, of course, is the amazing way that all roads (even udon!) lead to cake, however indirectly.
I mean, at least they do if you're lucky…