January 6, 2017
Rad Women Worldwide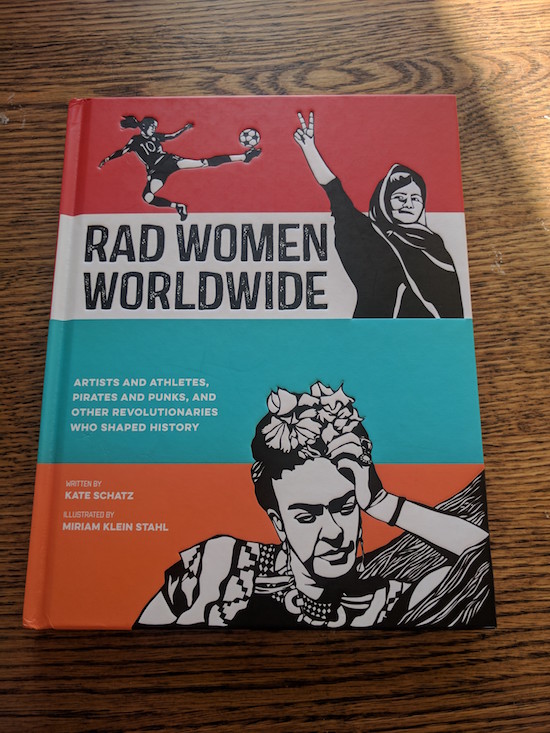 Quite intentionally, I am raising my children in a house full of books, and while this has resulted in my children engaging with books a lot, best intentions don't always lead where you'd like them to. I do have a theory that books can work by osmosis and that just being around them makes people smarter, and I cling to this belief when my oldest child passes up the incredible works of world-broadening non-fiction we have stocking our shelves in order to reread the Amulet series for the five-hundredth time. I had this vision of children sprawled on the carpet, leafing through our encyclopedia of animals, illustrated atlases or perusing the images from Sebastian Salgado's Genesis. Sometimes I even intentionally leave these books on the floor, so as to instigate said leafing and perusing, but then the children just end up using these books as stools on which to perch while reading Amulet.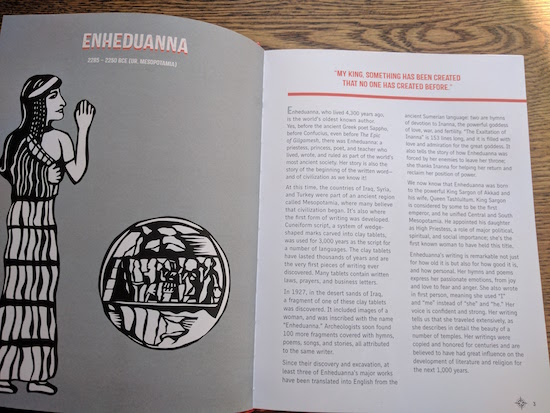 The book Rad Women Worldwide, by Kate Schatz and illustrated by Mariam Klein Stahl, might have joined this pile of books for sitting on. It was an extra Christmas gift, purchased without forethought. A good book to have around the house, I thought, particularly in these regressive times. Subtitled, "Artists and Athletes, Pirates and Punks, and Other Revolutionaries Who Shaped History," by the creators of the brilliantly conceived American Women A-Z. It doesn't hurt that the book's design is awesome. I loved the idea of my girls learning about the incredible women profiled within, and understanding that their amazing accomplishments are what history is made of. We don't even have to call it "herstory." All this is simply the society in which we live.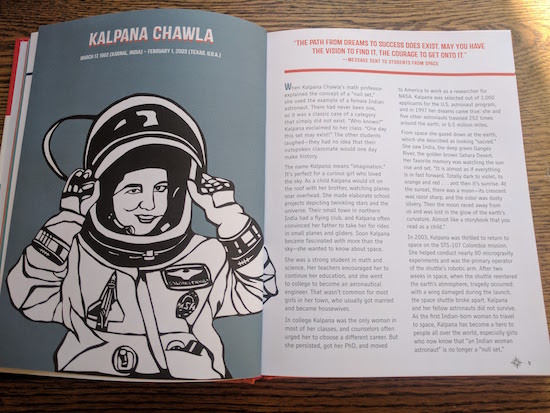 Rad Women Worldwide includes women making history throughout history, but also women who are making history as I write this. And I love the idea of my children taking for granted not just that history includes women, but that history (and feminism) includes women of colour also—this is huge if I hope to raise white feminists who aren't White Feminists (TM). I want to raise girls who see race and know race, acknowledging the role it plays in people's lives (including their own). And I want them to know that the world and progress is powered by women who are black and brown and Asian, as well as white. I want my white children to grow up inspired by the accomplishments of women of colour—and with this book, how can they not be?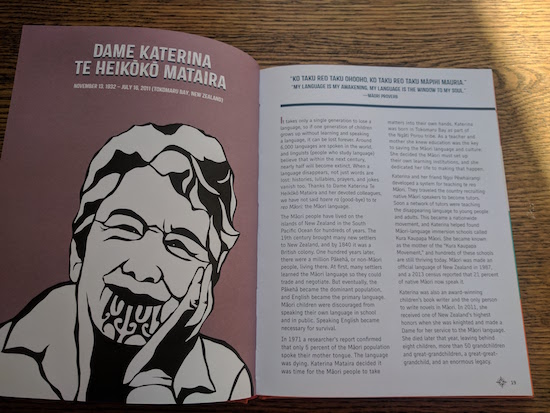 The thing about Rad Women Worldwide, though, is that it's not just for children. It's not only they who have gaps in their education, and the stories in this book are so fascinating that we've started reading them aloud. So that this isn't a book just for sitting on, but also because I want to learn more about the women I've already heard of (Aung San Suu Kyi, Malala Yousafzai) and want to discover those I hadn't heard of yet (Kalpana Chawla, the first Indian female astronaut, Junko Tabei, who was the first woman to climb Mount Everest, Fe Del Mundo from the Philippines who was the first woman admitted to the Harvard Medical School in 1936).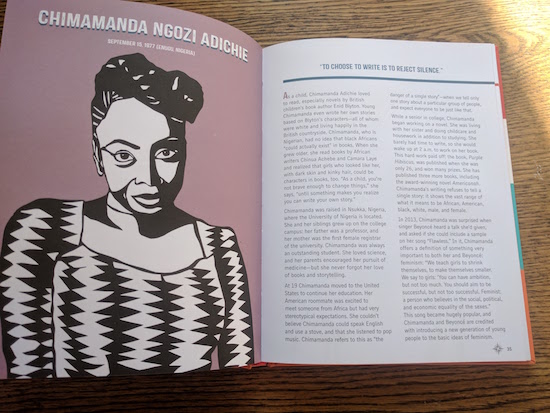 So we read a profile a day, Harriet and us taking alternate paragraphs, and I love the words that are entering her reading vocab: "Indigenous," "Constitution," "Advocacy," "Reconciliation." These stories are the perfect antidote to the bleakness that pervades news stories about women right now, riding the sad coattails of #ImWithHer. Inspiring, fascinating and ever-illuminating, each story affirms my faith in progress and justice just a little bit more.