December 21, 2016
The Little Free Library ™ As A Soul Destroying Exercise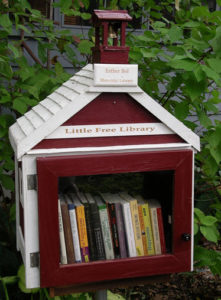 One day this fall, I opened up a Little Free Library in my neighbourhood only to find it empty save for a bitterly scrawled missive: "The point is to leave some books too, people." It was very sad, and corresponded with stories I'd heard about ownership of Little Free Libraries not being quite as rewarding as one might assume. A situation rife with narrative, I thought, so I decided to write a little story exploring this idea, and the story is my gift to you. 
****
Dear Neighbours,
We're pleased to welcome you to Idlewood Avenue's Little Free Library ™, a bastion of democratised learning where our property meets the sidewalk. We've been amassing volumes that we're looking forward to sharing with you here in this box which we've painted to resemble a Carnegie library. And we welcome your volumes of all kinds—no literary snobbery permitted!
All books are friends here.
Barbara and Stephen Adolphus-Chang
*
We appreciate your enthusiasm during our first week and it was exciting to have the library cleaned out three days in a row. A couple of reminders: we've had a lot of takers but please try to leave books too. And if anybody knows who is responsible for the penis drawings administered with Sharpies, we'd like to hear about it.
Although a little bird has suggested that the culprits were from the student rental house—can anyone corroborate?
Barb and Steve A-C
*
A note that this notice board is for Little Free Library ™ related news only—posters for Doggie Do-Walk Dog Walker Services have been removed. Also, while your contributions are appreciated, we would ask neighbours to refrain from donating their VHS collections.
Books only, please!
Barb and Steve
*
Someone has been leaving small lavender-scented bags of dog waste inside our library. Coincidentally, this began when the Doggie Do-Walk Dog-Walker posters were removed from our board, though we are not pointing fingers. Or paws. But this is certainly not neighbourly behaviour.
Barb and Steve
*
We are writing to thank you for a rewarding first month of Little Free Library ™ stewardship, and also to object to allegations that we "traffic in smut." If you find Judith Krantz's intimate depictions too titillating, that is down to you.
Further, passing a copy of Scruples to your eight-year-old daughter was a decision you embarked upon of your own volition, so do know we are judging you right back!
B & S
*
The penis problem continues, now in multi-coloured hues. We'll be repainting, but if it happens again, the phalluses will stand and the tone of the neighbourhood will suffer. A reminder to tenants in the student rental house that this is not funny, and if you ever grow up, perhaps one day you might understand that.
Disappointedly,
Barbara and Stephen
*
Apologies for slandering the residents of the student rental house. We met with them last Tuesday and found them to be upstanding community members, as invested as we are in keeping Idlewood Avenue penis-free. Together, we are coordinating a graffiti removal campaign involving pressure hoses. Stay tuned for details. We're grateful also for the students' book donations. Once we weeded out the second-hand chemistry texts, some interesting titles emerged.
Too bad about the highlighted paragraphs and vulgar marginalia (some of which included penis doodles that looked a little familiar. Hmmm….).
But yours in benefits of the doubt!
Babs and Stee
*
THE SHIT LEAVING CONTINUES. What is wrong with people? You paint a box to look like a Carnegie Library out of the goodness of your heart, and then people fill it with excrement? HOW DO YOU SLEEP AT NIGHT? And then the VHS tapes keep on coming. This is all very hard.
I never envisioned Little Free Library ™ ownership as a soul-destroying exercise.
Barbara
*
Rest assured that while Barbara is taking her temporary leave from Little Free Library ™ stewardship in the name of self-care, the library will continue to operate as usual. Stipulations re dog waste and VHS tapes still stand.
Also, to the man who removed all the books and sold them at the shitty used bookshop at the end of the road, we know who you are.
Steve
*
Thanks to those a behind recent generous donation of poetry—we've got enough slim volumes there to stock our Little Free Library ™ for weeks. I urge readers to pick some of these up as they're rich with wonders and also we have a lot of them. Further, please make use of our newly installed garbage bin for any fast food packaging. There has been some confusion about whether or not our Little Free Library is a waste receptacle.
To be clear: it is not.
Stephen
PS: Barb is recovering well. Thanks for asking.
*
I'm thrilled to welcome Daryl Parsley-Hemingway to our Little Free Library ™ team to help me out as Barb continues to convalesce. Daryl is a university student, English major and a distant relative of Mariel Hemingway, who is a noted author of two memoirs, so Daryl has literary pedigree. He has great ideas about how to curate our collection and will be working to enhance our online presence.
Looking forward to seeing you on the information highway!
Steve
*
We're writing to address last night's upsetting incident when our entire Little Free Library ™ collection was tossed out into the rain and at least $30 worth of used paperbacks were destroyed. We are grateful to neighbours who've come through with emergency donations at short notice. Looking at the library this morning, you'd never suspect anything had happened, but the incident still must be acknowledged. And yes, Larry, we know you did it and we still refuse to stock your self-published memoir.
Sticking to our guns in defense of traditional publishing platforms,
Steve and Daryl
*
Just a reminder that if you're taking books, take care to leave a few too. Think of our Little Free Library ™ as a kind of conversation—you don't want to just be a listener! And to that end, Daryl has set up Idlewood Avenue Little Free Library ™ web presences on various social mediums.
We heartily urge you to "check us out" there and find out new ways to be involved.
Steve and Daryl
*
No doubt you've been made aware of a "competitor" setting up across the street. We've been receiving a lot of love from neighbours who view this Wee Take-a-Book Box as a threat to our own project. But we want everyone to know that this relationship need not be adversarial. Idlewood Avenue has room enough for two libraries, though we wish also to remark that the Wee Take-A-Book Box neither bears the official Little Free Library ™ trademark, nor does its stewards adhere to our literary standards. However, patrons are free to decide for themselves what kind of miniature libraries they wish to see in the world.
It's a free country.
Steve and Daryl
*
Forgive our sparseness, but we've been cleaned out nearly every day, which would be good news, except that all our titles are turning up in the Wee Take-a-Book Box, identical volumes right down to the same dedications. ("Dearest Audrey, Here's something fun to tide you over until the pleurisy clears up. Love, Edna.") To consider this a coincidence would be absurd, but even so, police were called and we were banned from the property and then later that night when the Wee Take-a-Book Box's glass door was smashed, we got blamed for that too—even though Stephen had gone to bed early and Daryl was working on a group project. In all the hubbub it's been forgotten that we are in fact the wronged party.
We appreciate your support at this difficult time.
Steve and Daryl
*
Thanks to everyone who was there for us last week. We are particularly grateful for those who dropped off books to replace all those that were stolen. FYI: Daryl is very busy with his group project so if things seem slow on the web this week, that's why.
And a kind reminder too that we are (still!) not a waste receptacle.
Stephen and Daryl
*
It's a beautiful day and we've got a stellar selection for you all, including some rare first editions, kitschy 1980s microwave oven cookbooks, and three copies of last year's disappointing national book award winner, which sold a lot of copies but proved unreadable. Potential collector items, all of them.
Happy Browsing!
Stephen
*
Dear Neighbours,
I write you with the devastating news that the group project in which my co-librarian Daryl Parsley-Hemingway has been engaged is actually an affair with my wife Barbara. It turns out that Barbara is farther along in her recovery than I understood, and has decided to permanently absent herself both from stewardship of our Little Free Library ™ and also of our marriage.
For obvious reasons, I have asked that Daryl no longer be affiliated with the library, and I will also be taking a temporary hiatus. I hope to return when I am stronger.
Stephen Adolphus
*
For Sale: One Little Free Library ™ box along with official charter status to the Little Free Library ™ organization. $50 or best offer. Must pick up.