October 27, 2016
Without Apology: Writings on Abortion in Canada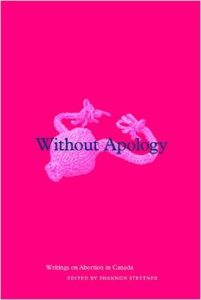 In 1969, abortion was legalized in Canada, but only when the procedure was performed in a hospital and had been approved by a committee of doctors. In response to these restrictions, activists launched the cross-country Abortion Caravan in 1970, Canada's first national pro-choice protest. Though plenty of road has been travelled since then—the problematic abortion law was struck down in 1988 – the fact that it's still radical, 45 years later, for a woman to talk about her abortion in public suggests the fight isn't over yet.
What has changed is the conversation's tone. While passengers on the Abortion Caravan carried a coffin symbolizing women's deaths from illegal abortions, contemporary campaigns—such as the viral #ShoutYourAbortion hashtag from 2015 – are more likely to focus on women's lives….
Thanks to Quill & Quire for the opportunity to review Without Apology: Writings on Abortion in Canada, edited by Shannon Stettner. Read my review in its entirety here.