October 20, 2016
How to Get Over Literary Envy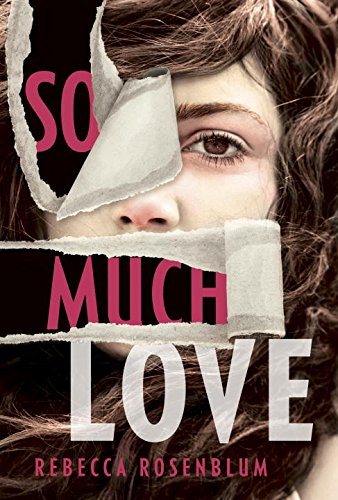 My friend Rebecca Rosenblum's forthcoming novel, So Much Love, is publishing on the same day as mine is, March 14, 2017. This coincidence is as delightful to me as it is amazing (or even miraculous). Rebecca and I went to graduate school together more than ten years ago, and when I'd read Ann Patchett's memoir Truth and Beauty later, about friends Ann and Lucy in their post-MFA years when they were "writing to save their lives," I'd think of Rebecca, who is the most important thing I picked up at school. About the friendships that can form among writers in a  workshop, the intimacy of the experience, for better or for worse.
When our program ended, Rebecca and I started meeting weekly and writing together for a few hours after work at coffee shops and food courts, and this lasted about two years. We danced at her wedding. She brought baked goods over when my children were born. We've had brunches and dinners and fun dissecting literary feuds. We've attended readings and taken road trips to festivals, and we've celebrated the books we loved and moaned about books we hated. And it seems entirely perfect that are books are coming out on the same day because we've been going down the same road for so long. Except we haven't been. And that this never really seemed like the case is a credit to the goodness of Rebecca.
I still have such a vivid memory of buying The Journey Prize Stories 19 in 2007 at the old Book City at Yonge and Charles. I was on my way to meet Rebecca for our weekly writing date, and it was so thrilling to consider that my friend was in a book. This book. I had her sign my copy. (A bird shat on my arm that day, which I dared to believe might be a sign that I could be in a book too.)  A year later, I was there when she set eyes on her very own book for the very first time, the story story collection, Once, which was an award-winner from birth—we were at the Eden Mills Festival. A few years later, I'd get to interview Rebecca at the launch of her second collection, The Big Dream. And somewhere in between then and now I got the chance to read the manuscript that would eventually evolve into Rebecca's debut novel, So Much Love. (Full disclosure: I loved it.)
You'd imagine it might be hard, watching your friend publish one book and then another, while your own manuscript went into a drawer forever. At a certain time in my life (before I got on such familiar terms with failure), I would have thought so. I remembering reading somewhere (where?) that Carol Shields had declared she did not suffer from literary envy, and thinking about what I would give to get myself to a place where I could say the same. And it turned out that I did not have to give anything at all. I just had to be friends with Rebecca.
How to Get Over Literary Envy.
Surround yourself with good people. Good people are generous in their success and make you feel like you can own a bit of it.
Have a surefire thing. When no one wanted to publish anything I wrote, I still had a blog. It was a thing that was mine that nothing could take away from me. It helped me grow and learn as a writer, gave me an outlet and a platform, and made me feel fulfilled as a creative person.
Keep on doing what you're doing, but…
Grow. Change. Learn. The best antidote to Imposter Syndrome is to get better at doing what you do.
Paradoxically, success always turns out to be smaller when it happens (and when your friends are successful, you learn this), and yet there is probably still enough to go around.
Take advantage of the fact that everyone around you is smarter and more successful that you are…by taking notes, listening carefully to their feedback, counting your blessings you have access to these founts of wisdom.
Don't take yourself seriously. Take your work seriously, but not all the time.
Make sure you're doing what you like, so that even if nobody else likes it, you're having a good time.
Cultivate friendships instead of connections.
Do your best to fulfil yourself in all the ways you actually have control over. Writing is only a part of life. A side-effect of it, even.
I am so grateful to Rebecca for her friendship over the last ten years, and can't wait for the world to discover So Much Love. You can preorder it now!