October 4, 2016
Goodbye, Guardian Swim.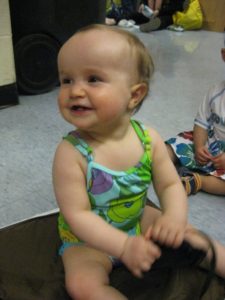 When Harriet was a baby, we had no money but plenty of time, and so instead of enrolling her in swimming lessons as the swishy pool near our house (with salt water and everything!) I signed up for cheap swimming lessons at the city-run pool that was far away and at the top of the only hill in this entire city. It was better than joining a gym, I decided, and only cost $33 dollars, and so began my Guardian Swim years, which is the more inclusive name for the Parent and Tot program I remember from my own childhood.
In the beginning, I was very excited. In the beginning, I find, parents need to strive in order to enact parenthood properly (luckily, many of us outgrow this compulsion) and guardian swim was one way to do so. It was also something to do with my baby that didn't involve me lying on the carpet being bored out of my mind. It got us out of the house. (The idea that there was a time in my life when I was desperate for excuses to "get out of the house" distresses me now. That sounds awful. I never want to be that person ever ever again.) I am sure I found the first lesson exhilarating. Fortunately, I was never that poor parent whose baby screamed throughout the entire lesson every week and eventually we had to give up going swimming altogether, $33 dollars sadly to waste. Harriet liked the water, I liked having something to do, and so we did it, session after session. I have done "The Fish Wishy" so many times.
Oh, Guardian Swim. Once in a  while I signed up for you, and the first class would have this terrific, dynamic teacher with lots of games, songs and ideas, and every time we met that teacher, she or he taught the one class and we never saw them again. Most of the other instructors had a short repertoire, and then would grant the class "free time," and my baby and I would flounder aimlessly in the pool watching the clock until it was time to go home. There would be plastic toys, and the children would be drawn to them, but once the baby had a toy boat in hand, there wouldn't be so much to do.
My most favourite part of Guardian Swim was when my husband took the baby into the pool, and I sat poolside reading a book. My least favourite part was when the instructor would give us an obligatory educational session, like how we shouldn't leave our babies unattended by backyard pools or feed them marbles in case they choked. I also wasn't big into the times that people pointed out that swim diapers contain faces but not urine, the thing that most of were trying really hard not to think about. There was the sessions with Shaheed, who was the worst teacher ever, and often would forget to come class, never mind that I'd climbed that hill and got my kid ready for it (and got out of the house even—no small feat) and when we got there and he wasn't, they wouldn't let us get in the pool. The seventeen-year-old lifeguard would shrug, no idea about my sacrifice—"Nothing I can do," he'd say.
From Guardian Swim, I learned that I should get dressed before my child does, otherwise she will take her dry-clothed-self and sit right down in a puddle on the change room floor. I learned that she could play with my keys while I got changed, and be sufficiently entertained. She learned how to blow bubbles and how to kick her little legs. I learned not to feed her marbles. Nobody, however, ever learned to swim.
When Harriet was nearly four, she was still in Guardian Swim. I look back upon this with the confusion many parents do when they consider their experiences with their first child. Why were we still doing that? I think part of the problem was that she was terrified of us letting go of her in the water, and clung to me so hard it strangled. She wasn't comfortable, and neither was I. I was waiting for something to happen, something to happen that would allow us to progress, but that something never arrived. The last time I signed Harriet up for Guardian Swim at the pool at the top of that great big hill, I was very pregnant, and I'd never considered the agony of pushing a stroller with a four-year-old up at that hill in such a condition. It was terrible. Harriet wasn't learning anything, and there was a six-month-old baby in her class who had better technique than she had. Something was going to have to change.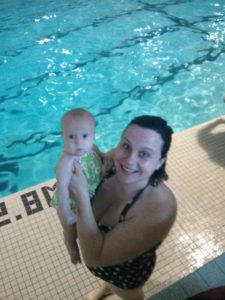 When Iris was born, we were no longer broke. Not only could we afford the salt-water pool, but the convenience seemed worth every penny. Harriet began a swim program that wasn't geared to infants, and it was Iris's turn for Guardian Swim. Which I think she was enrolled in three times total. Because neither of us felt like getting in the pool, and it was always cold, and she always had a cold. I was tired of doing the fishy wishy.
We moved to the nearby university pool eventually (spoiled for pool choice, I know) because Harriet needed some help getting caught up and the shallow teaching pool gave her more confidence. The half hours we passed in that pool during Iris's classes could possibly be scientifically proven to be the longest 30 minutes on record. Even though Iris could actually swim. Like, she was leaping out of our arms and we kept having to catch her before she sunk, and if we'd been daring enough not to bother, she might have floated after all.
By this point, we hated Guardian Swim. It was unfathomably boring. The other children were annoying. The teachers were children. Every week we'd go, and I'd cross my fingers for a pool fouling so we could go home early.
But finally, we have arrived. Last week Harriet began her first swim lesson in the "big pool" upstairs, and she was the first kid in her class to jump in the water (when once upon a time, she was vehemently opposed to such things, and I used to berate her about it, made her practice jumping off the bottom step of our staircase until she cried—not my finest moment as a parent, and it turns out her instructor was right when he suggested we leave her alone and she'd figure it out in time). And Iris started Sea Turtle, the first level post-Guardian Swim, and she was amazing, dunking her head and floating on her back, and these things that she would never have been brave enough to do had I been in the pool alongside her.
And me? I was where I'd always been waiting to be, cheering along poolside, content in the company of an excellent book. So happy with the progress, which is generally where I tend to be in terms of parenting, not looking back in sadness but just so happy to be moving on. Enjoying the ride. "Little girls get a little less little but instead of it feeling sad, it feels exhilarating," writes Rebecca Woolf on the occasion of her daughter's eighth birthday, and I love that idea.
Why not embrace the momentum, because it's not going anywhere—but you are.