April 20, 2016
On the Shores of Darkness, There is Light, by Cordelia Strube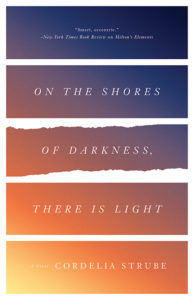 Ever since 1964, writers whose protagonists are eleven-year-old girls called Harriet have been taking a serious chance on things. How can one actually pull that off that kind of literary homage? But Cordelia Strube, whose many books include the 2010 Giller-nominated novel Lemon (which was one of my favourite books that year) has absolutely pulled it off. Her Harriet, in On the Shores of Darkness There is Light, is a many-splendored, singular creation, and the novel goes and goes and never falters.
Harriet lives in an apartment building called the Shangrila, once a luxury high-rise but now a place housing mostly downtrodden seniors and her family since they lost their home in the 2008 economic downturn. Her mother is trying to keep them afloat through under-the-table bookkeeping, with no help from Gennady, her broke criminal lawyer boyfriend in Crocs, or Harriet's father Trent, avid cyclist who lives with Uma who he met at the farmer's market and who is currently in the middle of an IVF cycle. And then there is Irwin, Harriet's five-year-old brother who has hydrocephalous and whose traumatic entrance to the world brought forth the end of Harriet's parents' marriage and all semblances of stability in her life. His health remains perilous, with frequent seizures and hospital visits, ever a source of anxiety and preoccupation for their mother, leaving Harriet with a preponderance of freedom that she exploits for her own devices.
Dumpster-diving for materials for her found art projects, charging her elderly neighbours for runs to the convenience store, and hanging out with her teenage neighbour, Darcy, and losing her scattered grandmother at the Scarborough Town Centre, Harriet has her own agenda, which ultimately involves her dream of escaping it all and getting away to a rural retreat far away in Algonquin Park, living alone by a lake and painting much like Tom Thomson did. A playwright, Strube has an ear for dialogue, and the novel is enlivened by conversation by the people all around Harriet, from confused senior citizens to forthright angry teens, and we see all the information contained within these throwaway lines being filtered through Harriet's precocious but still eleven-year-old brain and how they come to inform her view of the world. The connections she makes between her father's obsession with cycling and her stepmother's IVF cycle, for example, or how a diatribe from the malicious Gennady becomes the title of a sculpture she creates called "The Leopard Who Changed Her Spots." In a subtle fashion, this is very much a novel that is preoccupied with language, by words, and the puzzles of what things really mean.
As in her previous work, Strube is unafraid to portray adults as a ragtag collection of lost souls and idiots. (This is another feature this novel shares with the collected works of Louise Fitzhugh.) That such folks are responsible for the care of vulnerable people is always a terrifying thing for those people to discover, and On the Shores of Darkness… is about that loss of innocence, the realization that none of us are really ever safe, and that our parents are as vulnerable as we are. "I want you to get better, but I don't want to be blamed," admits Harriet's mother at one point regarding her son's unhappiness, which is indicative of every adult's failure in this book to take responsibility for his or her own actions, for their own life. "All of this has been very hard on me," so say the grown-ups in relation to their children's hardships, over and over again.
At nearly 400 pages, the novel is long, but swiftly paced and never dull. The bleakness of its considerations are broken up with incredible humour, from the cacophony of the voices in its background to the sheer audacity of Harriet herself, her nerve, all the things she is willing to do and say. There is a humour too in the contrast between the child's point of view and the world around her, and—in the case of Harriet's friend, Darcy, in particular—the person she is trying to to be. The sheer naïveté of these would-be old souls. Darcy likes to go on about, "that Caitlin whore," a friend from her old neighbourhood, and we learn about what Caitlin did to her at Guides: "I was a Sprite and she was a Pixie. That ho bag made like all the cool girls were Pixies….Then the skank fucked up my puppetry badge."
There is a twist two thirds of the way into the novel that is absolutely devastating and potentially crazy-making, but Strube manages to make the final section work with the introduction of a new character, a young girl who underlines the novel's Fitzhugh ties  by her determination to be a detective, carrying a magnifying glass and clues jotted in a notebook even. And while the novel veers dangerously toward sentimentality as it heads to its conclusion, Strube shows just enough restraint, and manages an impeccable ending, one that brings its pieces together, steady as the beat of a heart.