April 15, 2016
Happy Birthday, Alice Babette, by Monica Kulling and Qin Leng
If you loved Julia, Child, by Kyo Maclear and Julie Morstad (and who didn't?) then you must feast your eyes on Happy Birthday, Alice Babette, by Monica Kulling and Qin Leng. Here is another autobiographical picture book about an admirable American in Paris, as Kulling tells the story of the relationship between Gertrude Stein and Alice B. Toklas. Monica Kulling's picture books always come with a sweet subversive bent, and this one is no exception. Because it's huge to see a lesbian couple depicted in a picture book, to see a female character who looks like a man and can't be arsed in the kitchen (and when she is, it all goes wrong because she forgets to check the oven because she's consumed by the composition of a poem), to see this example of a family (two women, no kids) because this is what Gertrude and Alice are, how they care for one another, each complementing the other's strengths (though it's true that Alice seems to have the patience of a saint).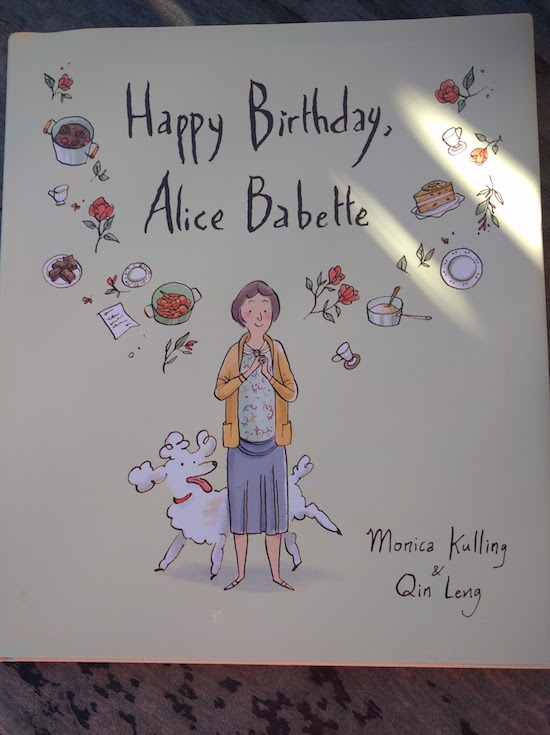 Although young readers will only pick up on all this subliminally. The children who pick up this book will be delighted by Qin Leng's whimsical stylings (which we know from works like A Flock of Shoes) and this story of a woman named Gertrude and her friend Alice, whose birthday Gertrude becomes determined to mark in an extra-special way.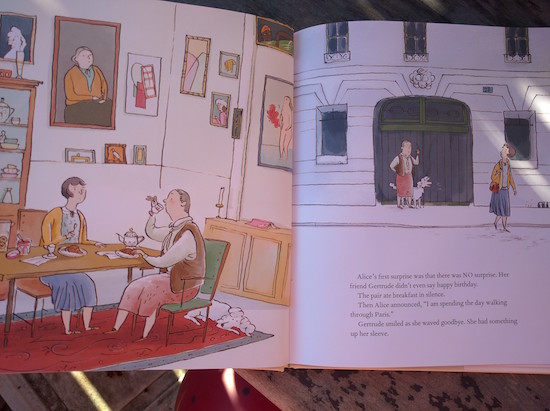 Although Gertrude says nothing of this in the morning as they eat their breakfast together, Alice announcing she's going to spend the day walking around Paris, Gertrude with her own tricks up her sleeve.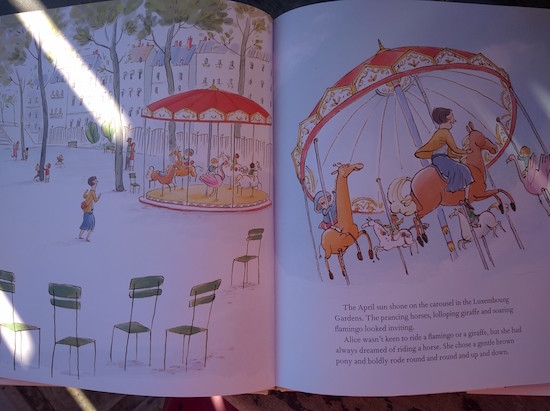 Alice has an eventful day just walking about, riding a carousel, watching a puppet show, and even diverting a would-be jewel thief as he attempts his getaway.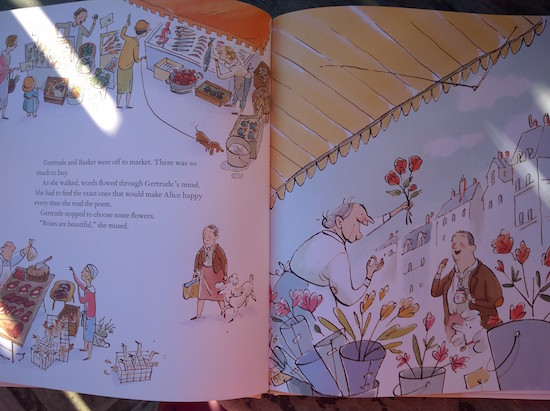 While Gertrude tries to execute her plan of making Alice a special dinner, and writing her a birthday poem. The latter's inspiration comes easily enough as Gertrude buys a bouquet of roses from a flower seller and the ideas start flowing. Dinner, however, proves to be more of a challenge.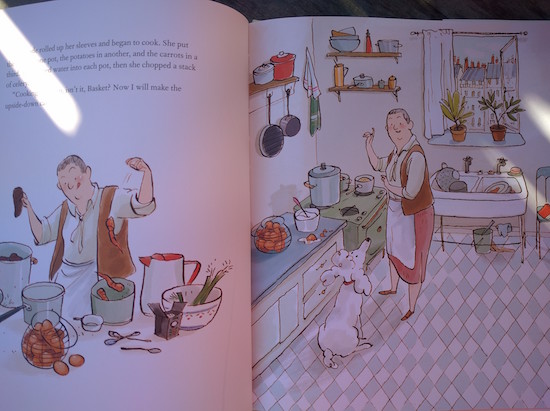 Gertrude does her best, even attempting to top it all off with a pineapple upside-down cake, but composing the poem turns out to be quite the distraction. So much so that she leaves the kitchen unattended, everything burnt to a crisp, Alice discovers, as she returns home from her "day of marvels." And by this point Gertrude is lost altogether, busy at her desk turning her cooking misadventure into a story. Fortunately when their friends arrive for the party, they've got some food in tow and so Alice's birthday can be properly celebrated after all—and Alice has made brownies for dessert (though it's not clear whether these are her special ones).
It's not a fair story, with poor Alice being left to clean up Gertrude's mess, but then so often love really isn't. Instead, this is a truer story about love and togetherness, and the myriad ways that two people can build a life together.