March 28, 2016
Ice Diaries, by Jean McNeil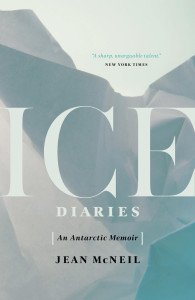 To me a paradox is a comforting thing, with its suggestion of the unknowability of universe and therefore possibilities well beyond our narrow expectations of experience, ideas surpassing our rigid understanding of black and white, hot and cold, fire and ice. To me it's comforting too that a single thing can be two things at once, that all the easy answers are the wrong ones, because any of us who bother to think already know that this is the case. And if you're the kind of person who also has these proclivities, than you too will probably be fascinated to spend a while lost inside Ice Diaries, the Antarctic memoir by the Governor General's Award-nominated author Jean McNeil.
It's a memoir freely acknowledged by its author to be a creation, about a continent without terra firma, a huge expanse of space in which there is nowhere to go, where everything is white but so much of the year is darkness. The Antarctic is a place where few people ever go, but those who do are compelled to return. A place of toughness and fragility. Inhabited by scientists, except that McNeil is a writer send along on their expedition. A Canadian, who has lived in Britain for more than twenty years. In this 400+ page book, the paradoxes abound.
For me this was a slow read, structured similarly to McNeil's journey to the Antarctic by sea, an experience she says she was grateful for, because the Antarctic is not to be simply arrived at, but instead acclimatized to, otherwise the effect is much too jarring. We also find ourselves in the opening chapter in the Falkland Islands, a stepping-off point to the Antarctic, and this is two years after her Antarctic journey. Because while it's the fashion to begin a story in the beginning, most of us don't realize we're there until the middle—time is not so tidy. Which is also the reason that a narrative strand of Ice Diaries is concerned with McNeil's violent childhood in the Maritimes, as well as a summer during her teen years during which women were being stalked and murdered in her small town and McNeil met her father for the first time, experiences that become conflated. And while these passages seem a bit extraneous to the Antarctic chapters, it is interesting to consider the ways in which they're linked. And so too how McNeil's early life may contribute to the claustrophobia and dread she feels at the end of her Arctic sojourn when the sun begins to disappear and McNeil fears she may never get away from there.
McNeil is a tremendous writer who brings the Antarctic landscape to life (! another paradox for a place with so little life) with the deftness of her prose, and her memoir is rich with fascinating details—such as that one must remember to apply sunscreen under one's chin as the reflection of sun off the snow can cause third degree burns. This journey through the topography of the continent at the bottom of the world is one through the topography of her consciousness, and both emerge from the story known and still unknown at once.