February 7, 2016
Patrin, by Theresa Kishkan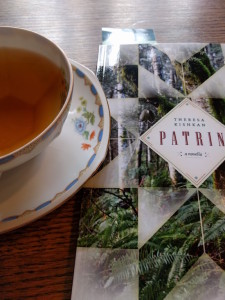 And so #TodaysTeacup continues, the Instagramming of my daily cup of tea, the end of the week marked with #CupAndSaucerFriday. I used to think I had too many sets of cups and saucers, but now it seems as though I don't have enough. On Friday I took down the last of my cup and saucer sets to use, and was surprised to find that this one set is not from England—not Regency China, or Paragone Fine Bone China, or Coalport. No, this set was from a Czechoslovakian company called Altrohlau. Which was strange because I have Czechoslovakia on the brain, one of the settings for Theresa Kishkan's beautiful, mysterious novella, Patrin—a novella in which the characters drink Earl Grey.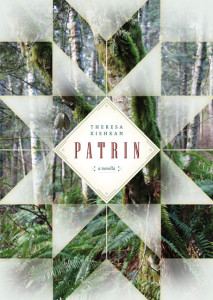 I first read Theresa Kishkan in her essay that won the Edna Staebler Personal Essay Contest, and which was included in her essay collection, Mnemonic: A Book of Trees. Unsurprisingly, trees factor prominently in Patrin as well, in patterns of leaves on a quilt inherited by the title character from her grandmother, a Roma from Czechoslovakia who'd immigrated to Canada and become estranged from the rest of her family. When her grandmother dies, Patrin tries to discern the quilt's pattern, hoping they might provide clues to her family history, which is otherwise lost to her now, the answer to the questions: from where and what did I come?
The novella weaves together several timelines from throughout the 1970s—Patrin embarking to Europe on her own and having her heart broken by a Gypsy musician; spending time with her grandmother in Edmonton after her father's death, them sleeping together under the quilt; Patrin working in a bookstore in Victoria later in the decade, isolated from the world, trying to decode the mysteries of her own self; and Patrin journeying to Czechoslovakia to do exactly that in 1979, supposing the pattern of trees and leaves on her grandmother's quilt might be a map of the area in Moravia in which her foremothers had lived and travelled almost a century before.
The world Patrin finds in Czechoslovakia is shadowy and mysterious, the elusiveness of Patrin's own story underlined by Soviet-era suspicion and paranoia. A friend of a friend takes her on a journey to Moravia to find if her quilt-map line up with actual places after all, and if any history of her family remains. And here the story takes on dimensions of a fairy tale, rich and verdant with a touch of magic, with an ending that in retrospect was inevitable, and is also perfect.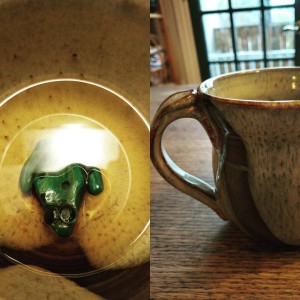 There's another teacup too—Patrin takes stock of her "batterie de cuisine" as she moves into her own apartment on Oak Bay Avenue in Victoria in 1974, including a mug "from a potter on West Saanich Road" with a ceramic frog at the bottom. We have a mug just like that, a #TodaysTeacup feature from a few weeks back, Patrin wending its own way into my world, surprising patterns emerging, real life as art's echo.