January 17, 2016
One Hit Wonders, by Patrick Warner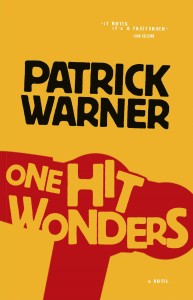 I added Patrick Warner's novel, One Hit Wonders, to 49thShelf's The Next Gone Girl list, a list of suspenseful novels about wives with secret lives. Because it belongs there for a few reasons—this is a novel with twists and turns, about a husband who discovers after his wife's death that perhaps he didn't know her at all, and it has the whodunnit element—who is responsible for the body lying on the floor? Suspects include her husband, Freddy, an antisocial novelist trying and failing to follow up his runaway hit first book whose proceeds he now easily lives off of; the has-been golf pro with whom Lila was having an affair and who had got her hooked on cocaine; and two small-time crooks who'd been caught up in a plan to rob Freddy of his millions. What makes this book different from the others though is Freddy's unabashed complicity in its construction; it's his second novel all along. But not a memoir—this is fiction. He's creating conversations he never heard, imagining places he never went, and interactions he was never a part of in order to have the whole story make sense. Which makes us wonder if he's complicit  in other ways. Is there a truth to be uncovered at the bottom of all of this? And isn't that we ask such a thing of fiction kind of an amazing thing?
This is a novel about story-making, about empathy and where it can take us. Our own empathy—why is it that we long to get inside the heads of twisted people and be immersed in troubled lives—and also Freddy's as he imagines himself into the minds of the men who orchestrated his wife's downfall. He tells us, "I feel dirty after all that. And yet my task is to empathize with these characters, walk a mile in their shoes. The trouble is I have trouble with empathy. It seems to sit on the delusional end of the sympathy spectrum, perhaps at the point where sympathy runs out and something darker begins. Empathy is only a confidence trick, a species of legalese, a way of making the afflicted believe you are walking in their shoes. Empathy is the tool that gets you through the door. But who is to say what you will do once inside?"
And isn't that passage wonderful? Warner is a wonderful prose writer, a critically acclaimed poet, and author of one previous novel, double talk, which was nominated for the International IMPAC Dublin Literary Award. And while One Hit Wonders might frustrate readers more interested in gritty realism than a look into fiction-building whose reality can fizzle out into nothing just when you think you can almost touch it, others will be most impressed at the genre-blurring metafictional achievement Warner pulls off here. I'm still not completely sold on the ending, but endings tend to be a bit like that, as Lila's Freddy would attest.