January 10, 2016
Birdie, by Tracey Lindberg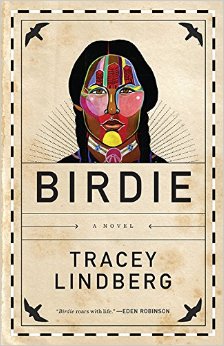 Last week writers Lee Maracle, Drew Hayden Taylor and Tracey Lindberg spoke on CBC's The Current about the idea of First Nations book club month (responding to Minister of Indigenous and Northern Affairs Carolyn Bennett's recent proposal) and what the experience is like being an Indigenous writer in Canada. The program was excellent, and the show was stolen by Maracle, who was indomitable, admirably cantankerous, and an excellent articulator of her situation and that of other First Nations women writers.
Maracle explained, "The balance in reading is not there for Indigenous women. 70% of book buyers are women, but 80% of books sold are men's—it doesn't matter what colour you are., So I think that's a problem in Canada. If you just say Indigenous books, I think Tom King, Drew Taylor, Richard van Camp will get on the list [of suggested titles for a book club], and myself and Tracey will be at the bottom or at the middle." The numbers back up her experience; in 13 years, for example, Canada Reads has never featured a book by a First Nations women writer—though I suspect this is a wrong that will begin to be righted upon the announcement of this year's shortlist, which may very well include Tracey Lindberg's Birdie. In fact, I hope it does.
Birdie is an example of what riches Canadian readers are missing when they're overlooking First Nations women writers—a novel about women's lives and experiences, the connections between them, and what happens when those connections are broken. (Think about more than 1000 missing or murdered women across this country—what must those absences be doing to families whose ties are already strained by centuries of colonial atrocities?) Though Birdie is most importantly about a particular woman, Bernice Meetoos, nicknamed Birdie, who has turned up in Gibsons, BC, after years of drifting, a pilgrimage to the place where The Beachcombers was filmed. In her bag, she carries decades-old clippings of Pat John, an actor from the show—"a healthy, working Indian man." She's preoccupied by thoughts of John, as well as taking guidance from The Frugal Gourmet, whose PBS cooking show is broadcast on the CBC. Things have not been quite right with Birdie, even more so than usual (and she spent four years living on the streets of Edmonton after all). She's secured a job at a bakery and even has a place to live, a local woman to watch out for her—but then something breaks. She goes to bed, doesn't eat, scarcely breathes, won't be roused. And as ever when help and comfort are needed, it is the women who come.
First, Bernice's cousin, Skinny Freda, the two of them raised like sisters, although the circumstances of Freda's parentage are scarcely delineated. And then she sends for their Aunt Val, who's had her own ups and downs, but is a motheraunt to both women as Birdie and Freda are sistercousins to each other (and such compound words abound throughout Birdie, suggesting that English proper is not up to the task of telling this story, just as the novel as we know it is inadequate to contain it, and therefore chronology is disrupted, notions of realism challenged, the whole book infused with elements of First Nations storytelling and mythology—Lindberg should be celebrated for her pushing the limits of what "the novel" can be). From her bed, in a kind of dream state, Bernice relives the traumas she's endured, chief among them childhood sexual abuse by her uncles, which culminated in a terrible act of violence (justice?) that leaves her estranged from her family, alone. Until the women come.
Also present, if not physically, is Bernice's mother Maggie, invoked in the novel's prologue and epilogue, whose own problems make her not wholly responsible to what happened to her daughter. Bernice's landlady too, while not Native, becomes part of this collective of women watching over Birdie, suggesting the possibility of womanhood as a connection that goes beyond culture; what happened to Birdie is particular to her situation, but there is a universality to women's experience. There are so many things that every woman understands—and we see from being close to each character in this collective that each woman has her own tragedies that she carries within her,
Surprisingly, Birdie is not a heavy book, even with all the violence and tragedy. It's as funny as it is sad, and more than that, it's vibrant—powered by the voice of a woman who seemingly lies unconscious, which is kind of ironic, but there's a lot going on inside Birdie's mind, even as she's got one half-opened eye on The Frugal Gourmet. As a character she's rich and realized, and Lindberg never makes her a victim of her circumstances, her agency retained even in her lowest moments. Her very act of retreating into her mind, while passive from the outside, is a powerful gesture, and necessary for healing, for the possibility of a future.