January 6, 2016
Today's Teacup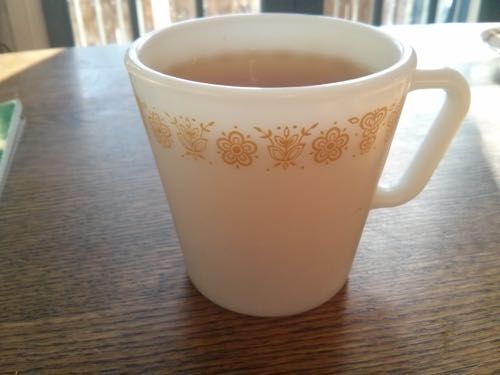 I read this article by Globe and Mail reporter Janet McFarland years ago about children's birthday parties gone wild and learning to take joy in small things. Her line about "an 'ooh, doesn't that look lovely' contentment with a cup of tea or a few biscuits on a plate" (inspired by Bill Bryson's thoughts on the English) has stayed with me ever since, and I've long made a point of trying note the smallest of ceremonies, the secret pleasures of the every day, even if sometimes it's a ginger snap. I mean, as opposed to a chocolate digestive.
But I also have a sizeable collection of mugs and teacups, which I'm conflicted about. The teacups and their saucers less so because they're delicate and lovely, and get pulled down and dusted off for special occasions. But yes, the mugs, because there's really nothing sadder than a mug, stained, unwanted, abandoned in an office cupboard. The most depressing kind of gift—World's Best Dad. I mean, I love mugs—some mugs. My mom gave me the most wonderful ceramic mug for my birthday, and it's nearly replaced my Cath Kidston mug with the crack in it in terms of mugs of my heart. But then there are the mugs that slip on in to the back of the cupboard and all they're doing is taking up space, and some of them are even wonderful—the Pyrex mug that Stuart found on the street and brought home because these are the mugs that remind me of summer, and the Miffy mugs we got in Japan, and my Diamond jubilee mug, and the mug with the M on it that my friend Jennie bought for me when we published The M Word. But what am I supposed to do with all these things?
I've been helped out of this philosophical quandary, however, with the help of Instagram. Because I am WILDLY SPONTANEOUS, I mixed up things mug-wise after receiving a gorgeous new orange mug from my friends Erin and Rebecca this weekend. This mixing only caused me a minimal amount of anxiety, until I realized that I could actually mix up mugs all the time (I know—crazy) and feature my eclectic mug/teacup collection on Instagram (because I'm in the posting-cups-of-tea population of Instragram users, as opposed to the taking-shots-of-myself-doing-yoga-on-a-beach crew). The trouble with mugs, I think, or at least the ones in the back of the cupboard, is that they serve no purpose, but they've been purposed now. Because #todaysteacup has been born.
Silly, frivolous, meaningless—but I don't think so. It's about the ceremony. About taking stock of the moment, the light, the cup of tea. It's about using what you have, and having things that matter.