December 19, 2015
Light the Lights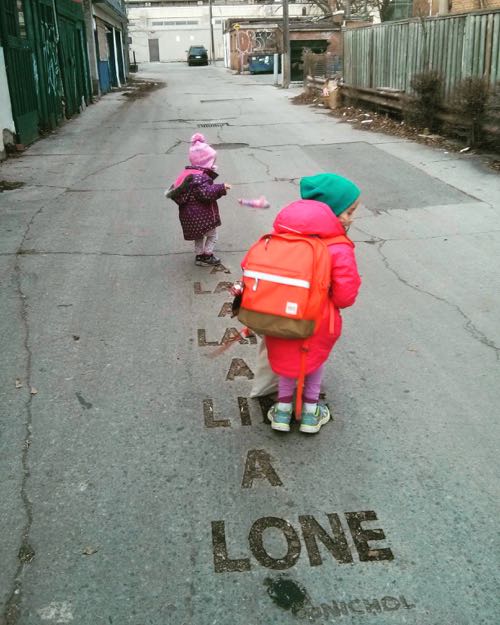 A lot has escaped my attention these last few weeks, including that Coach House Books had a pop-up shop in their warehouse throughout December, but I heard tell of it yesterday on Twitter, a few hours before the whole thing was finished, and decided we would stop in on our way home from fetching Harriet from school, in order to satisfy my holiday book retailing fix. I got a book for Stuart and two books (surprise, surprise!) for me, and then we walked down the lane and my children began playing hopscotch on bp nichol's poem, which really is the most practical purpose imaginable for concrete poetry, and I don't why it had never occurred to me before.
So now school's out, and we came home from hopscotch to a mailbox stuffed with cards and parcels, as it's been all week. Our kitchen features ridiculous amounts of chocolate and cookies, all of these balanced out by the proliferation of clementines. The Globe and Mail holiday crossword arrived today, so we now what our preoccupation for the next while will be. We began watching Mad Men from the very start last night, because I am longing to write about this series and the depth of my feelings for it, as well as to deepen my understanding, so it's back to the beginning, little Sally Draper with a bag over her head. I think it's the third or fourth time I've watched Season One, and it only gets better and better.
Plus there's Baileys, and I'm no longer on antibiotics. And while Stuart does indeed have to work on Monday and Tuesday, we've already gone into vacation mode. We took a trip to the library this morning and followed with lunch out at Caplanskys, because going out for lunch is our main vacation occupation. We're looking forward to lots of fun with friends and family this week, and skating, and going to see the Christmas windows at the Bay, and finishing our chocolate and buying more, and getting to the bottom of Betty Draper, and wrapping presents tonight (in the Saturday papers) and listening to the Phil Spector Christmas Album and Elizabeth Mitchell's The Sounding Joy, and there will be more lunches, lazy mornings, too much indulgence, and maybe even the possibility of snow.