November 30, 2015
Ten Things I Sort of Like About Being Sick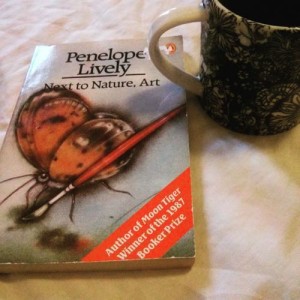 Okay, I am going to do it, because I've done enough moaning for sure. My own version of Ten Things I Sort of Like About Being Sick.
Not thinking about food all the time: It is true that I am usually preoccupied by planning my next meal. And conspiring to bake a cake. Plus I have to feed the people I live with, and have the shopping done, and make lunches, but in the last week I've not cared about any of this at all and it's been kind of freeing.
My bedroom. I like my bedroom a lot. It's huge and quiet and has an en-suite bathroom. My bed is comfortable. This is not a terrible place in which to spend a lot of time.
Doing nothing. Like nothing, nothing. For most of last week, I couldn't even read. Sometimes I would close my eyes, and when I woke up, then whole afternoon had disappeared. I have spent hours staring into the middle distance. I don't ever, ever do nothing. It's kind of interesting to know I have the capacity.
My husband. Not that I needed him to demonstrate that a) he loves me or b) that he's a really really good partner. But as ever, he's stepped up. Not so much that he hasn't had moments of frustration, demonstrating that he's human after all, but he's an amazing human, taking our kids to school, making those meals I can't be bothered with, keeping our house tidy, the children happy, and getting his work done.
My mom. For coming and bringing us meals, and picking up my girls from school, and playing with them so they are not watching TV all the time. So profoundly grateful for what she does for us. She's been a lifesaver this week.
Popsicles. And smoothies. Okay, it's possible that I'm still preoccupied with food.
Christmas is doomed. Okay, fortunately, I've bought all my children's presents, and I've even bought the presents that need to be send across the country and across an ocean…but they're still sitting in their packaging. I think we're running out of time. I also haven't done any Christmas cards. All this is going amiss. And it's just going to have to…
That everything has stopped. It is true, this fall has been a perpetual motion machine. And for a few days I tried to outrun my illness, but it turned out to be faster than I am. I also kept reading articles about people who'd been put into medically induced comas after ignoring illnesses for long periods of time and then nearly dying. So I decided to give myself the rest I needed. Oh, okay, I didn't decide, I had not choice. But everything has stopped. And that's okay.
My bedside table. I love it. It's its own universe. It has a tea pot, an a telephone, and a water bottle, and books, and a smoothie, and kleenex, and painkillers, and a lamp. What else does one need in the world?
Getting better. It's starting to happen. I just have to be patient to win this game.