November 10, 2015
Blogroll, Please?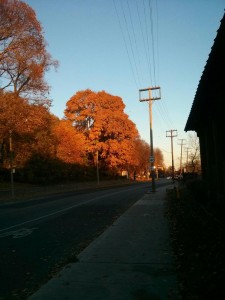 I'm more than halfway through teaching The Art of Blogging at the University of Toronto's School of Continuing Studies again, and once more finding the experience inspiring and incredibly enjoyable. But unnerving also, because the world of blogs is ever-changing, shifting ground beneath my feet. It's like what May Friedman writes about in her book on mommyblogs: "In trying to form conclusions about mommybloggers—and about mothers—I am reminded of my children attempting to jump upon their own shadows: I am attempting to trap an essentially untrappable form of knowledge."
Which means that trying to teach someone what a blog is, let alone how to make one, is faintly preposterous. And that the blogosphere(s) I taught my students about in 2011 is a very different world than the one we're addressing right now in 2015. (As Ferris once said, things move pretty fast.) This occurred to me a couple of weeks ago as I found myself once again telling my students that a blogroll is a nice way to situate oneself within a wider community online and otherwise, to attract traffic (via bloggers checking out their incoming links), and to give your reader suggestions for other places online they might like to visit. "Of course," I added in a caveat. "These are becoming less and less common." I think I also mentioned that they're incredibly annoying to keep up to date.
And then a day or two later, my friend Rebecca Rosenblum wrote about blogrolls on her own blog (which is, obviously, on my blogroll). She'd just gone to the trouble of updating hers after ages and ages. "As I say," she writes, "no one clicks on these links and I doubt anyone will now."And it's true. In fact, nobody really reads blogs anyway, or at least not the way they used to when one might have clicked through someone's blogroll. (I have actually been blogging for FIFTEEN YEARS  as of last month, and I even remember when there were such things as blog-rings.) "What are the blogs you like to read?" is a question I always ask my students, and they have to search to come up with answers.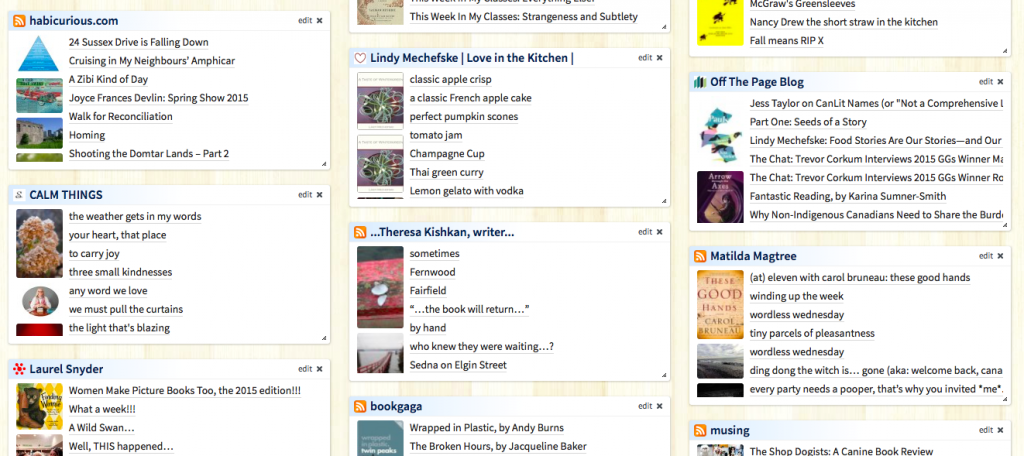 Although it's not really that no one reads blogs. I think the same number of people read blogs but there are so many blogs that the readership is stretched further. And blogs themselves, as we're understanding them, are more focussed and less about everything than they were once thought to be. And we come at them more laterally than we once did—I read cooking blogs all the time, but I don't pay attention to what blogs they are; I'm there for the recipes. People arrive at blogs for specific information. We also show up when directed by social media, and it is rare that interest is sparked enough that a reader will return again and again. Which is not to say that there aren't blogs with huge followings. Or that blogs like mine don't have a small but loyal readership (and not just my mom—but, hi mom!). It's just to say that the way we encounter blogs in 2015 is very different.
Part of this is that many of us are exploring the internet on smaller devices in which much of our experience is personalized, leaving little room for serendipity. Part of it is because we're so overwhelmed with information online anyway that going out of our ways to seek more would be ridiculous. And also because the platforms from which many of us read blogs have disappeared—I was a devoted used of iGoogle, the personalized homepage on which all my favourite links were organized, until Google killed it in 2013 (because it wasn't popular anymore, wasn't relevant to a mobile experience). iGoogle was a like a blogroll outside of a blog, a page I checked every day to see who'd updated their pages, what was happening in the world. Not fashionable, but it was useful, and I really missed it when it was gone. And then I even began to be the kind of person who could have said things like, "I don't really read blogs," too.
After trying out a couple of blog-readers that were disappointing, I arrived at Protopage at few months ago, which allowed me to recreate my s0-last-decade personalized homepage experience. And it's proven wonderful. There are so many excellent blogs out there, and I like knowing where to find them, deliberately seeking them out—every day, even. And in the spirit of the blogroll (and, inspired by Rebecca, I've even updated mine—for about five minutes it was current even!) I want to share with you now a few of my favourites that might be worth adding to your own daily or weekly routine:
My friends at the 4Mothers Blog have been reborn as a magazine-style blog called Plenty; Sarah's Edge of Evening continues to be my favourite blog on earth; my friend Julia has rediscovered her blogging mojo at her birding blog, and I love what she's been up to lately; my friend Athena's La Parachute is a directory of delicious and delightful things; "Novel Readings", a literary blog by Rohan Maitzen, kind person and admirable critic; I love this food blog by Lindy Mechefske, author of new book Sir John's Table; Girls Gone Child continues to inspire me as a mother and a person and a California dreamer; check out Swimming Holes We Have Known for a blog that's swimmingly good; I still love Matilda Magtree; and Calm Things; my former student Ann-Marie's A Dainty Dish, about the intersections between picture books and recipes; and another student, Marina's blog, full of life, wisdom, exuberance, and Marina-ness; there is Two Purple Figs, a recipe blog by the mother of one of Iris's classmates; and for Canadian Literature fans, don't forget the 49thShelf.com blog, which is the blog that pays my bills.
Happy Reading! (And PS, I don't usually do these end-of-post prompts, but I want to know: what great blogs am I missing?)