October 12, 2015
My grandmother's china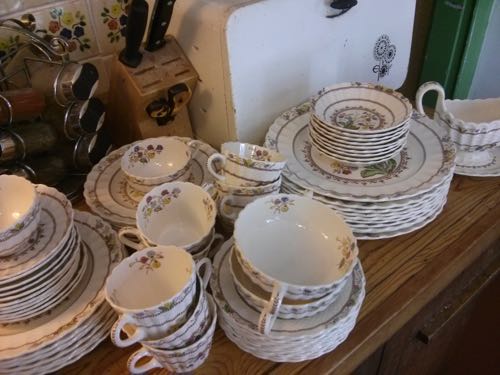 "I have your grandmother's china for you," her mother said. "She took good care of it."
I highlighted this line from a story in Kelli Deeth's The Other Side of Youth when I read it, the china emblematic of all the ways in which the lives of women my age have failed to progress in the manner that previous generations might have foreseen. All these boxes of china wrapped up in paper and boxed up in basements, and it means nothing now. I grew up in a house with a china cabinet, is what I mean, and it is very unlikely that I will ever have such an item myself, let alone a place to stand it.
Which is not to say that the domestic has no hold, that we don't give any value to stuff. My Pyrex fixation certainly speaks to that (and I realize now that since the photo in the link was taken, I've acquired a set of turquoise Cinderella bowls, and also put a halt on all non-essential Pyrex acquisitions to keep things from getting too out of control). But what I don't need is a massive collection of dishes and cups to be hauled out on special occasions, just the same way that I don't need a parlour for afternoon callers. What I like about Pyrex is its usefulness, and then it occurs to me that there is a similar way around the grandmother's china as well—what if I actually used it?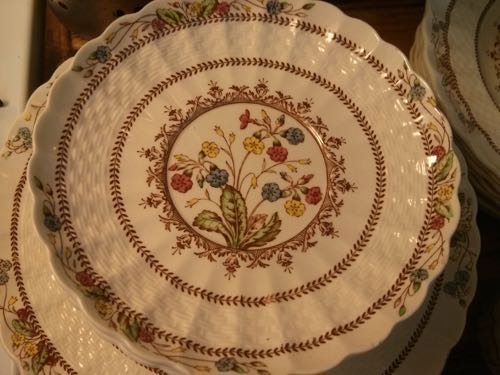 I have no recollection of ever seeing this china before—I didn't pay attention to things like plates as a child, particularly if they were patterned with wildflowers. It is also possible that my grandmother didn't set the table quite so formally when I was coming to visit. Although I do know my own mother's wedding china intimately. I have no wedding china, but I have a vast collection of cracked and chipped dinner plates that it's starting to seem shameful to feed my children from, and so I asked my mother if perhaps I could take a look at my grandmother's china. If we could use them for everyday. Would that be more or less troubling, I wondered, than the plates remaining boxed up until the end of days, or else given away to a consignment store (where I would have totally bought them if I'd happened upon them)?
And so we took them, and now they're here, unpacked in the kitchen. Some of them need cleaning—the gravy boat is still stained from some dinner more than a decade ago. But for the most part, the plates and cups are in excellent condition. Plates of various sizes, 10 of one, 8 of another, 11 side plates, 11 saucers and 9 tea cups. I wonder what they started with? Only 2 soup bowls—what happened to the rest of them? Or was soup more an intimate course, something best suited to a couple?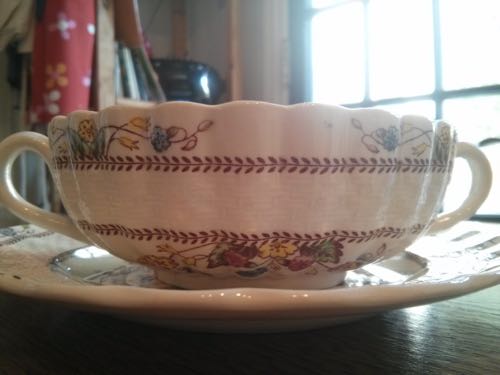 Predictably, I'm now a bit obsessed with my grandmother's china. Who knew? Spode China in the cowslip pattern with a chelsea wicker design. There turns out to be a busy online marketplace for fervid Spode collectors, and now I'm lusting after Spode eggcups and a teapot. I also admire the buttercup pattern (seen here). The former curator of the Spode Museum Trust blogs about all things Spode here (and this is why I love blogs so: there is almost nothing under the sun that has not been blogged about yet).  Spode was founded by Josiah Spode in 1770 in Stoke-On-Trent—Josiah Spode was almost an exact contemporary of another pottery-maker called Josiah but instead of a Spode he was a Wedgewood.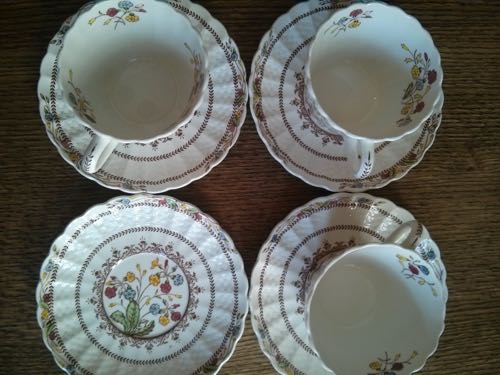 We spent this morning at the museum, which re-enlivened my delight in the thingness of things, and it occurs to me how much of my boredom with and dismissal of my grandmother's things has to do with the idea that this is baggage, something to be carried and put somewhere. (My grandmother never ever put her china in the dishwasher, my mother tells me. We don't have a dishwasher, so we will quite easily be able to continue in the same tradition.) But with the idea that these things could be used rather than put up on a shelf to be dusted—it changes everything. The best part about things in museums is what they tell us about ordinary life, and so it seems fitting that my grandmother's china should become part of our ordinary life as well.
Which ensures, I suppose, that each piece will be eventually get broken and never be passed down to anybody, leaving nothing for us to be known by, our ordinary life an enigma to those who come after us, should they even care to wonder. A paradox—the Pompeii exhibit is case in point; does it matter if your frescoes are preserved if you're dead? But I wonder if it isn't better to simply live in the moment after all. From a person's point of view, I mean, if not from that of an archivist.