September 3, 2015
Meet Mitzi Bytes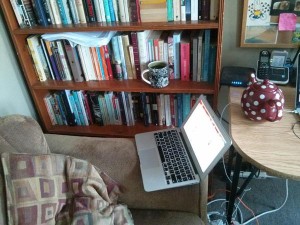 Oh, it has been so hard for me to keep this secret for more than two months now, that my novel, Mitzi Bytes, has found a home and will be published by Harpercollins Canada in Spring 2017. I have spent the summer working on revisions that have made a book I love even better, and I'm just so thrilled in general.
The news went out today: "Canadian rights to Kerry Clare's debut novel MITZI BYTES, a grown-up Harriet the Spy for the digital age—a novel about the perils and pleasures of living a secret life online and the risk to friendships and family when that life is revealed—to Editorial Director Jennifer Lambert of HarperCollins Canada for early 2017 by Samantha Haywood at Transatlantic Agency."
The timing is particularly meaningful to me. Ten years ago, I started the Creative Writing Masters program at the University of Toronto with the intention of writing (and publishing?) a novel. And while I did write a novel (and learn some things, and make some excellent friends that were worth the price of tuition), the novel was not a triumph. After getting some feelers from the universe, I determined that said novel was boring and plotless. So I decided to give up on it, which is the same as "moving on," and it was the best decision that I ever made. Because the book really wasn't good enough, and I'd rather publish no book than a crappy one. And while there was some frustration and sadness about this (and I felt a bit left behind by colleagues who went on to publish first and second books), there is plenty else in life (and in literature!) with which one can occupy oneself. So I did. I also wrote another novel and (guess what!) that one wasn't good enough either. And I wasn't sure fiction writing was ever going to be my scene.
And then last summer, this idea that had been rattling around in my brain (inspired by a point in previous abandoned novel even!) finally took hold. One evening at the end of last June, I was talking about the idea with my family over dinner and there was just something to it. (That something might well have been, wait for it, PLOT. Who knew?). And then I got out of washing-up duty and sat down to start writing. In hindsight, and in foresight even, it was a terrible time to start writing a book: Harriet was home for the summer, I had other stuff on the go. But when is ever not a terrible time to start writing a book?
Around the same time, I started jogging. "Just keep going. Just keep going," was my mantra for both. And thankfully, jogging was the thing I eventually gave up on (moved on from?), after the day I burst into tears in Queen's Park because I hated it so much. The story, on the other hand, kept going and growing. I met my goal of writing 1000 words a day. I hit a brick wall at the end of the summer, 70,000 words but I didn't know how to tie it all up. I am not great at writing endings. So the book was put on hold throughout autumn as I was busy with teaching and other things, and then one day in December as I was walking down the street (of course!) it occurred to me how the story could end. And then it was done. It was done, and I loved it. This, THIS, is the novel I've been waiting for, the book that I was meant to write, and if you'd told me a decade ago that it would take so long, I would have been devastated. But from where I stand now, it couldn't have been more perfect.
After expert feedback from awesome readers, I worked on my second draft throughout February and March—Sunday afternoons at Robarts Library as the campus outside turned into spring. And feedback from my editor, Jennifer Lambert, showed me the way toward draft three, which I am so ridiculously pleased with and got done because I had childcare one morning a week all summer long and made the most of it. (What a pleasure to be working on fiction for which one is contractually obliged to produce. That fiction writing is top priority—this was a new one for me.) And so here we are, and there will be lots of more work ahead, but I am so excited and pleased and feel very very lucky.
I can't wait for you to read it!