May 24, 2015
Trouble and Spaciousness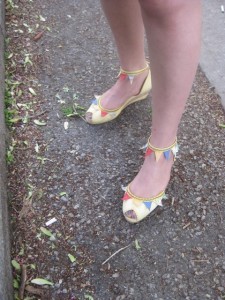 Am I having trouble reading because I'm unsettled, or am I unsettled because every book I start to read is so darn dissatisfying? This is a question I've have to ask myself over and over in my life, and I've never once come close to circling round and round about it. All I know is that the last four books I've picked up I have abandoned after a few pages, and the book I spent most of last week reading had no impact on me whatsoever. So now book review today. And I had to pull out the big guns because to be reading nothing is to not be me. Last night I started reading The Encyclopedia of Trouble and Spaciousness by Rebecca Solnit, and I think it's going to save me.
I think the trouble is the books though because otherwise all is very well here. Last week flew by, a very short week with so much in it. All fun. And after last week's meltdown (mine) in regards to baby sleep, we shifted gears. I've stopped breastfeeding, we moved Iris back into her crib upstairs in our room, and left her to cry at night. The last strategy never worked with her big sister who would only grow more and more hysterical, but Iris settled pretty quickly and by the third night without a peep. She is still not sleeping all night, but everything is much much better and one night she slept until 5, and the idea that putting her to bed is no longer a production (and therefore someone who is not her parent can do it?) is tremendously exciting.
In other now-reading news, I've started getting the New York Times supplement with the Sunday Star, which comes with a standalone books section (an abridged version of the real one) and it's so terrific to read. I miss real, solid book review sections. Anyway, this has added another highlight to my week.
Harriet turns six on Tuesday, and Iris threw up in a parking lot this afternoon, which has freaked me out a bit because we all spent Harriet's birthday last year completely ill. I have since learned though that there is no rhyme nor reason to my children's vomiting, so here's hoping it was just a thing. Especially since Harriet is the greatest child alive and her choice of how to spend her birthday evening is having dinner at my favourite restaurant.
Regarding the photo. At Harriet's school concert on Thursday, Stuart pointed out a woman wearing bunting shoes. Naturally, I had to talk to her. "Where did you get them?" I asked her, and she only looked a little bit sheepish but mostly proud to tell me she'd found them by the side of the road and cleaned them up so she could wear them. What sweet bunting fortune.