May 4, 2015
Mad Miss Mimic by Sarah Henstra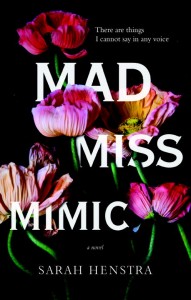 I've spent the last couple of days enjoying Mad Miss Mimic, the first novel by my friend, Sarah Henstra. It's not normally a book I would have sought out—it's published under a YA imprint, and historical fiction—but then there's that cover, plus I so admire Sarah's work and intellect. She's an English Professor at Ryerson University where she teaches courses in Gothic Horror and Fairy Tales and Fantasy, and way back, years before we met again socially, she was my TA for the Literature in Our Time course at UofT, and I never forgot her—not something I can say about most of TAs from nearly 20 years ago.
So I was confident that the book would be smart, and once again the arbitrariness of genre and marketing distinctions are made to me, because I delighted in Mad Miss Mimic. The novel takes place in London during the 1870s, a young woman endowed with good looks and great wealth and she'd be considered a match for any worth gentleman, save the matter of her debilitating stutter and her tendency to compulsively take on the inflection and tones of others' speech and parrot it back at inopportune moments. But has Leonora finally met her match with Francis Thornfax, a colleague of her brother-in-law who is not unnerved by her outbursts? Alas, she is too smart to be completely won over by his affections, and can't help noticing shady dealings going on between Thornfax and her brother-in-law, a doctor, whose charity patients keep dropping dead, and there is the matter of her sister's reliance on laudanum, all this against the backdrop of a series of bombings whose credit is claimed by the Black Glove Gang, acts of terror in protest of the government's proposed opium ban—which would serve to put a stop to Thornfax's import business.
Leonora's affliction (which is imaginary) causes her to be literally silenced in her efforts to hide it, and therefore not so different from most women of her time who were powerless and without a voice In moments of crisis, however, Mad Miss Mimic (the name given behind Leonora's back to the force which causes strange voices to emerge from her lips) turns out to be a source of strength instead of trouble, and perhaps she is closer to Leonora's true self that she even realizes—or maybe Mimic needs only needs to be claimed. And all of this is a bit ambiguous, mysterious, and interesting enough to add real depth to the novel, discussed on a symbolic level. Leonora is skirty and she and her talents remain slightly unknowable to her reader, these loose ends worthy of further reflection, all the while a love plot is resolved in a way that is wholly satisfying.
Mad Miss Mimic put me in mind of other books I enjoyed last year: The Miniaturist by Jessie Burton in its vivid historical depiction and Jo Walton's Small Change series too for its conspiracy theories and bomb plots. For readers who enjoyed these books, Sarah Henstra's debut novel would be a great suggestion for what to read next.