April 27, 2015
Welcome to the Circus, by Rhonda Douglas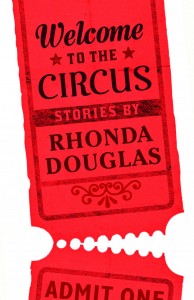 Rhonda Douglas doesn't miss a beat in her fiction debut, the short story collection, Welcome to the Circus. It's a collection to be admired right down to its basic components—the sentences. "…our three hearts open and close like the mouths of tiny birds," in "Nous and René Lévesque." Later in the same story, "The future seems to yawn open, becomes something far less certain, all of plans swinging on their hinges." In "Humanitarian Relief," "Henry Jeans amasses flesh about his bones with the single-minded focus of a NASCAR driver eating up track." Ten stories, each one based around a tantalizing premise: a fresh take on Two Solitudes and adolescence, inspired by a high school core-French teacher in rural Newfoundland; a story of three veteran humanitarian aid workers in a Kenyan refugee camp; a series of letters to one's eighth grade self; a collection of documents based on the case of executed dancer and spy, Mata Hari, curated by a man whose father may have been among her paramours; "Still Life With Book" about a teenage boy who partakes to carve the works of John Donne into his flesh, inspiring his therapist to reinvigorate his sex life. In "Sounds of our Paleolithic Past," a curator at the Royal Tyrrell Museum in Alberta mixes business with pleasure as she develops a complex relationship with a Neandertal discovered in the badlands; in the next story, a daughter considers her legacy working in the family porn business as she faces threats of violence and estrangement from her sister; in "Welcome to the Circus, Sooky Baby," a grieving teenage girl finds solace in surprising places—including the company of an elephant; and finally, "Cancer Oratorio," structured as a series of choral/orchestral movements from the collective perspective of a choir facing the loss of a member from cancer. But not before "God Explains the Collapse of the Cod Fishery," which I'd previously loved in The New Quarterly, a sad and beautiful story of wonder and violence which does exactly what the title says, and contains this stunning passage:
"Sunrise is a ritual for beginnings, for re-creating, for starting over, for once more and this time with emphasis people! We all need renewal, or at least I do, and so I've worked a few details in here and there: bean sprouts, infants for all species, sincere apologies, and so on. Sure, there are design flaws, but sunrise isn't one of them."
If these stories weren't so wondrously crafted, we'd probably say they were "quirky", but as it is, they impress the reader with being so convincingly real, of this world, even when their premises are far outside of it. And it is this solidity too that holds together a collection of such different styles of stories, so that even if the reader never knows what she'll encounter around the next page, she knows it's going to be excellent. These are bright and shiny stories with an edge, like a knife-blade, in the manner of Zsuzsi Gartner, whom many of them put me in mind of—which is high praise. This is a fabulous, enthralling, exuberant book, and I think you should read it.