April 25, 2015
One Week Until Authors for Indies Day!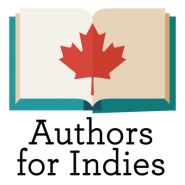 We've just spent two weeks in England, mostly eating cake and touring indie bookshops, with more than a few of our stops inspired by Jen Campbell's The Bookshop Book. Our trip was splendid and a brilliant demonstration that great bookshops are remarkable destinations, magical spaces, possibly the spirit of any place. One of my favourite moments was when I was standing outside The Book Barge clutching an armful of books (because I like to hold them—a bag may be handy, but it's just not the same) and a woman came up to me. "Sorry to be cheeky," she said, "but is there a place to buy books around here?" I did my best to gesture, even with my burden. "Only an entire boat," I said, and then she skipped away to her husband with glee—she'd found her destination and she hadn't even been looking for it. It's the very best kind of encounter. Independent bookshops are the rooms that make the world worth living in. They also have the best selection, shelves better curated than any chain bookshop, hands down.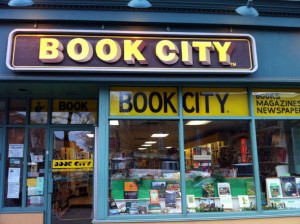 And I am happy that even though we're home again, I can continue to fly the indie bookshop banner with Authors for Indies Day on May 2. It's a day I was always going to be a part of—do I ever need an excuse to visit a bookshop? But I am thrilled and honoured that Book City on the Danforth has asked me to be one of their visiting authors. I will be there from 2-4 ready to convince patrons to buy some of my favourite, can't miss books—I've selected Where'd You Go, Bernadette?, Ellen in Pieces, On Immunity, Behind the Scenes at the Museum, and My Real Children. Perhaps I could even sell you a copy of The Bookshop Book?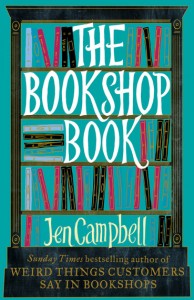 Other authors at Book City Danforth for Authors of Indies include Guy Gavriel Kay, Jessica Westhead, Elyse Friedman, Sarah Sheard, Tanis Rideout, Kate Hilton, Lilly Barnes, Ronna Bloom, Gail Benick, Alissa York, Michael Januska, Dave Bidini, Jill Jorgenson, and Evan Munday. And if the time and place don't work for you, do check out the huge list of other stores (and authors!) participating across the country. There is sure to be something in your neighbourhood!
But I do hope to see you at Book City on the Danforth. Authors for Indies Day will be a great opportunity to celebrate your neighbourhood indie bookstore, to possibly rediscover what makes these spaces so special, to let your child (if you have one) wander around delighting in bookish wonders, and to do some delighting yourself. It's going to be a lot of fun.
*A previous version of this post noted two weeks until Authors for Indies Day. This is because it was written by a blogger with jet lag. May 2 is, in fact, coming up quick!