December 29, 2014
End the year with The M Word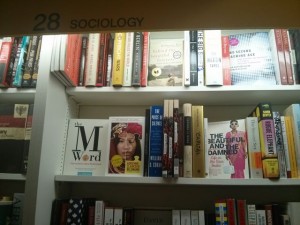 I am beginning to return to these parts after a wonderful week offline, and am turning up now with some nice news about The M Word, which I was excited to see facing out on the shelf today when I visited Bloor West Village Book City for the very first time. In the sociology section, no less.
I was also pleased to see it included on a list of books published by the University of Toronto's School of Continuing Studies' instructors during 2014. It's good company to be keeping.
Teri Vlassopoulos included The M Word on her 2014 books round-up. She writes, "the beauty of The M Word is that it's about all different facets, from choosing to be a mother or choosing not to, having children or not having them, the difficulties and joys of being a mother or not being one."
And the book is in fantastic company (with David Sedaris' mother, and Jenny Offill's book) on a list of things that made the wonderful Liz Windhorst Harmer panic less as a parent in 2014. Harmer writes, "Clare gets that it is more important for parents to hear stories than be given advice."
I was happy to read that Rebecca Cuneo Keenan calls the book "a best book bet on motherhood" at her blog, Playground Confidential. She writes, "The M Word holds motherhood up and then turns it this way and that, exploring it from all different angles. The act of becoming a mother is one of the most identity-shaking experiences for most women. It is rivaled only by the decision to not become a mother. And Clare sets it all out for us here, giving voice to motherhood (or the lack thereof) in many of its myriad forms."
And The M Word is in the very best company on a list of Books of the Year at the Canadian Notes & Queries blog, selected by Carmine Starnino. I was also asked to contribute to this list—which made it surprising to see my own book there—and naturally, I picked Ellen in Pieces. I'm so looking forward to rereading it for my book club in January.