November 13, 2014
Vacant Possession by Hilary Mantel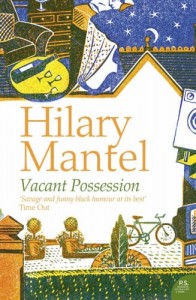 I so much loved spending a weekend reading Hilary Mantel two weeks ago that I decided to do it again last weekend with Vacant Possession. It's the sequel to the brilliantly funny Every Day is Mother's Day, which was Mantel's first published novel and one of the first Hilary Mantel books I ever read (around the time Beyond Black came out). While I love Mantel's writing and she's always amazing, her enormous range (domestic fiction, the fantastic, historical epics) means that not everything she writes appeals to me. I struggled through Wolf Hall, and that's it for me for the Cromwell trilogy, but the upside to its Booker success is that Vacant Possession—the sequel to Every Day is Mother's Day—is in print now, whereas it wasn't in 2006.
And it's so wonderful. It takes place in Thatcher's Britain, 1984. The nefarious Muriel Axon has been released from her institution ten years after the mysterious death of her horrible mother, and she's determined to seek revenge upon those she feels wronged her all those years ago—namely her former social worker, Isobel Field, and Isobel's old lover, Colin Sidney, who has since reconciled with his wife and moved into Muriel's old home. Her move from institutional care to "care in the community" is part of a downloading of government services typical of the time (and our time too), and Mantel paints its consequences in a way that is as hilarious as it is chilling—and it's only hilarious until you realize how close to life this satire is drawn. Such terrible stupid people, and Mantel is unafraid to paint them as such, which is funny until you realize you're probably laughing at yourself.
But it is funny, and fiercely political, fearless, and smart and wonderfully written. Really, a single book can be this good, and hilarious escape and a punch in the gut all at once. Proving we really do need to set our standards for fiction higher, I think, so why not start here. Right now. Go.