November 12, 2014
New Kids' Books We've Been Enjoying Lately
With Harriet in school all day and Iris's chief occupation being hurling books to the floor (save for Hand Hand Fingers Thumb, which she's really into lately, and hurls at me when she's demanding it read), I'm not quite as immersed in the land of picture books as I once was. But still, I've been keeping track of our stand-outs and making a list to share with you—perhaps you'll find some ideas for Christmas gifts? Also recommended are the most recent winners of the Canadian Children's Book Centre Awards.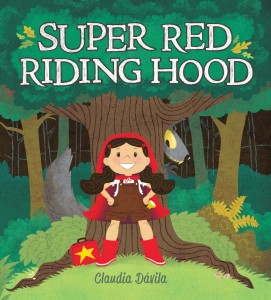 I've written already about Super Red Riding Hood by Claudia Davila, and since given about four copies away as gifts. "It's about a little girl called Ruby who likes to fancy herself a defender of justice and imagine stories in which she gets to prove her super-hero mettle. While a trip through the woods to collect raspberries isn't quite the mission she's been fantasizing about, Ruby makes the most of it, rescuing small creatures and being brave in the face of weird woodland sounds. And so she's totally ready when she stumbles into a situation requiring actual super-heroics, and has to stare down a ferocious wolf."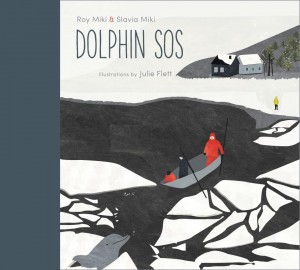 We also love Dolphin SOS by Roy Miki and Slavia Miki, with illustrations by our beloved Julie Flett. It's from the perspective of a young girl in a community on the coast of Newfoundland rattled by three dolphins trapped in ice in their bay. The girl's older brothers play a part in the rescue, which ends in triumph. It's a terrific story, based on true events, and Julie Flett's illustrations are oh, so beautiful. Is it weird to be crazy about a kids' book because you covet the wallpaper patterns in the character's house?
When I heard tell of a collaboration between Kyo MacLear and Julie Morstad, I almost had a heart attack. I love Kyo MacLear's picture books, which are strange, absorbing, curious and delightful, and then there's Julie Morstad, whose illustrations are so beloved I buy her prints and hang them on my wall. Julia, Child did not disappoint, this story loosely based on Julia Child's friendship with collaborator Simca Beck. Two girls, inexplicably wearing roller skates, delight in fine cooking, and decide to cater a party to remind grown-ups about the good things in life. Plans go awry a bit, but it all gets sorted out, and the guests remember it's best to remain a child at heart. The book is delicious and will make you hungry.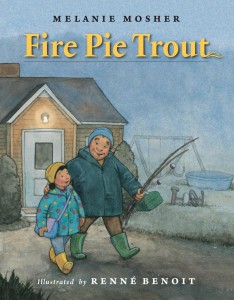 We like Fire Pie Trout by Melanie Mosher and Renne Benoit, published by Aboriginal Publishers, Fifth House. I like it because I have memories of going "fishing" with my grandfather when I was little, the fishing rods he made me out of sticks and fishing line. Grace is on a similar excursion, but it's serious—early morning darkness, actual worms for bait. She's nervous, but then finds a creative way to overcome her fears and actually hook her very own fish. It's a lovely book about family connections, with appealing illustrations.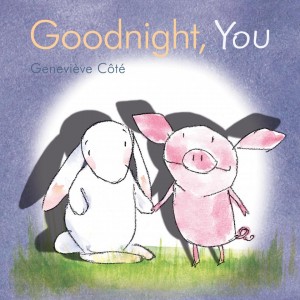 It is possible that with Goodnight, You, the fourth of her Piggy and Bunny books, Genevieve Cote has written (and illustrated!) her finest yet. It's a clever book in which the two friends on a  camping trip confront their very different fears, and find helpful ways to support each other. I am particularly impressed with how Cote uses the friends' tent as a shadow backdrop, the shapes they make essential to the stories they tell one another, providing an extra layer of meaning to the illustrations and text.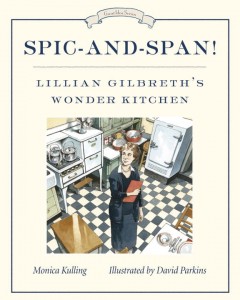 Spic and Span: Lillian Gilbreth's Wonder Kitchen by Monica Kulling is the latest in the "Great Ideas" series of picture book biographies, and my favourite yet. Gilbreth is well-known as the mother of eleven children in the family celebrated in the book and films, Cheaper by the Dozen. But she was also a psychologist, a leading efficiency expert, industrial engineer, an author, a professor, and an inventor. Her inventions included the electric mixer, and the compartments you use every day in the door of your fridge, and Kulling depicts her life in wonderful detail here. You can read my interview with Monica Kulling at 49th Shelf.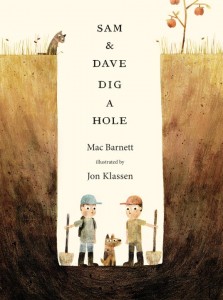 Sam and Dave Dig a Hole by Mac Barnett and Jon Klassen is so weird and so fantastic. Confession: I have a knack for missing the essential details in Klassen's illustrations, and therefore the point of the stories have to be pointed out me after the fact. Though the point itself is really a elusive here anyway, and no amount of rereading has brought us any closer (it's as mysterious as whatever woke up Mickey in The Night Kitchen and gave him cause to holler, "Quiet down there!"), but we keep reading anyway, because of the little jokes in Klassen's pictures, and because of the dog and the cat and their sideways glances. I don't love this one quite as much as I loved their previous collaboration, Extra Yarn, but that's a tall order, and this book does something very different, which is admirable too.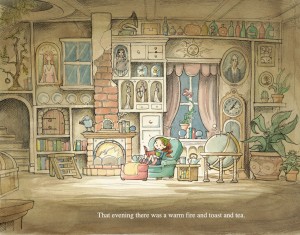 Julia's House for Lost Creatures by Ben Hatke: You already know that we're Zita-mad, so when we learned that her creator was publishing his first picture book, we pre-ordered it immediately. And we loved it when we finally got it—it has all the mystery, magic and power of Zita. It's a story whose illustrations show tiny doors in the wall to mysterious places, and the story itself comes with similar mystery. Like Zita too, this story of a girl with a house of her own (on a turtle's back, no less) is about female empowerment, friendship and finding one's way home.