November 2, 2014
On Uncertainty, Mistakes, and Accidental Cake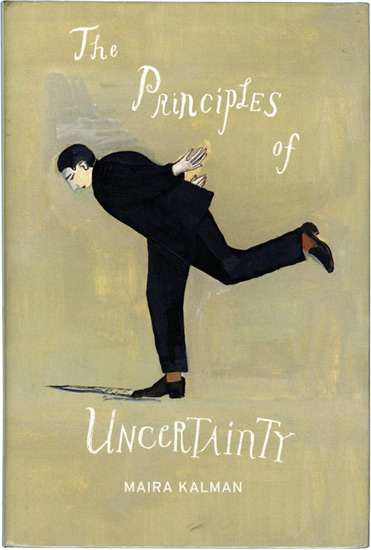 Tomorrow night in my blogging course, we will be discussing Rebecca Solnit's essay, "Woolf's Darkness: Embracing the Inexplicable", which really might be one of my favourite pieces of writing ever, and whose wisdom is remarkably applicable to blogging, as well as to life itself. "To me, the grounds for hope are simply that we don't know what will happen next, and that the unlikely and the unimaginable transpire quite regularly."
So I've been rereading the essay, following its twists and turns (and thinking about how much the public streets walked by Woolf's narrator in "Street Haunting" can stand in for the blogosphere, "a form of society that doesn't enforce identity but liberates it, the society of strangers, the republic of the streets, the experience of being anonymous and free that big cities invented").
And then there was an excursion to Kensington Market to purchase not a pencil, but boots for the grown-ups in our family, because the shop there that caters to Portuguese construction workers is the best place we know to buy new Sorels. This was yesterday, and we'd woken up to flurries, so it seemed essential that we buy boots immediately. Plus while in the market, we'd get to pick up wood-smoked bagels and sausages from Sanagans for our evening meal. Once the boots were bought, Stuart with stroller was sent on the bagel errand, while Harriet and I took a quick diversion into Good Egg to scope out potential birthday presents for him.
Where I found this book, Maira Kalman's The Principles of Uncertainty, based on her illustrated New York Times column. I'd never read the column, but I had been reading Solnit's essay, which references Kalman's work, her art, this book. And here was the book in my hands, so I had to have it. I came out of the shop with a stack of books, but pleased with myself. "Only one of these is for me."
When I got home and went through the Solnit essay again, however, I found that I'd been mistaken. While a section of "Woolf's Darkness" indeed shares a title with Kalman's book, Solnit doesn't mention Kalman at all. I'd made the whole thing up. I'd bought the book by accident. Which was kind of interesting to me, because I am so interested in the connections between books, how they speak to one another, and now I'm fascinated too by the idea of the mistaken allusion, the connection that was never there at all. But now it is, because I supposed it was. Our reading lives are such a tangled web.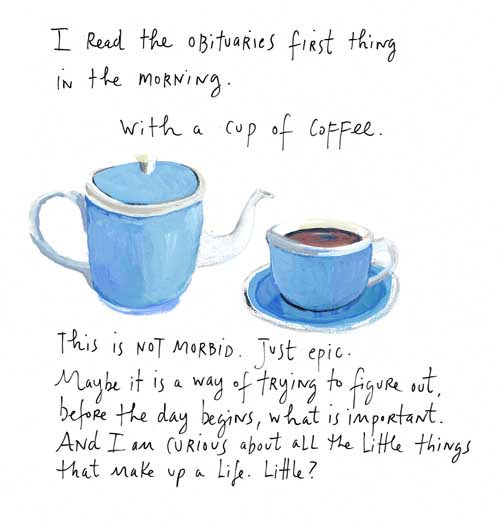 All was not lost though. While Kalman's book was far from Solnit's essay (though for me, the two shall be linked forevermore—and they're actually interesting companions), the book was wonderful. It was as though my mistaken allusion had been a trick to get The Principles of Uncertainty into my hands, where it had belonged all the while.
Full of gorgeous images, funny stories, curious questions, and delightful things. It has an index, as all the best books do, and an appendix with images of postcard collections (one of postcards with waterfalls), collected food packets, a list of all the characters in The Idiot by Dostoevsky, and the family recipe for the honey cake referenced on page 54:
"The kitchen is small, spare and shiny. We drink tea an eat honey cake in the hot stillness of the afternoon."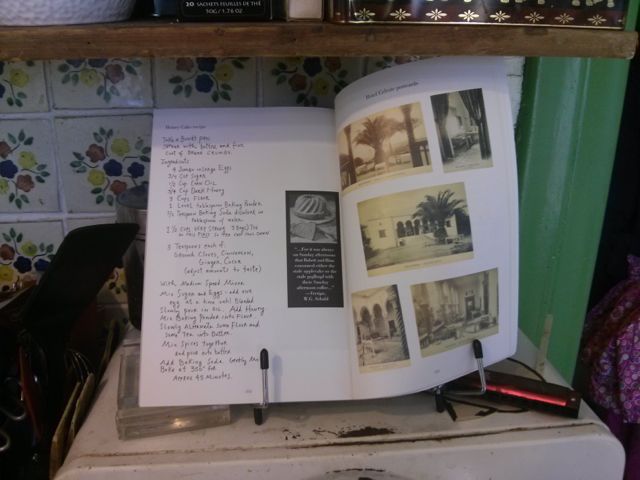 This afternoon, I baked that cake with Harriet, because today had an extra hour within and there was space for such a thing. We had to borrow a bundt pan from our neighbour, Sarit, because we don't have a bundt pan even though I thought we did. It seems there is no limit to what I'm capable of remembering wrong.
We had a good time baking—it is much less frustrating baking with Harriet now than when she was three and compelled to stick her hands in the batter (and she sneezes in the bowl hardly ever now). I explained to her that we were making a cake from the book that I had bought by mistake, and it's that a wonderful thing about the universe—that an accidental book can lead to cake in the oven on a sunny afternoon:
"And then the all-clear sounded and people returned, hope undiminished. They returned, so elegant and purposeful to the books. / What does this have to do with bobby pins and radiators and kokoshniks? One thing leads to another."
Then when we were all done, I proceeded to TWICE pick up the bundt pan (which was constructed of two parts) incorrectly, separating the bottom from the sides and batter seeping out onto the table. ("I heard at least two 'fucks,'" Stuart inquired after. "What went wrong?") As I spatula'd up the mess, Harriet patiently parroted what I'd been saying to her about the accidental book as we'd baked, that sometimes mistakes lead us in the most interesting directions.
"I don't know if it's quite the same with baking," I confessed, sorry that everything was not so poetic, but perhaps it is, or it's just that this cake is forgiving, because it was, and the cake was wonderful. Delicious, moist, and a perfect balance of spice and sweet. One thing leading to another indeed, and what good fortune when the thing one's being led to is cake.