October 19, 2014
Ithaca by Susan Fish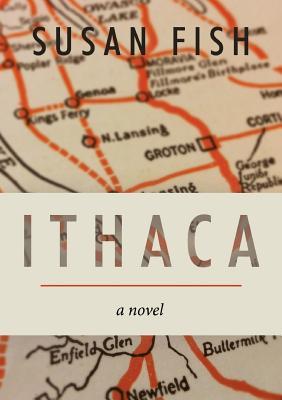 Since we're talking soup—or at least we will be—I'd like to offer the literary ingredients that I'd put to use were I cooking up a novel like Susan Fish's Ithaca (which I loved). First, half a stack of Barbara Pym novels, since Pym is the original chronicler of the unknown fascinating inner-lives of lonely middle-aged women, particularly those who type indices for academic men. Next, toss in a novel or two by Wallace Stegner, or at least All the Little Live Things and Crossing to Safety, for their depictions of the intimacies of long marriages, late-in-life-garnered insight, and—in the case of the latter book—a cozy look at academic communities. Then season with Barbara Kingsolver, perhaps her most recent, Flight Behaviour, for its illumination of the subtle effects of environmental devastation, and as a portrait of how an activist can be borne of an ordinary woman. Let it simmer. Indeed.
Ithaca is the story of Daisy Turner, whose husband has recently died, leaving her unmoored in a world in which she'd always felt so solidly ensconced. Unquestioningly so. Her husband had been everything to her, their grown son far away living his own life in Singapore, and now with him gone, the sole event on Daisy's calendar (apart from the trip they'd booked months in advance to celebrate their 40th anniversary—what to do about that now?) is the Wednesday suppers, a longstanding tradition in which her husband's academic colleagues and students and their families would gather together for friendship and conversation and Daisy's famous soups. The suppers are all she's got left now, and she constructs her weeks around them, too ashamed to let anybody know the extent of her grief and loneliness, that Arthur's death has left her without any solid ground to stand on.
But there is something to be said for unsteadiness, because too much steadiness is to have the world be sure, which it's not, and something also to be said for how the process of reconstructing a broken life can bring forth growth and change and a new kind of resolve. As with those proverbial butterflies flapping their wings, it all starts with a small thing, Daisy invited by a friend to help harvest honey. The hives bought for his wife years ago, ailing from MS, with the hopes that their royal jelly might succeed where her medicine hasn't, but it doesn't and her health has only worsened. She can't even venture out of her house these days, and so Daisy goes with Henry, instead of his wife, and on the way, she notices the signs protesting "fracking" in their area.
Fracking. She doesn't know the word, but she understands enough about its context—39 years of marriage to a geologist is some kind of education. Oil companies are planning to drill deep into the shale that surround their community for oil deposits—a proposition that promises to save farms from foreclosure and wreak environmental devastation, depending on who you ask. And then at the next Wednesday Supper, Daisy hears the term again, learns a young professor is teaching a night course on the topic. Uncharacteristically, Daisy decides to enrol, surprising herself, and everybody who knows her. Through involvement in her course, her community widens, the Wednesday night suppers becoming more interesting as her "frackivist" pal starts attending, broadening Daisy's horizons. And Daisy starts asking more questions, about what changes are necessary in her life, about what she needs to hold onto and let go from the past, and of what possibilities are still before her? Never mind the complicating force of her attraction to Henry, her friend with the bee-hives (and the wife!), he for whom she leaned in close to hear something and he kissed her on her ear. He did. And she keeps encountering women at church who seem concerned she'll steal their husbands—what if, unbeknownst to her, they're onto something after all?
Fish's Daisy put me in mind of another Daisy, Carol Shields' Daisy Stone Goodwill from The Stone Diaries, another small life with large ramifications and great surprises, a women who reinvents herself over and over again. Another novel steeped in stone and geology as well, rooted in the layers upon layers beneath its characters' feet. With humour, insight and grace, Fish writes similarly of the "small ceremonies" of ordinary life, of human intimacy and kindness and complications.
Her Ithaca is timely and profound, rich with surprises and delight.