September 14, 2014
A Girl is a Half-Formed Thing by Eimear McBride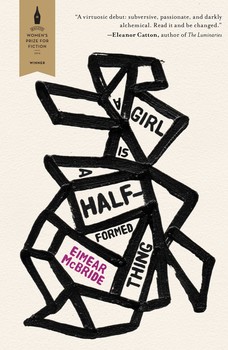 On Saturday morning, I read the newspaper and cried, so overwhelmed was I by despair, three articles in a row—David Gilmour teaching classes again this year at my alma mater; a certain male sportsperson not convicted of violence upon the girlfriend he shot to death; 10 people charged in the attack of Malala Yousafzai, a child shot for the crime of going to school. Not to mention the sad circus of municipal politics in my city, a state of affairs that has led me to abandon Twitter for awhile because I just cannot stand the onslaught of awful, this horrible misogynist idiot whose supposed tumour will never alter my conviction that he's a dangerous shitty human being who says horrible things about women and whose wife has had to call the cops on him more than once. This man has forever viewed himself as beyond reproach, and now that he's ill, we're all meant to finally agree with him? I cannot.
It is also relevant that my baby keeps terrible hours and I'm very tired. But it's relevant too that I spent last week reading A Girl is a Half-Formed Thing by Eimear McBride, yet another piece of evidence that affirms that we live in a world that treats girls and women like garbage. And maybe it was just a coincidence that I was reading this book as I was sent into despair, a testament to its power perhaps. But I don't know, because whenever I was asked about, I'd respond with, "The book is…well. It won the Bailey's Fiction Prize." Otherwise, I probably never would have read it. I'm not sure I'd recommend it to anyone. It's interesting, yes, but underwhelmingly so. The prose is as half-formed as its girl is, deliberately. Sentences stumped off, broken, truncated. There is no evolution, no progress. Even McBride's girl's life, in all its sordid detail, is not abject in anyway—there is cruelty, abuse, the usual litany of terrible things. But I've read worse, rendered in prose that stunned me, rather than this prose, which numbed me. Or I thought it had at least, until I found myself crying over the newspaper.
I don't think I could properly write a review of A Girl is a Half-Formed Thing. For a good example of one, however, read Anne Enright's, in which she so perfectly articulates what I can only throw my hands up and gesture about in regards to this book. What I am reviewing here is more my own reaction to this book, which confuses me. I recoil from it, not because its so difficult. Yes, the prose is difficult to find one's way into, but once you're in, you're in, and there is a peculiar rhythm and rhyme to it that make the pieces fit. Perhaps it was the unrelentingness of it all, that there was progress after all, but it was always going toward the same place and I was longing for any moments of light. What a courageous author who dares to give her readers none of that, to hold back on everything we're hoping for to save us. To tell the story she wants to tell, and it's true that I never wanted to put the book down. I don't want to open it again, yes, but that's a different thing.
I didn't like this book. I didn't like it at all. But I read it and I'm glad I did, because it's like nothing else that's going these days, and because there was nothing half-formed about the book itself. (Read McBride's profile in The Guardian: "I think the publishing industry is perpetuating this myth that readers like a very passive experience, that all they want is a beach novel. I don't think that's true, and I think this book doing as well as it has is absolute proof of that. There are serious readers who want to be challenged, who want to be offered something else, who don't mind being asked to work a little bit to get there.") I'm glad I read this book because the fact of whether or not I liked it doesn't really matter at all, and I like any book that shifts the conversation away from that point, such a sad and tired place from which to embark upon a literary discussion.