September 1, 2014
This is a bad idea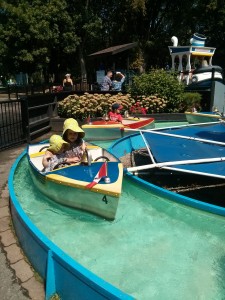 Just a little over two years ago, we took Harriet to Centre Island, and watched her go around on the little boat ride, ringing the bell and looking happy enough, but sitting alone in her little boat, while the other boats were filled with pairs of siblings. It was a pivotal moment, watching her ride by herself, one that cemented the fact that we were probably going to go forth and have another baby. For Harriet's sake as much as ours, because Stuart and I are both so glad we have sisters, and we wanted to give Harriet a similar relationship. Because we wanted her to have someone to ride the rides with.
Never mind the absurdity that sometimes things really do work out so neatly—we were grateful that nature delivered us the baby we'd planned on. A healthy happy baby too, and also that Iris and Harriet already have such a close relationship. (I'd considered the irony of possibly delivering Harriet a sister who she'd hate, or who might destroy her life, in addition to just pulling her hair. I read too much literary fiction…) I will never cease to be amazed at the fact of getting what I wanted, and so it meant something to have travelled though all these weeks and months and come back to the island this weekend. Harriet and Iris rode around in their little boat together, and was hugely significant. The first ride of many.
But of course, that's not the whole story. I haven't told you the funny part. We were lined up for the ride and both Stuart and I sensing that this was really not the smartest plan. Iris can walk, which means that technically she'd be permitted on the ride, but Iris is only 15 months old, and is small so she looks younger than she is, so the attendant looked wary when Stuart led Iris and Harriet  through the turnstile.
"I think she's too young," she told Stuart, about Iris.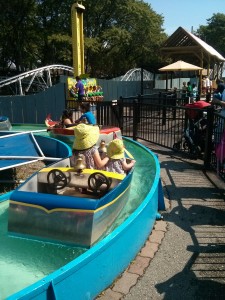 And Stuart became even less characteristically un-English than usual, throwing caution to the wind and standing up to carnival authority (although he had stood patiently in the queue.)
"Nope," he said, "she'll be fine." He put her on the ride anyway. He is not sure why he did this exactly, except that he had a vague sense that I'd be angry if Iris didn't get to ride the ride as I'd envisioned. We'd travelled over 700 days to get here after all. It would be terrible not to have a photo to show for it.
So Iris was in the boat, and the attendant told Harriet to make sure she stayed seated. The ride began, and it was good for a round or two. Iris rang the bell, spun the steering wheel, and was thoroughly enjoying herself. I snapped the photos. They could have been the whole story. Until it became apparent to Iris that she was untethered. She stood up. "Iris, sit down," said Harriet, shoving her back into her seat. They go by us again. We wave. Iris stands up again. "Sit down, Iris," Harriet is shouting now, and trying to get Iris in a headlock. Iris starts to cry. We're still waving. Everybody is looking at our children. Who pass the remainder of the ride with Iris crying as they turned round and round, Harriet shouting, "This is a bad idea! This is a very bad idea!"