September 1, 2014
The Vacationers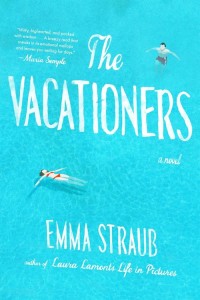 Shockingly, it was three whole long weekends ago (July 1!) that I spent a morning in bed drinking tea and reading The Vacationers by Emma Straub, which I enjoyed very much. If I remember correctly, I'd barely slept at all the night before that, thanks to Bad Iris, and this is not one bit shocking. But still, how fast the summer has gone by. I wasn't sure what I was getting into when I constructed a salad out of marshmallows and Jello back in June, but this summer has been completely wonderful. Even the cool weather didn't faze us—I sleep in an un-air-conditioned attic, after all. We had a week at our cottage, a long weekend camping, and a weekend away at my parents', which was fun. We watched an outdoor movie. We finally managed a trip to the Toronto Islands, slipping in under the wire on Saturday. We went to the CNE today. There was plenty of ice cream all summer long, of course. Soccer and bike rides. Harriet was enrolled in two weeks of an afternoon art camp, and one week of full day camp, which made us never tire of the days we spent together. Even with the imperfect weather, we went swimming at the Christie Pits pool, and Harriet has acquired the requisite number of freckles on her nose.
I feel very lucky to be able to spend the summer with my children. Here is why I really feel lucky though—when Iris goes to sleep in the afternoons, Harriet sits down to watch a movie, and I lie down to write. And I did. At the end of June, I embarked upon a Summer Writing Marathon, which I didn't have time for, but I never will have time, so why wait? I resolved to write 1000 words a day, and I did it (save for vacations).  On Friday, I logged in at 50,000 words. I'm on my way to writing a novel whose first draft will be completed by the end of September. And you might think that this is exciting, except, of course, this is the fifth time I've written a novel. But this is a first time I've written a novel that might be interesting, and also the first time that the process has been so exhilarating. So this has certainly been a summer highlight.
Harriet spent July watching Frozen, and then took up an obsession with Annie that has yet to abate. She has watched it near daily for the last month, which pleases me immensely, because it's one of my all-time favourite films. I never get tired of it, and am pleased to have someone to sing all the songs with. She also talks about it incessantly, which has led to me thinking more deeply about Miss Hannigan, for example, than I ever thought I would. I am going to write a post about this one of these days…
Because of my writing marathon, I had to do all my other work in the evenings, which meant I didn't read this summer as much as I would have liked (except for when we went away, and I read six books in seven days). And what I read, I didn't write much about. I read Anthony de Sa's Kicking the Sky, which I liked for its depiction of Toronto and for being not what I expected, but didn't appreciate as much as I thought I would. I read Jane Rule's Deserts of the Heart, whose depiction of a lesbian relationship in the 1960s was groundbreaking. I read Life Among the Savages by Shirley Jackson for my book club, which I didn't love as much I thought I would, but led to such interesting discussion. And I read Letters to Omar by Rachel Wyatt, and we did an interview, which will be up here in a couple of weeks. There were a few others too (all good!), which I read for reviews that will be published elsewhere in the next while.
Harriet doesn't start school until Thursday, so we have a couple more days of summer left. And I'm going to miss her when she goes, though I'm not going to tell her so, because when I did last year, she cried, so that definitely wasn't my smoothest move.